Imagine a place far from the hustle and bustle of the city, where you can hear the sound of the sea, buzzing cicadas, and jackals howling in the evening. A bay surrounded by green hills, where the sea has lovely turquoise color and there are many secret beaches along the coast as well as small islets that you can explore by kayak or boat. In this beautiful bay, there is a small village Žuljana, which is a hidden gem of the Pelješac Peninsula, Croatia.
I spent two wonderful weeks in Žuljana, kayaking, discovering secret beaches, tasting local specialties and wine. It's a relaxing place where you can forget about the whole world and enjoy the beauty of nature. I would like to tell you about this village and show you the pictures I took there. I hope to inspire you to visit the part of Croatia that is still a bit underrated and off the beaten path.
Žuljana, a hidden gem on the Pelješac Peninsula
Žuljana is a small harbor village on the Pelješac Peninsula, in southern Croatia. It is located about 80 km from Dubrovnik and 40 km from Korčula Old Town. The settlement was first mentioned in the 12th century and was probably named after the church of Saint Julian, which was located here. Currently, the village has a population of about 200. The residents are involved in agriculture, fishing, and tourism of course. The main attractions of Žuljana are beautiful beaches, diving spots, bicycle, and hiking paths, as well as organic food and excellent wine.
Things to do in Žuljana, Croatia
There are about three restaurants in Žuljana, a pancake bar, two shops, and a bakery. One might think that there is not much to do here, but this is not true. Both families with children and couples, lazy beachgoers and those who like to spend time actively, everyone will find something for themselves in this beautiful village. What are the best things to do in Žuljana, Croatia?
1. Visit the best beaches in Žuljana.
In my opinion, Žuljana has the most beautiful beaches on the Pelješac Peninsula. To be honest, this is the main reason why we stayed here and that's why I call this village a hidden gem. The map below shows where are the best beaches in Žuljana. Some of them are easily accessible, others can only be reached by boat or sea kayak.
The most popular is Vučine Beach, which is considered one of the best beaches in Croatia and on the Adriatic coast. The bay is surrounded by dense pine forest and the sea has a beautiful teal color here. Underwater caves in Vučine Bay attract diving enthusiasts, and the shallow banks make it also a great place for families with children and non-swimmers.
Vučine beach is beautiful, but the bay is quite extensive and there are usually a lot of people here. If you prefer smaller coves, the nearby Kremena Beach will be a better choice. The beach is hidden in the shade until noon so many people come here to read books or just relax from the heat of the sun. The sea here also has a beautiful color and it is quite a nice place for snorkeling too.
Žuljana Beach is located in the center of the village, right next to the port and is easily accessible. The banks are very shallow and there is fine sand at the bottom, so no water shoes are needed. But if you prefer more secluded bays, you should pass the pitch and follow the path along the shore.
There are many small beaches here, but some of them are not easily accessible. In my opinion, the most beautiful beach is Grdni Do Žuljana, which is partly an FKK beach. You can reach it from the sea or climb down the rocks holding the rope. It's quite steep here so I do not recommend this place to families with children or people who are afraid of climbing.
2. Explore the coast and islets on a sea kayak.
Some of the best beaches in Žuljana can only be reached from the sea so it is good to have a kayak, pontoon or boat. Exploring the coast from the waterline is a nice thing to do. You can discover secret coves that are not even marked on the map and few people know about them, as well as reach small islands that are not accessible from the mainland.
The bay of Žuljana is quite shallow and the sea is very clear here, so you can see what's under water. This makes kayaking or boating even more exciting. It is a picturesque area, where you can relax and enjoy the beauty of nature. The coast is covered with dense pine forests and in some places, it is quite steep and unreachable for hikers, so you can easily find secluded beaches just for yourself.
You can paddle towards Trstenik where there are a lot of small beaches hidden under the cliffs. It is also a good idea to explore Vučine Bay, where there are two islets: Mirište and Kosmač. The islet of Kosmač, covered with olive and pine trees, is a nice place to snorkel. There is a tiny beach here where you can admire beautiful landscapes, inhaling the smell of Mediterranean vegetation and listening to the buzzing cicadas.
When you pass Rt Lenga, you'll reach two beautiful beaches that are only accessible from the sea. You can also visit the island with the lighthouse, which is called Lirica. Further on, towards Prapratno there are only pristine bays and beaches that are Croatia's best-kept secret.
3. Dive or snorkel in the crystal clear waters of the Adriatic Sea.
One of the best things to do Žuljana is diving and snorkeling. The sea is shallow, very clean and has a beautiful teal color. You can watch coral reefs and very interesting underwater life here. What's more, there are many underwater caves and passages that are simply breathtaking, as well as six shipwrecks sunk at depths of 15 to 45 meters that are waiting to be explored.
If you are interested, there are local diving centers in Žuljana, which offer is addressed to both beginners and advanced divers. It's worth a try because underwater landscapes are amazing here!
4. Enjoy some of the most beautiful sunsets on the Pelješac Peninsula.
Žuljana is one of the best places to watch the sunsets on the Pelješac Peninsula. At the end of the day, many people come to sit on benches near the pitch and post office to enjoy this beautiful spectacle of nature. The sun sets in the sea, and the sky and water delight with their colors. You can see the outline of the island of Lastovo on the horizon, as well as Mljet and Korčula. This view is simply breathtaking!
The beaches of Kremena and Vučine are also nice places to watch the sunset in Žuljana. You can see here fisherman boats drifting at sea which looks very picturesque. For me, however, the most beautiful memory is kayaking at sunset in a calm sea. Buzzing cicadas and howling jackals could be heard from the nearby forests, and the smells of pine and Mediterranean herbs were simply stunning.
5. Try organic food and local wine.
Žuljana is a small village, but a small market and a greengrocer have everything you need. You can buy organic fruits and vegetables from the garden, olive oil, honey, and local wine as well as all other food products. In the morning there is also fresh fish on the stalls and delicious bread in the bakery.
When it comes to restaurants in Žuljana, there are about three or four of them. I mostly ate in Tamaris, because I liked the atmosphere of this place and I could enjoy the sea view while eating delicious black risotto, mussels or fish with very tasty grilled vegetables. Nevertheless, I think other places are also worth visiting, especially the Fjaka-OPG family farm, which has very good reviews. If you want to eat something sweet, there is also a small street bar where they make pancakes.
6. Explore the village and nearby natural areas by bike.
If you like to spend time actively, a bike trip will be a great idea. Žuljana is surrounded by picturesque green hills and forests, so exploring the village and nearby natural areas on two wheels is a real pleasure. There are very scenic bike paths above the Bay of Vučine, where you can enjoy beautiful views of Žuljana.
You can also go deeper into the village where there are fields, vineyards, and olive groves. Take a look at the interesting rock formations on the slopes of the hills while you are there.
7. Hike to the Sveti Ivan mountain.
Most tourists visit Žuljana because of its beautiful beaches, but it is also a great place for hiking. If you like mountain trips, be sure to go to the top of Sveti Ivan (469m) where you can admire the breathtaking panorama of the Pelješac Peninsula, as well as the islands of Mljet, Lastovo and Korčula. Down below is Žuljana and the Bay of Vučine with its turquoise sea. From Sveti Ivan, you can also see Trstenik, Orebić, small islets near Drače and Sreser, as well as the Croatian coast on the opposite side of the Pelješac Channel.
The trail from Žuljana to the Sveti Ivan mountain is about 5 km long, so it takes about 1 hour 30 minutes to get there. The beginning of the route is above the campsite in the Bay of Vučine. You can see the trail in the photo above. It is not difficult, most of it is a gravel road, followed by a short section of a rocky path to the top. Tip: Go to Sveti Ivan early in the morning to avoid the heat.
Where to stay in Žuljana, Croatia?
There are no hotels in Žuljana, but you can find accommodation in a private apartment or room. In my opinion, this is a much better option because it provides some authentic experience. Instead of sitting in an anonymous hotel room, you can talk to the locals, learn about the village and what life is like here. This is really cool. Some places also offer accommodation with a full board which is a good opportunity to try the specialties of the local cuisine. There are also at least two campsites in Žuljana: Sunce and Vučine.
The place where we stayed in Żuljana was Apartament Polje 4 and I highly recommend it. The apartment is on the ground floor, has a large terrace and garden for own use so it is a great place for families with small children. The host speaks perfect English and is a very nice, helpful person. I felt welcome there and enjoyed my stay.
What to see near Žuljana?
Žuljana is a great base for exploring the most beautiful places in South Dalmatia. I recommend you go on a day trip to Dubrovnik, which is only 80 km away. Along the way, be sure to visit Ston (25 km), which is famous for the largest walls in Europe and the oldest operating salinas in the world! The restaurants in Ston serve excellent oysters and mussels, so it's worth having lunch here before continuing your trip.
Another interesting place to see on the way to Dubrovnik is Arboretum Trsteno (62 km), which is a beautiful Renaissance garden with exotic plants and fountains. I'm sure that Game of Thrones fans know this place because it is one of the locations where the series was shot.
Although I liked Dubrovnik, Korčula Town completely amazed me! In my opinion, it is one of the most beautiful places in Croatia and a must-see. To get here you need to go to Orebić (30 km) and take the passenger ferry that goes straight to Korčula Old Town. Read more: Top 10 things to do in Korčula Town, Croatia. When you are back in Orebić, be sure to take a walk along the seafront promenade where beautiful captain's houses are.
Žuljana is located more or less in the middle of Pelješac, so it's a good place to explore the peninsula with its charming villages, vineyards and beautiful beaches. Read more: Things to do on the Pelješac Peninsula, Croatia. You can also go on a boat trip to Mljet, which is the greenest island in Croatia and explore its National Park with two salt lakes and the small island of St. Mary.
What is Žuljana like? Is it worth visiting?
'You probably did good research to find out about Žuljana. It's a hidden gem! ' our host Slaven said when we got there. To be honest, we didn't have any big plans to visit this village. It happened a bit spontaneously. We were supposed to go to the island of Hvar, but at the last moment, we changed our minds and decided to visit a place we had not yet been to, Pelješac Peninsula.
The most popular destination on Pelješac is the town of Orebić, but we were looking for something completely different. We just bought a sea kayak, so we wanted an interesting coastline, secluded beaches, small islands. Žuljana, with its shallow turquoise sea and lovely coves, seemed to be the perfect place for us.
When we reached Žuljana, it was raining, a strong wind was blowing, the sky was gray and everything seemed to lose its colors. Somewhere over Trstenik I even saw lightning and waterspout on the horizon, so you can imagine how crazy the weather was. Perhaps my first impression was far from delight, but believe me, I quickly changed my mind.
We passed the playing field, drove through the village and turned into Polje, where our host, Slaven, was waiting for us. I have to say that I have already been to several places in Croatia and all my hosts were very nice people, but nowhere did I feel as welcome as in Žuljana! When we entered our apartment, on the table was a jug with freshly squeezed pomegranate juice and a plate with sliced fruits. It was all so delicious and refreshing! After a few days on the way, we came to a place where we felt almost at home. Unbelievable.
I went out onto the terrace, drinking a delicious pomegranate juice. Looking around I concluded that I have never been to such a green place in Croatia. Maybe it's about palm trees and other exotic plants in the garden, the smell of flowers and herbs, or the humid air after a storm, but I felt like I was somewhere in a tropical paradise. I was surprised because the landscape was completely different than in other places in Dalmatia that I visited. The green hills surrounding the village looked like somewhere in Vietnam or another Asian country.
As the storm passed and the sun appeared in the sky, the colors around became vivid and intense. We went to the center of the village, walked along the port quay and found the path to Kremena Beach. It was September, so the sea was pleasantly warm and the views from the beach were breathtaking. At this point, we felt that we had made a great decision choosing Pelješac and staying in Žuljana. This village was indeed a true gem!
As I already mentioned in this blog post, there are three or four restaurants in Žuljana as well as two shops and a bakery, so although it is a small village, everything is in place and you do not need to go anywhere by car to buy bread and other things. It is very convenient. What's more, in the morning there was also a small market where you could buy fresh fish, fruits, and vegetables. But the funniest things were self-service stalls where you left the payment in the jar. The jar with money stood like that all day and nobody took it, so you can imagine how safe place Žuljana is.
Soon our host organized bikes for us so we could move around the village on two wheels. It was so cool! In the morning we used to bike to the bakery to buy bread and some sweet buns for breakfast, and by the way, we turned to the port to check if the sea is calm enough to kayak. I climbed a breakwater then and admired the wonderful view that stretched out from there. In the nearby Tamaris Bar, locals usually sat, drinking morning coffee and chatting with each other. Nobody was in a hurry, everything went its rhythm. This relaxing atmosphere of Žuljana made us chill too.
The main reason why we decided to stay in Žuljana was that it seemed to be a great place to start our adventure with kayaking. The sea here is very shallow and you can see everything underwater. Thanks to that I felt quite comfortable and I was not afraid during our first trip along the coast.
Žuljana is surrounded by green hills which makes it picturesque. The slopes are overgrown with a thick pine forest and once you leave the village you can feel as if you were exploring a wild and unknown coast. No houses, no car noise, just beautiful nature and small beaches hidden under the cliffs. One of our favorite places was Grdni do Žuljana Beach due to the unusual teal color of the sea and surrounding landscapes, but we only stayed there for a moment and kayaked further looking for more secluded coves.
Sometimes we changed our course and sailed to Vučine Bay where there were two tiny islets. One of them, Kosmač, even had a small pebble beach. It was fun to get there and walk around, enjoying the smell of pine trees and listening to the buzzing of cicadas. If we didn't have a sea kayak, this place would be inaccessible to us.
One of my best memories of Žuljana is kayaking at sunset. The sea was very calm then, fishing boats drifted around and the outline of the island of Korčula could be seen on the horizon. If I were to mention the most beautiful things I saw in Croatia, this view would be one of them.
When the sun went down and dusk came, you could hear the howling of jackals from the surrounding hills. I've never experienced it before and felt like we were somewhere at the end of the world surrounded by wilderness. Indeed, the Pelješac Peninsula is still one of the unspoiled and greenest places in Croatia. I'm glad that I could be here, feel the atmosphere and see all this beautiful nature.
Pelješac is not only beautiful views and wonderful beaches, but also delicious food and wine. We tried local wine and liked it. Sometimes our host gave us a surprise and when we returned to the apartment in the evening, we often had fruits and a bottle of wine on the terrace. We stayed on the ground floor so we had a garden and plenty of space for our kayak. It was a great place and if we ever come back to Žuljana, we will choose Slaven's house again.
When evening came we used to go for a walk to the port and usually ate something in Tamaris. This place is something between a bar and a restaurant, it is located by the sea and you can enjoy a nice view of the village from here. As I mentioned, I liked the mussels here, both in white wine and tomato sauce, but the black risotto was my number one. If you visit Žuljana, I recommend you try it.
I described to you what we usually did in Žuljana so that you would have some idea of what this place is like. I think it is a good destination for families with children because it is safe here, without busy roads and there are sandy beaches with shallow shores. However, this place will also be appreciated by everyone who wants to relax away from the hustle and bustle and all those who have a sea kayak, pontoon or boat. The coast here is really beautiful, there are many secluded coves and hidden beaches. So if you like quiet places with wonderful nature, Žuljana will be perfect for you.
Do you like this post? Pin it!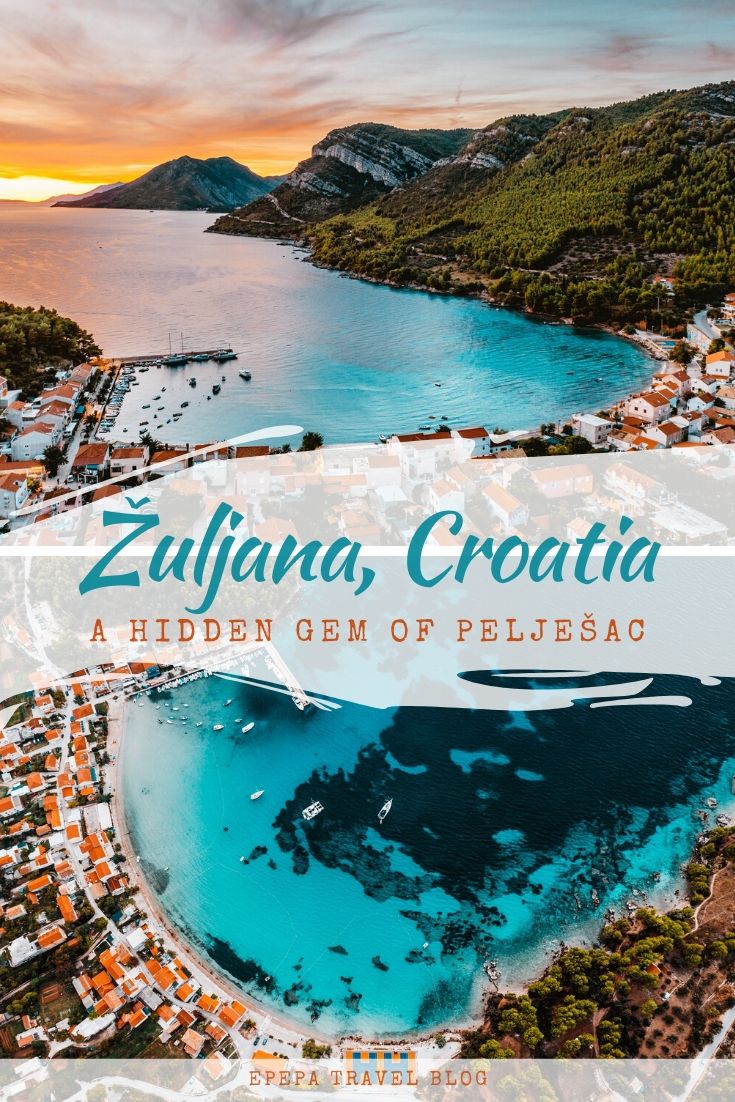 (Visited 12,459 times, 3 visits today)