They say that there are no sandy beaches in Croatia and they are wrong! Croatian coast is not only gravel and stones, but there are also beaches with fine sand and shallow sea. You just need to know where to look for them. This time I would like to tell you about a small Croatian island that we discovered during our May stay in the Kvarner area. This island is called Susak and is made of sand, which makes it unique and one of its kind. There is no other island like this not only in Croatia but also all over the Adriatic Sea.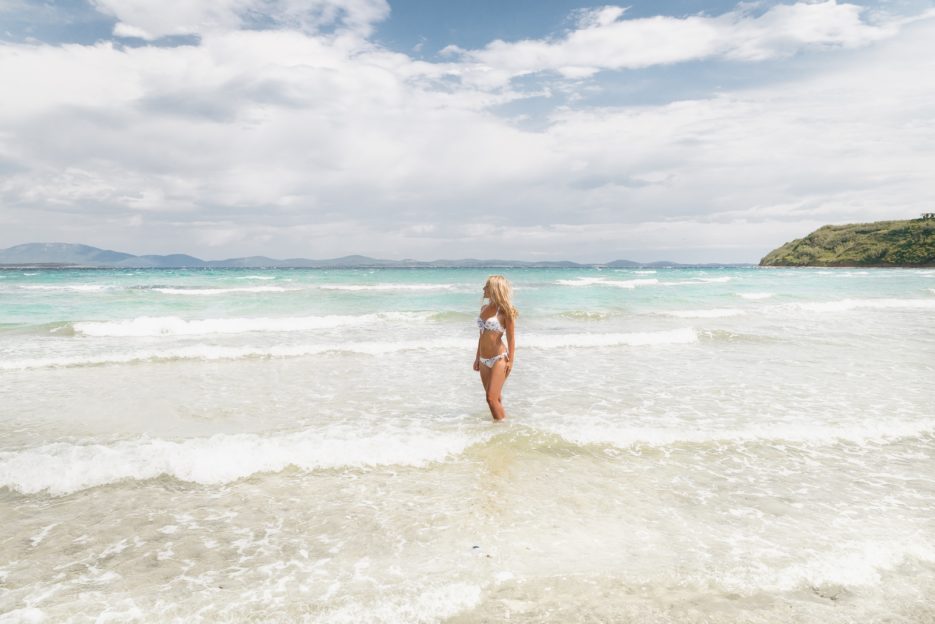 A trip to the island of Susak in Kvarner, Croatia
Have you ever heard about the island of Susak in Croatia? I must admit that before we went to the Kvarner Bay area in northern Croatia, we did not know that such an island exists at all. We also had no idea that there are beaches in Croatia with such fine white sand and shallow sea. Usually, we were looking for small pebble beaches hidden in coves like the secret beaches of Hvar about which I already wrote on this blog.
One evening we went to the Čikat Bay in Mali Lošinj to look at the sunset. It was the first time I saw the island of Susak on the horizon. Suddenly, I felt curious about what is on this island, what is its name and how to get there. I knew right away that I had to go there and see how it is.
It turned out that a catamaran from the port of Mali Lošinj runs every day to the island of Susak, so we decided to try to get there. The next day a very strong wind was blowing and the lady who sold us the tickets said that perhaps we would not be able to stop on the island. However, we decided to take a chance and succeeded, despite the large waves and strong wind, we finally got to Susak.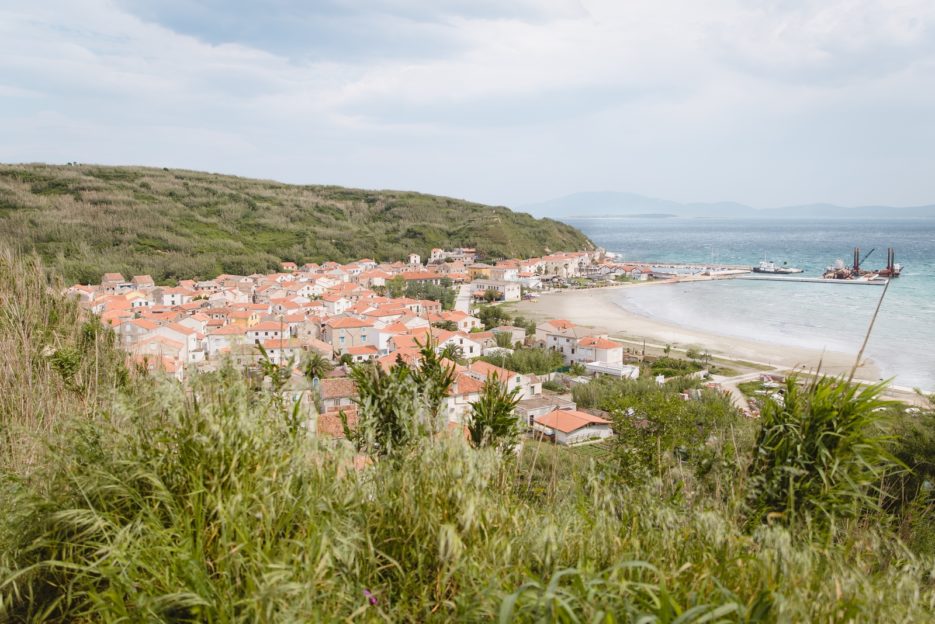 Susak, a Croatian island made of sand
I have already written that the island of Susak is unique and one of a kind. That's what even sailors say, who have crossed the entire Adriatic Sea and have seen a lot. What makes Susak Island so unusual? It is not only that there are beautiful sandy beaches that are rare in Croatia. It is also about the appearance of the island and its genesis.
Susak is a small island located in the Kvarner Bay, about 7,4 km southwest from the island of Lošinj. It's geologically different from the other Adriatic islands in that it is mostly made of sand which ancient winds deposited onto the limestone plate. A long time ago people planted reeds around their fields. In search of the water, its roots penetrated deep into the soil and preserve it from erosion. So actually thanks to farmers and their crops, the island exists to this day.
In Italian, Susak is called Sansego. What's interesting, the name comes from the Greek word Sansegus which literally means "oregano". As you can guess, on the island grows a lot of this aromatic herb. Another interesting fact is there are practically no trees on the island. The area is mainly covered with reeds and vines.
There is only one village on Susak which consists of two parts: the lower and the upper one. The island is car-free, there are no roads on it and the only means of transport are wheelbarrows. If you like such places, be sure to read also about Gothenburg Archipelago, a hidden gem in Sweden.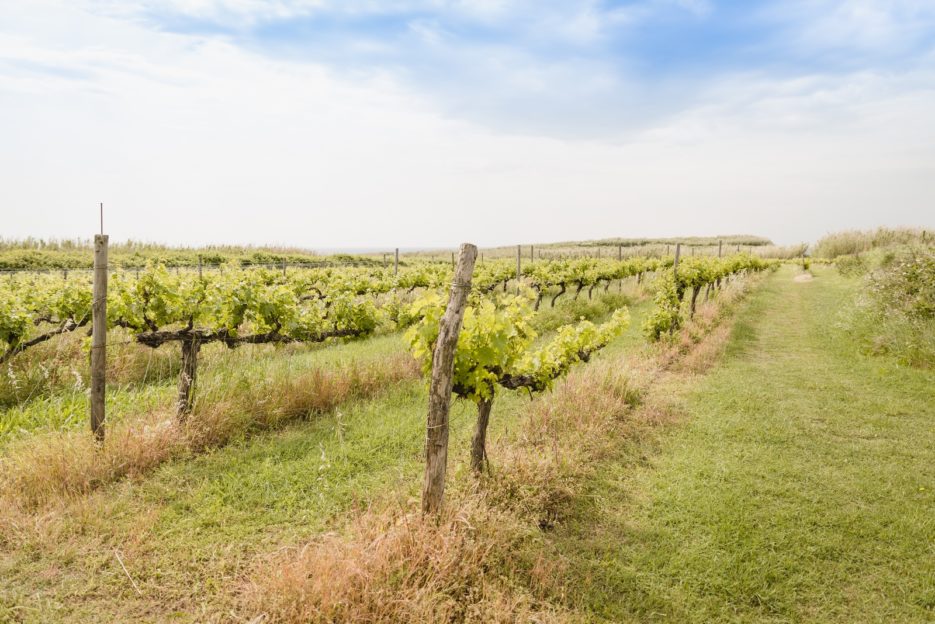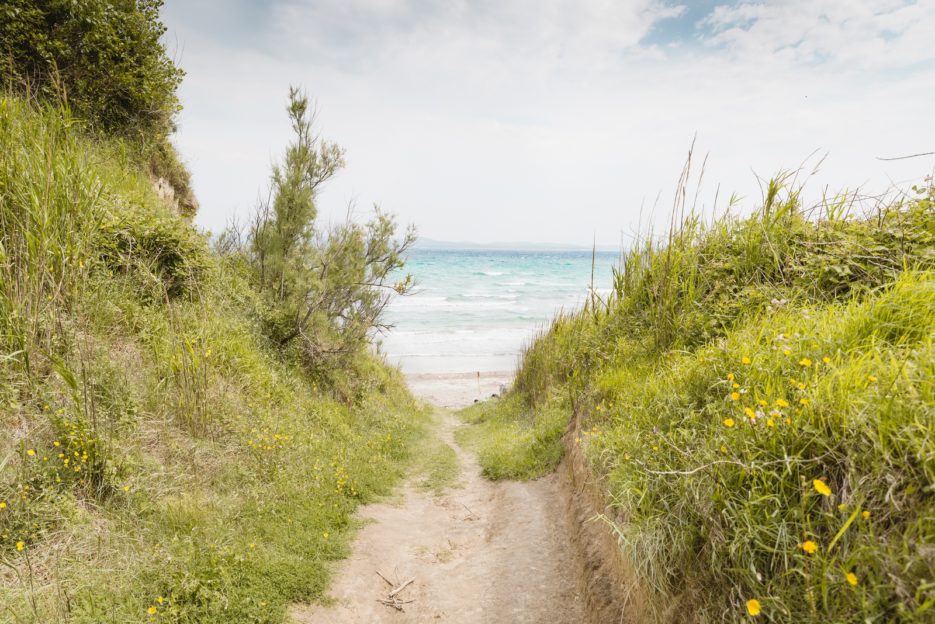 Bok, Susak Island – a beautiful beach with white sand and shallow sea
There are many beautiful beaches on the island of Susak and each one is unique. From the side of the island of Lošinj, there are sandy beaches with shallow sea, and from the side of the open sea, there are stony beaches with crystal clear water. Unfortunately, we did not have much time to explore, because the catamaran sailed back in a few hours, so we took a little walk around the village and went to Bok Beach.
We walked for over half an hour along a narrow path around which high reeds grew. After some time, the vineyards began to appear and finally, we reached the Bok Beach, which was completely empty.
There was no one besides us. The sea had a wonderful blue color, and only the sound of waves could be heard. For a moment, I felt like I was in paradise. It was so peaceful and beautiful. There are fewer and fewer places like this where you can enjoy nature and feel part of it. I am glad that I was able to discover Bok in Susak, which is one of the prettiest beaches in Croatia that I have seen.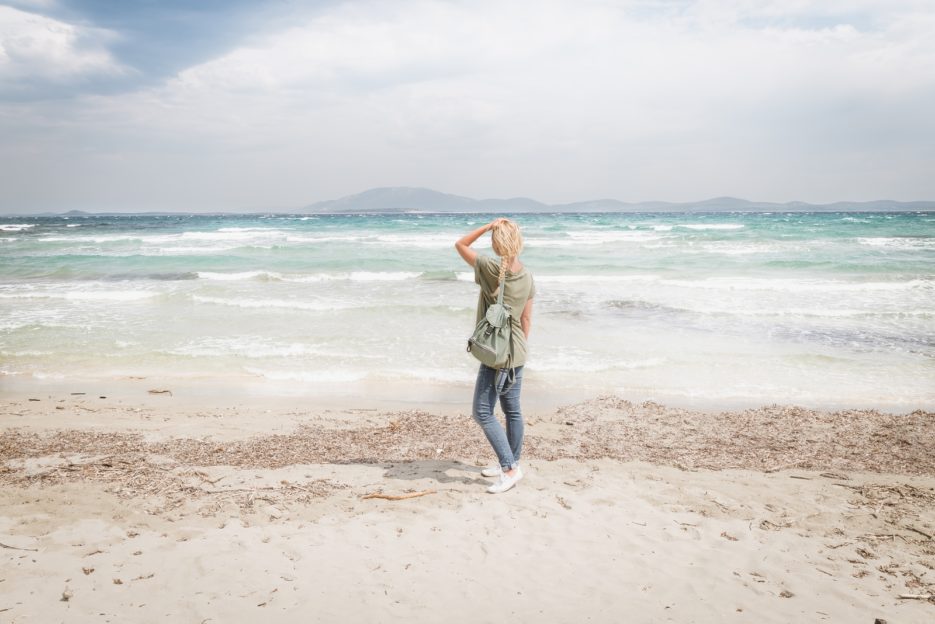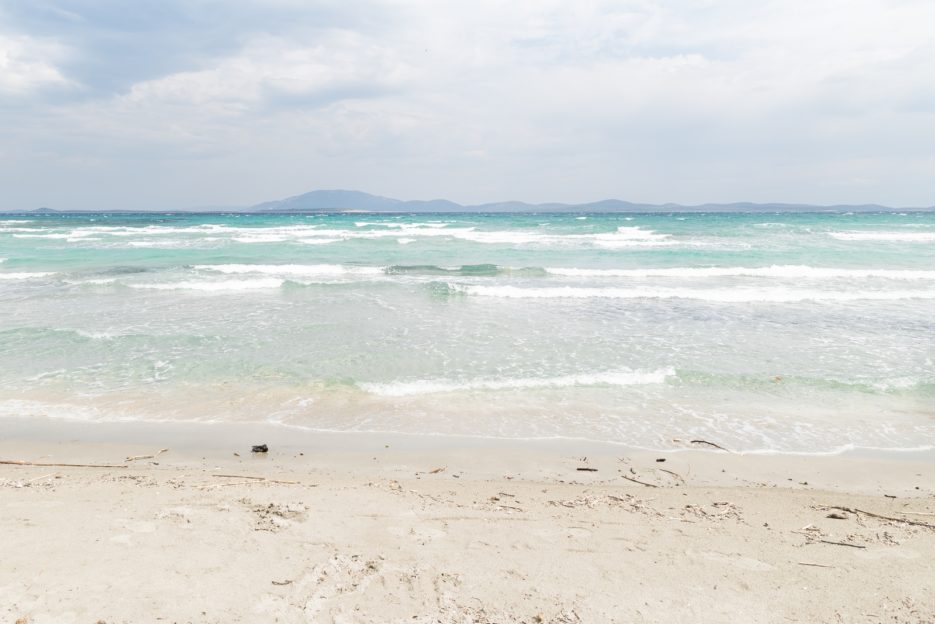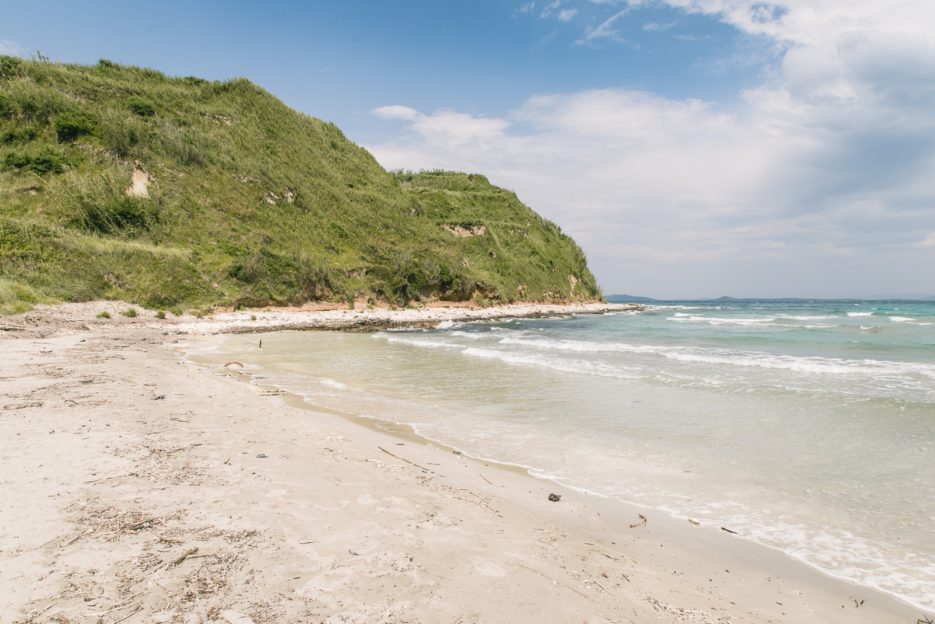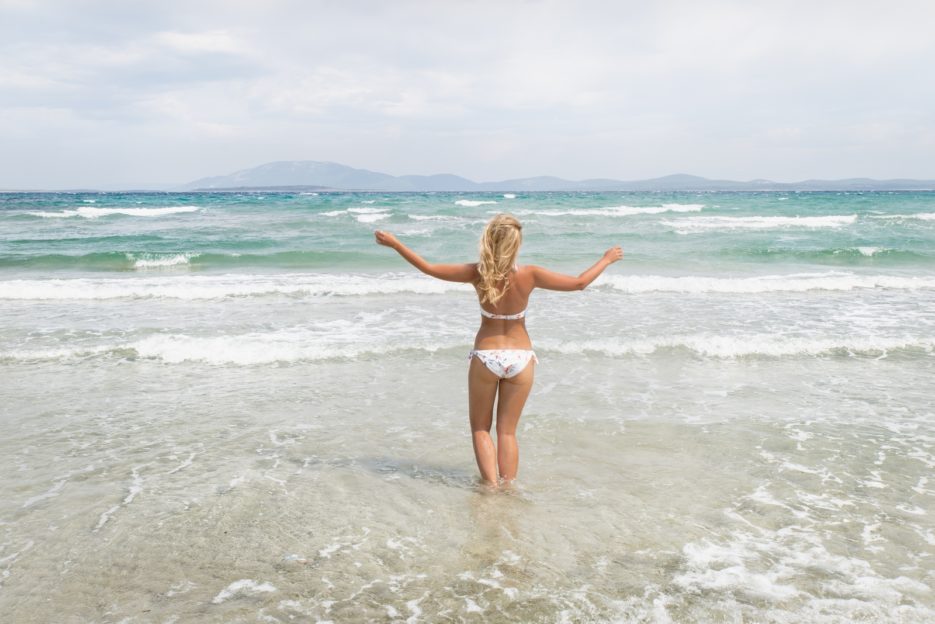 Susak Island, Croatia – a place one of a kind
Currently, the island of Susak has a population of about 150 people. There used to be much more inhabitants here, but most of them emigrated to the USA. Susak's history is very interesting and it is worth reading more about this island.
If you ever go there, be sure to visit the Emigrant's Club where you can watch old photos and have a drink at a good price. It is a real, authentic place with an atmosphere that you will not feel in tourist resorts. It is also worth to try the local wine which is unique and has a special flavor.
What's more, and this is another interesting fact about the island of Susak, the inhabitants have their own dialect, which is not understandable even for Croats. This dialect, as well as specific customs and colorful costumes, has been preserved due to the isolation of the island.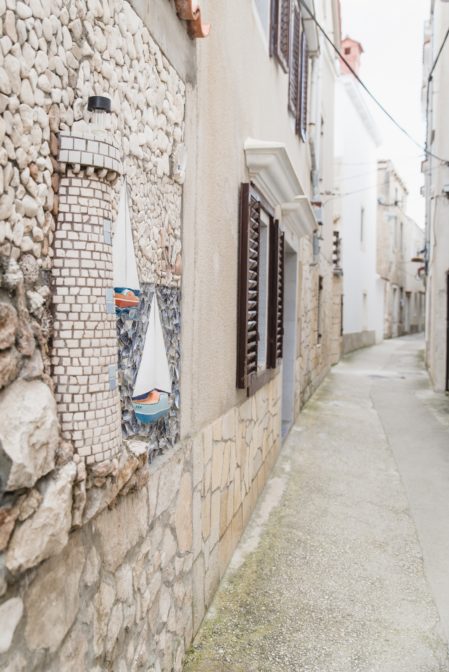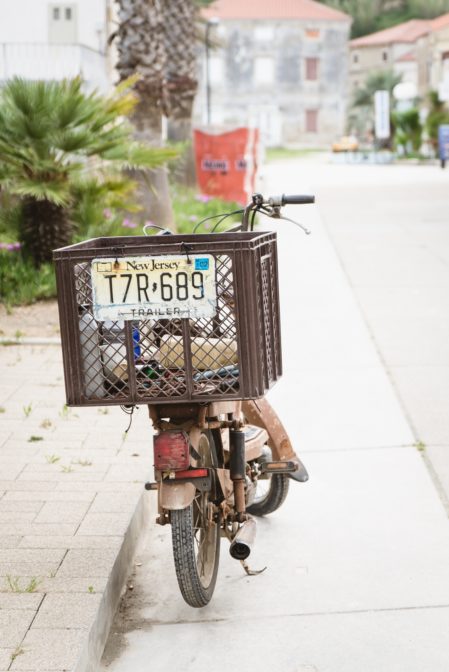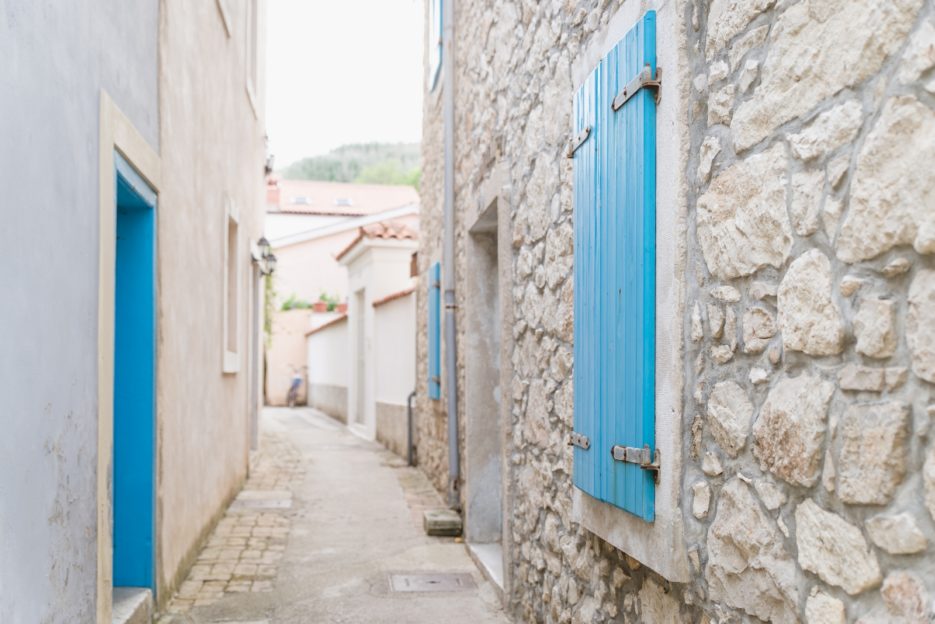 How to get to the island of Susak and where to stay?
The island of Susak can only be reached by sea. There runs a passenger catamaran from the cities of Mali Lošinj, Rijeka, Pula, Zadar, Cres or Martinšćica. There are also connections between the island of Susak and other archipelago islands like Unije, Ilovik, Vele Srakane, Silba.
We got to the island of Susak by catamaran from Mali Lošinj served by Jadrolinija. The trip lasted about 35 minutes and in May the ticket cost 18 HRK (about 2.50 euro) per person. The trip from Rijeka, Pula or Zadar to the island of Susak takes about 3 hours. Current ticket prices and timetables are available on the Jadrolinija or Catamaran line websites. These are foot-passenger only ferries, so cars are not allowed.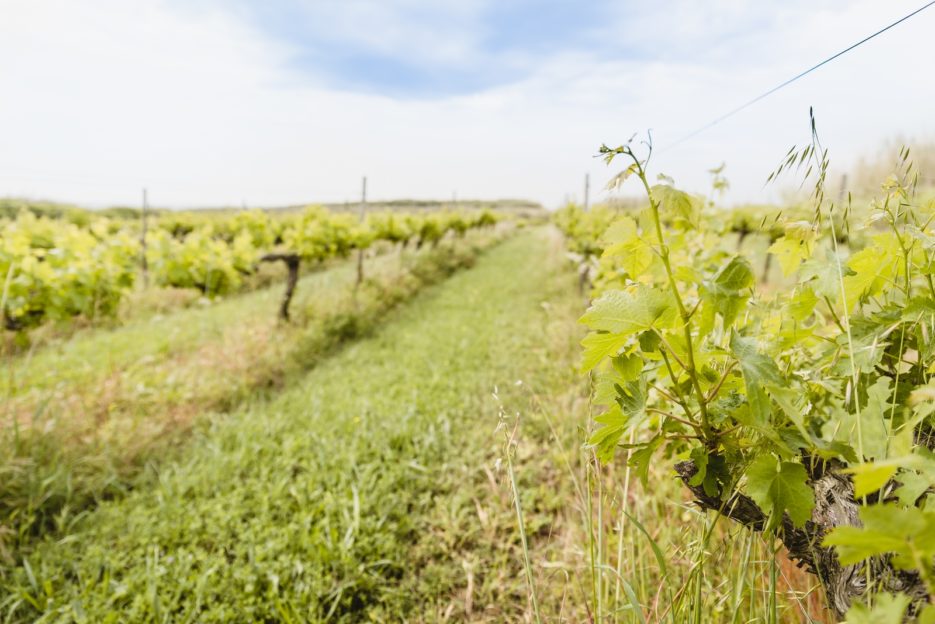 When it comes to accommodation, there are no large hotels on the island of Susak, but you can rent a room through services such as Booking, Airbnb etc. If you want you can check the rooms available on the island of Susak on the map below. It's best to book your accommodation in advance because the choice is limited.
As you can see, the island of Susak, although small, is very interesting and one of a kind. It is worth going there if you are looking for beautiful nature and authentic places that are off the tourist radar. We definitely want to come to the island once again and spend a few days on it to get to know this place better and feel its atmosphere.
Do you like this post? Pin it!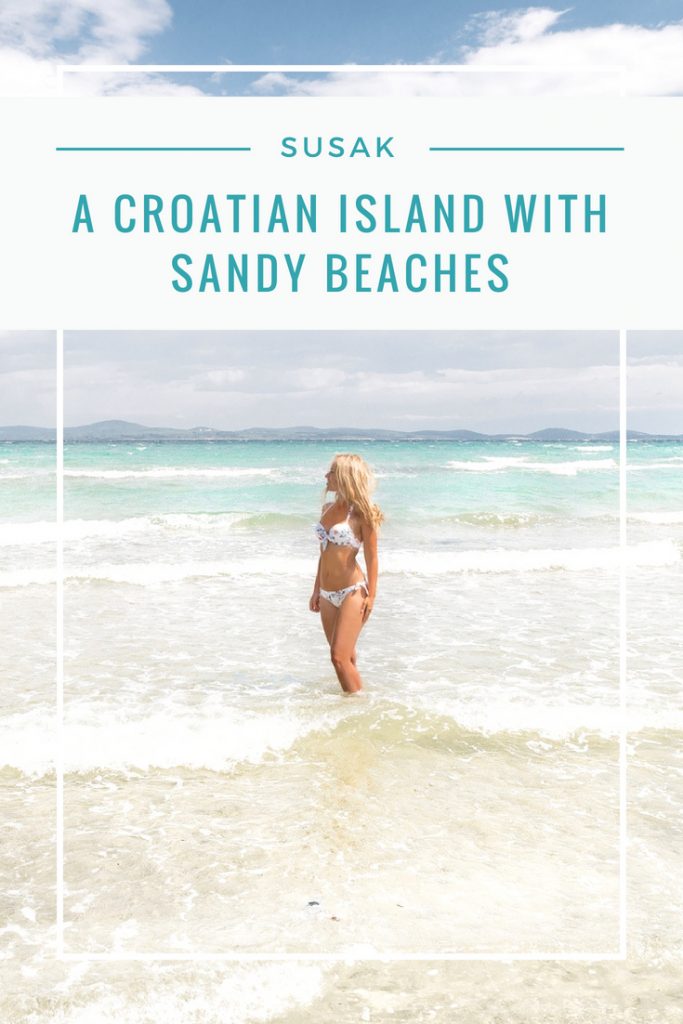 (Visited 10,744 times, 1 visits today)