As you probably already know, I do not like typical tourist resorts. Instead of spending time on a sun lounger or in a hotel pool, I prefer to visit authentic places and observe the everyday life of local people. Before going to Rhodes, I was wondering which town to choose as a base for exploring the island. Finally, I decided to book a hotel in Rhodes Town and it was a very good choice. If you are going to visit the capital city of Rhodes or just consider a trip there, I present you a list of things to do in Rhodes Town and some travel tips that in my opinion might be useful to you.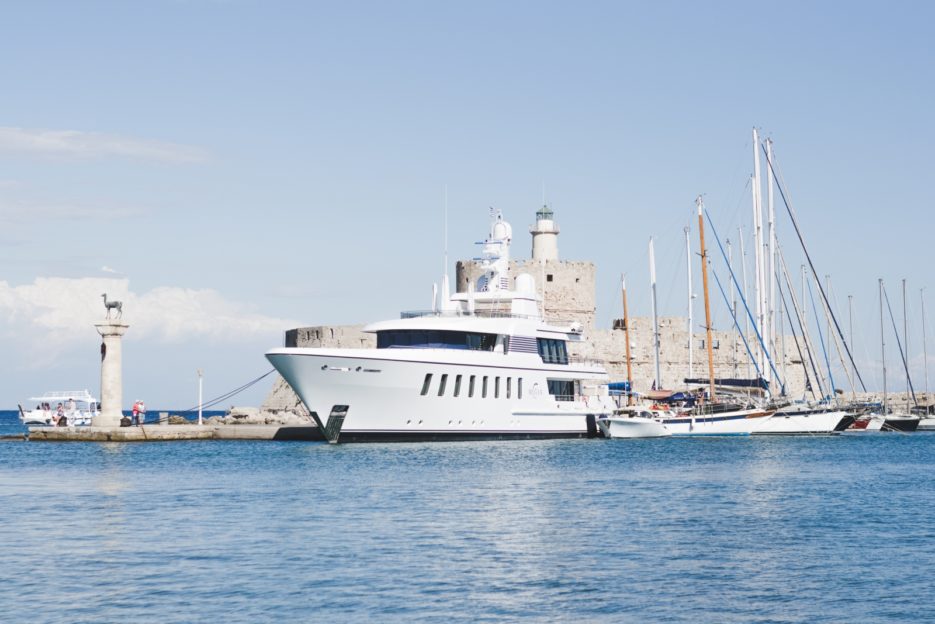 Rhodes Town – the capital of the island of Rhodes
The city of Rhodes is the capital of the island and the largest town with a population of approximately 90.000 in its metropolitan area. It's situated about 14 km from the Diagoras International Airport, in the north-east tip of the island. Rhodes Town can be divided into two quarters: the old town with medieval buildings and narrow streets, and the new town. It successfully combines a lively present with a rich historical past. In the city of Rhodes, you can find both beautiful architecture and beaches with crystal clear water, as well as shops and restaurants. The city will be appreciated by everyone who likes to spend time actively, there is a lot of things to in Rhodes Town! History lovers and artists will also like this place because it is very inspiring and hides many secrets.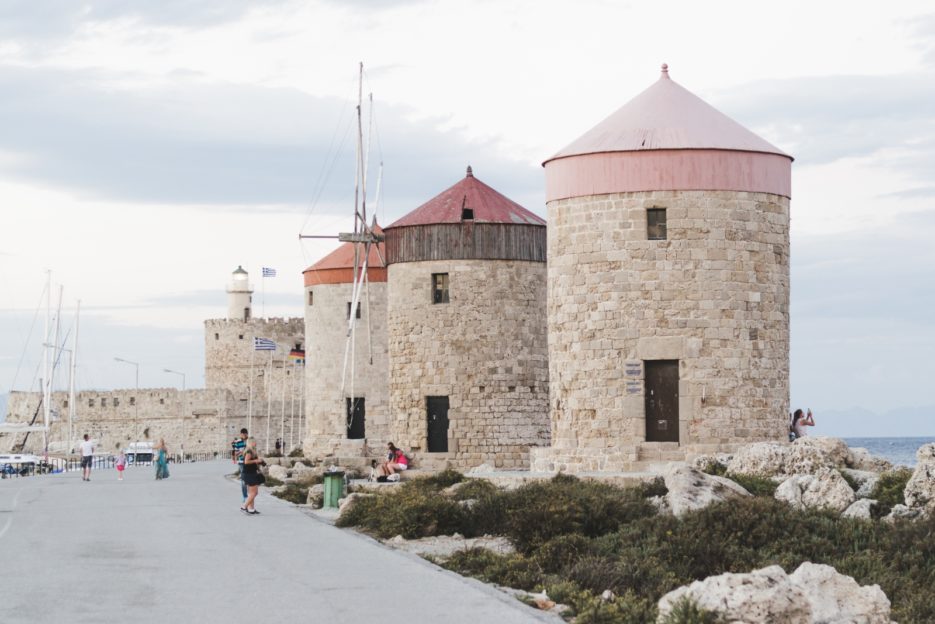 The best 10 things to do in Rhodes Town
1. Visit the Old Town of Rhodes.
The Old Town of Rhodes is one of the biggest attractions not only in the city of Rhodes but also on the whole island. This place you just have to see! You have to spend at least one whole day to visit the medieval city. However, it is best to stay in the city of Rhodes and, like me, come here every day, discovering new places every time. Read more about the best things to see in Rhodes Old Town and travel tips.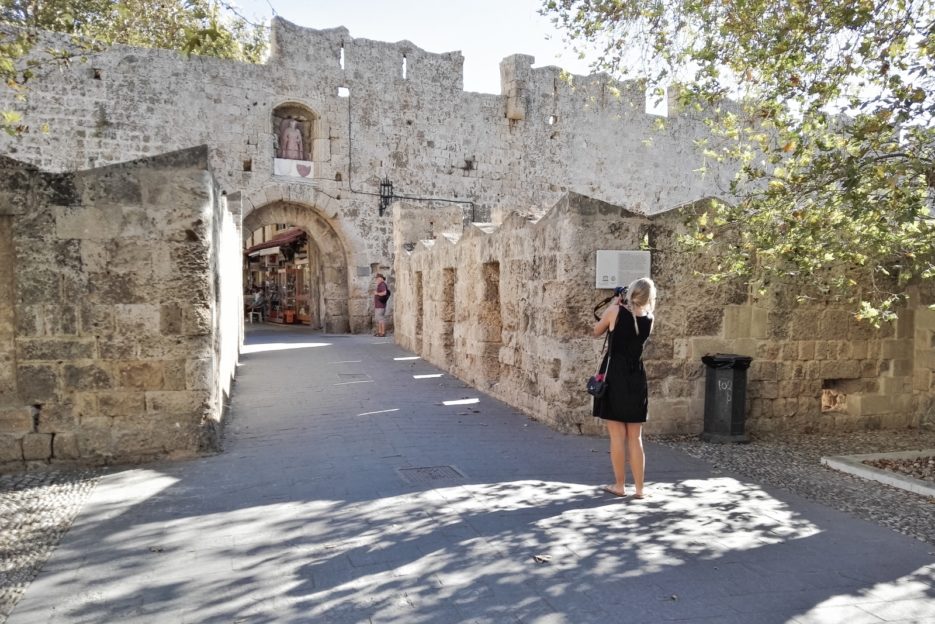 2. Take an evening walk to Mandraki Harbour.
Mandraki is a famous harbour where, according to legends, once stood the Colossus of Rhodes, one of the Seven Wonders of the Ancient World. Today the deer sculptures at the entrance, the St. Nicholas Fortress, and three medieval windmills create a charming view of the harbour. Tip: It is worth going to Mandraki Harbour late in the evening when all the historic buildings are illuminated.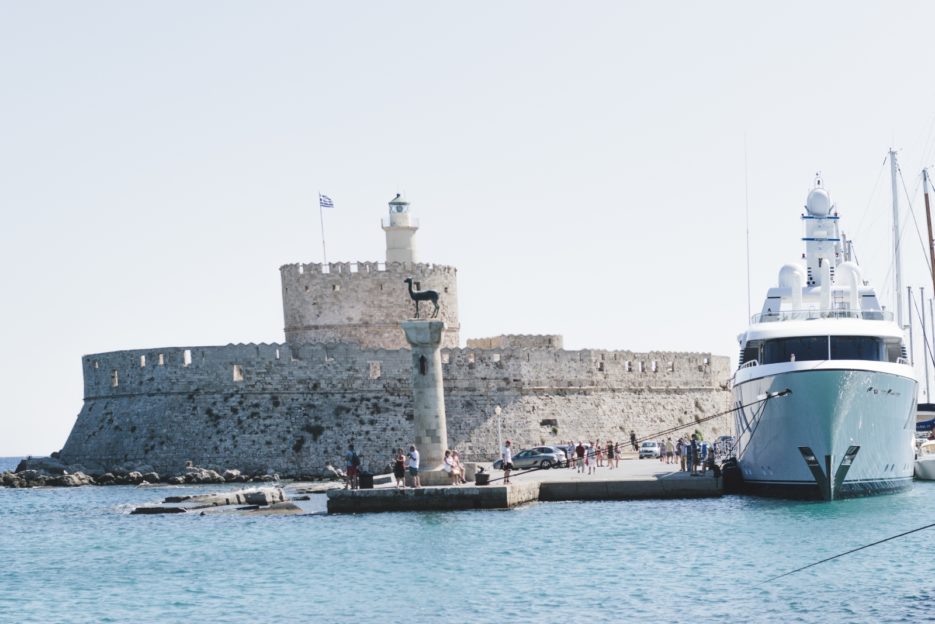 3. See beautiful municipal buildings in Rhodes New Town.
If you are in Mandraki Harbour, you should also see beautiful municipal buildings of the new town such as the Town Hall, General Post Office, Bank of Greece, Court House, National Theatre and the Governor's Palace.
4. Buy some local products and souvenirs at Nea Agora.
If you are looking for souvenirs or you want to buy local products, you should visit Nea Agora, the New Market, which is located in a characteristic building by Mandraki Harbour. You will find everything you need here: postcards, natural sponges and other souvenirs, spices, and even local food.
5. Climb up to the Acropolis of Rhodes.
The Acropolis of Rhodes is located on Monte Smith Hill, the highest hill in the city of Rhodes, from which there are really beautiful views of the sea and the town. The Acropolis itself may not be as impressive as the one at Lindos, but history fans will love this place. The monuments date from the Hellenistic periods and include the Temple of Apollo, the ancient Olympic Stadium, small theatre, sanctuaries, public buildings, temples and underground places of worship. Tip: Admission to the Acropolis of Rhodes is free.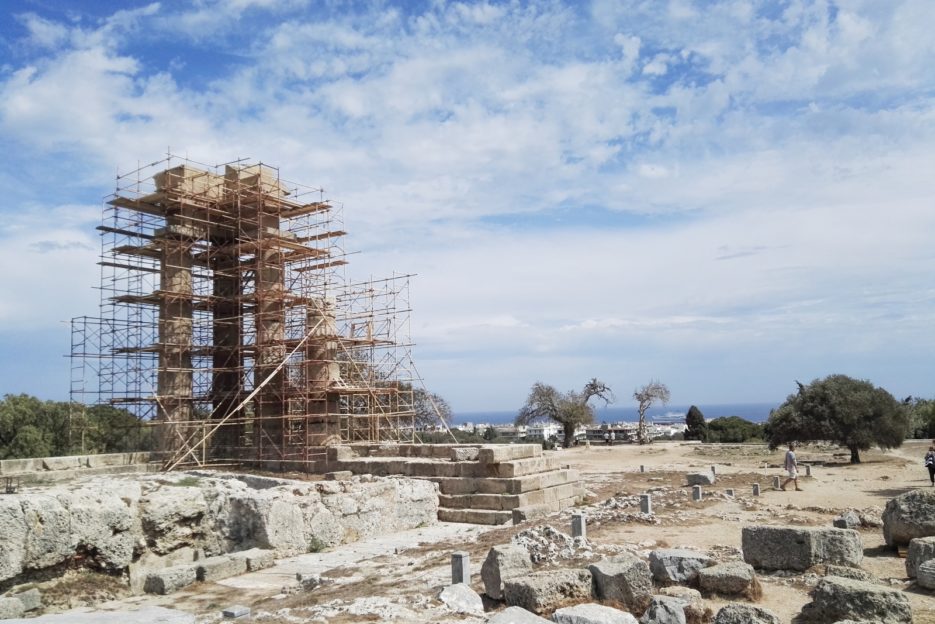 6. Relax at Elli Beach.
Elli Beach is considered the most beautiful beach in Rhodes Town. In the season it can be quite crowded, but the water is very clean and has a beautiful color. Elli Beach is a good place to relax after a day of sightseeing. You can rent a sunbed here or just swim in the sea.
7. Take a walk along the seaside promenade.
The city of Rhodes is located on the peninsula and is surrounded by the sea from three sites. On the seafront, there is a promenade, which is a few kilometers long. A walk by the sea at sunset is a wonderful experience.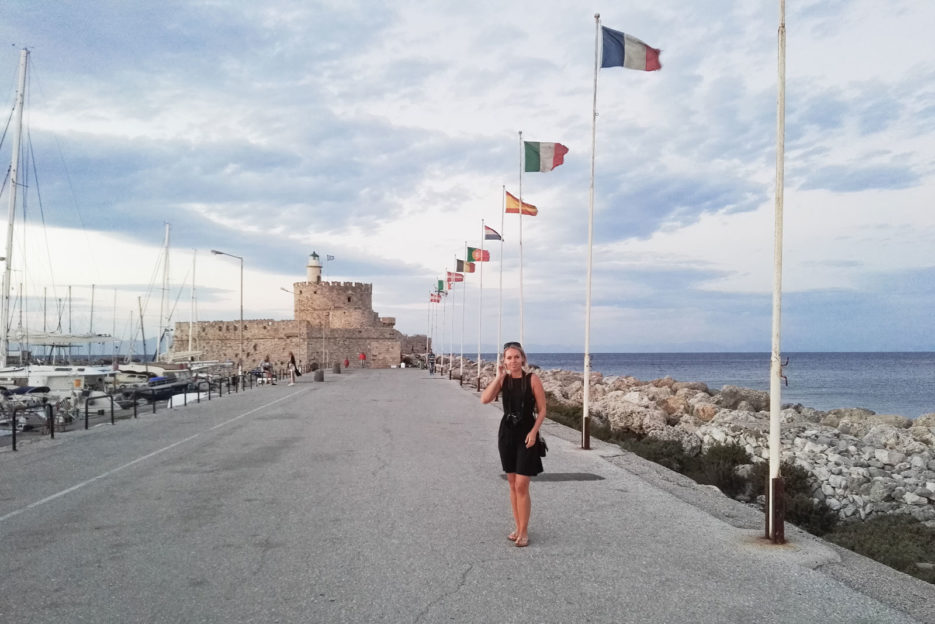 8. Explore the underwater world at Rhodes Aquarium.
At the very end of the peninsula in the city of Rhodes, there is an art deco building which houses an aquarium, museum and research center. Here you can explore the marine life of the Aegean and Mediterranean sea.
9. Enjoy the view of the sea from the coastal pathways leading to Ixia.
If you have more time, it is worth going for a long walk towards Ixia. Very scenic coastal paths lead there, from which you can admire unforgettable views of the sea and the coast of Turkey on the horizon. Tip: It's best to go for a walk there early in the morning.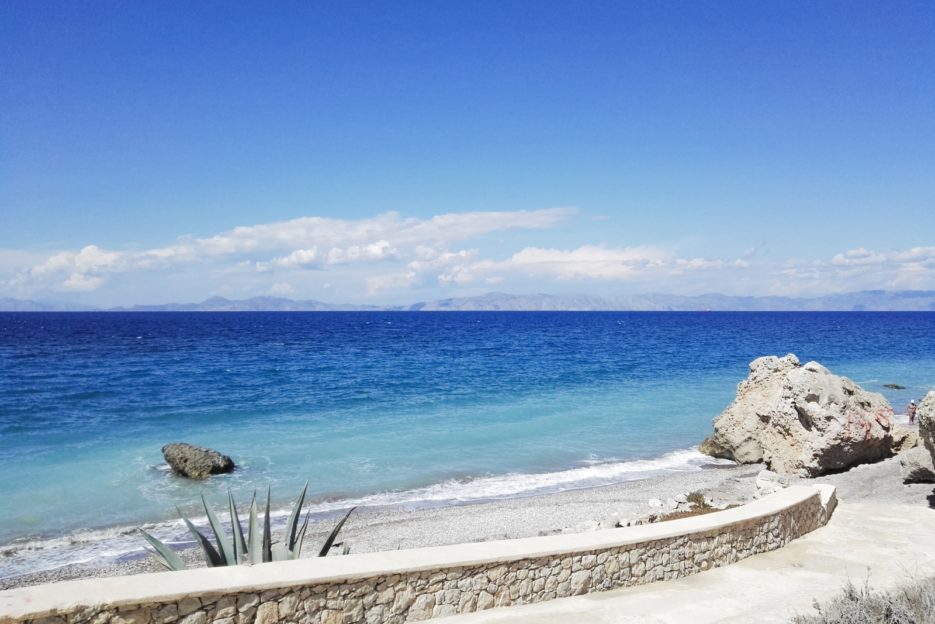 10. Get lost in the narrow streets of Rhodes Town.
In my opinion, the coolest thing to do in Rhodes Town is getting lost in the maze of narrow streets. Thanks to this, you can discover many hidden treasures that other tourists usually miss. Such places allow you to get to know the city better. That's how I discovered some lovely pedestrian streets in the new town of Rhodes. Tip: very nice narrow streets are near Nikiforou Mandilara street.
Rhodes Town – travel tips and advice
How to get to Rhodes Town from the airport?
Rhodes International Airport Diagoras is located about 14 km from Rhodes Town. You can get from the airport to the city of Rhodes by bus, taxi or rent a car.
By bus: The cheapest option is a bus which costs 2.20 €. The ride from the airport to Rhodes Town takes about 35 minutes or more, depending on traffic. The route includes several stops until the destination. The bus stop is situated outside the terminal building, approximately 300m away. Departures to Rhodes Town are quite frequent, but less so during the weekend.
By taxi: If you do not want to wait for the bus, you can take a taxi to the city of Rhodes. It costs about 25 €. The cabs are dark blue with white-colored roofs, they can be reached at the Taxi Station next to the arrivals terminal.
By car: You can also rent a car directly at the airport or by booking in one of the rental companies. The prices vary, depending on the car model and the number of days of rental.
Where to stay in Rhodes Town?
There are many hotels in Rhodes at various prices. You can rent a room near the sea or in the old town, it depends on what you prefer. I rented a room at the Svea Hotel, which was quite cheap and had a convenient location: close to the beach, a few minutes walk to Mandraki Harbour and to the Old Town. Here is a list of hotels in Rhodes Town, maybe you will find some nice accommodation for yourself.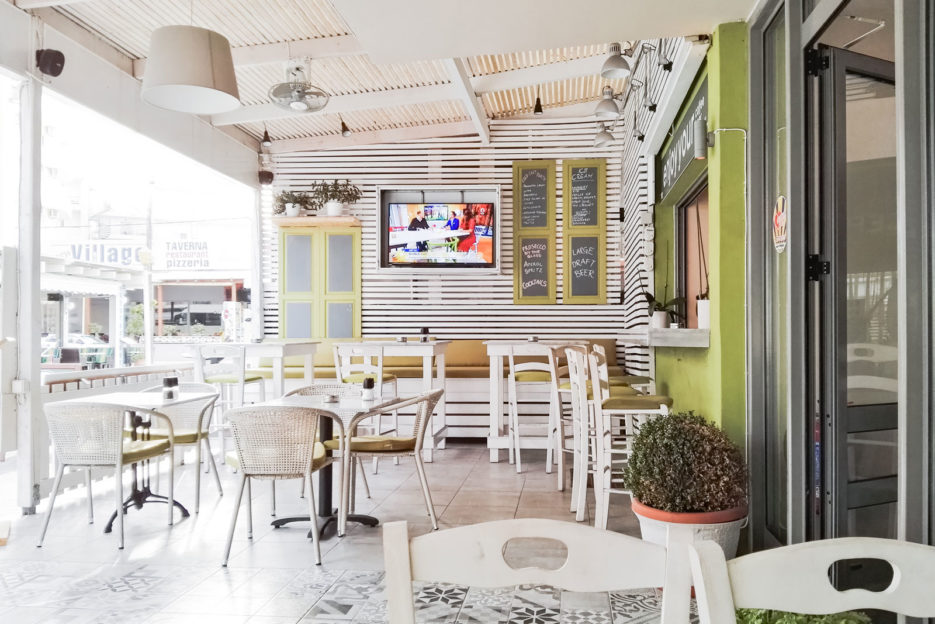 The funny thing that happened to us is that we met a receptionist in the hotel who … was from our country. It's nice to go somewhere far away and meet someone who speaks the same language. She helped us to rent a car in Rhodes Town and told about all the major attractions on the island.
Where to eat in Rhodes Town?
You will find many nice restaurants both in the old and new part of the city of Rhodes. However, if you are looking for a place where you can eat a cheap and tasty meal, I recommend the Pitta Gyros bar on the pedestrian street Nikiforou Mandilara. A dinner set, which consists of a gyro plate, fries, sauces, a salad, pita, and local wine or beer, cost about 5 €. Every time we ate there we also got a free dessert or an extra drink.
Is Rhodes Town expensive?
It's hard to say, it all depends on what attractions you want to visit, where to eat and in which hotel to stay. We spent a week in the city of Rhodes and in our opinion, it was not expensive. You can certainly organize a cheap holiday in Rhodes Town, but there is also a large offer for people who like luxurious travel.
What is the most beautiful beach in Rhodes Town?
There are two main beaches in Rhodes Town: Elli Beach and City Beach West. Elli Beach is considered the most beautiful in the city of Rhodes, but in the season might be a bit crowded. You can rent sunbed here or have a drink at one of the beachfront tavernas. Elli Beach features also a choice of water sports, diving and beach volley.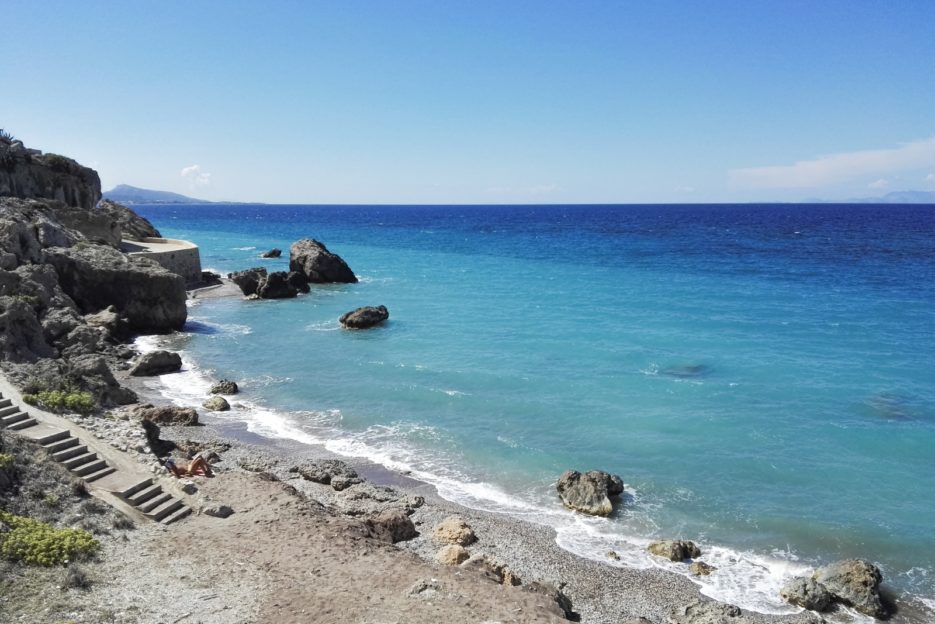 City Beach West was next to the hotel where I stayed in Rhodes Town. It is a wilder beach, with waves and wind. However, it offers plenty of space to relax and a beautiful view of nearby Turkey. In the city of Rhodes there are also two smaller beaches near the port, but if you want to see really nice places, it is best to rent a car and go to Tsambika Beach or other sandy beaches on the island of Rhodes.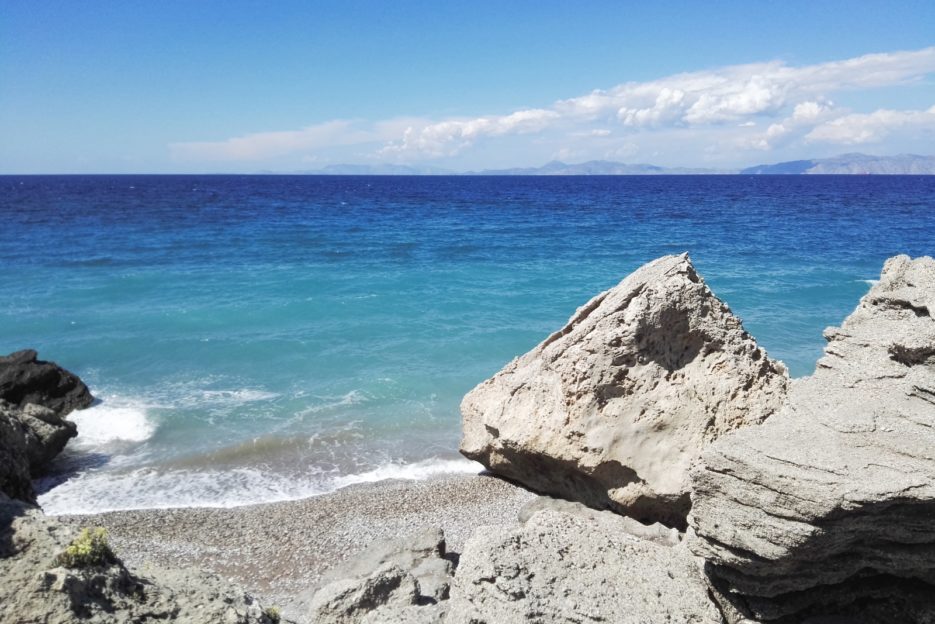 Where is the tourist information office in Rhodes Town?
Tourist information in Rhodes Old Town: in an ancient building at the foot of the Street of the Knights there is a tourist information office that supplies excellent streets maps, brochures, and leaflets.
Tourist information in Rhodes New Town: between Mandraki Harbour and the Old Town is another tourist information office with lots of free brochures and helpful staff.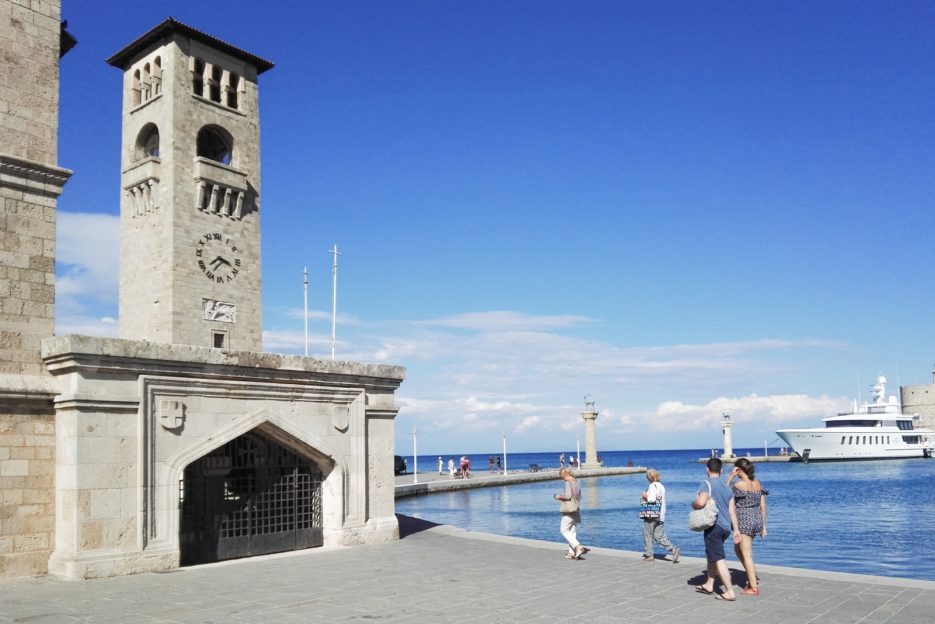 We spent 8 days in the city of Rhodes and if I had to go to the island of Rhodes, I think I would stay there again. There is everything I am looking for: a beautiful old town, historic houses, narrow streets, a wonderful view of the sea. The only things I missed were small secluded beaches hidden in bays, but it's hard to find such places in a big city. However, you can rent a car and go to Tsambika Beach or other beautiful beaches on the island. I recommend the city of Rhodes to artists, photographers, history buffs and all those who like to spend time actively. I'm sure you'll like it! I hope that my list of 10 best things to do in Rhodes Town and travel tips will be helpful for you.
Do you like this post? Pin it!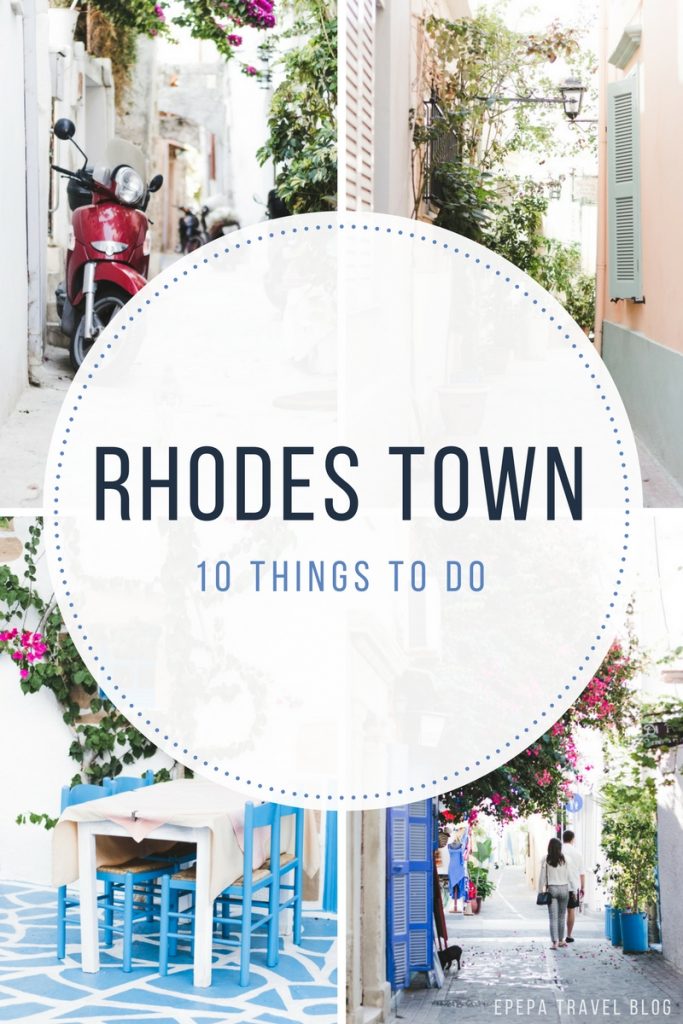 (Visited 3,483 times, 1 visits today)