Gliwice, a city with less than 200,000 residents located in southern Poland. Probably most of you have not heard about this place and it is not surprising, because it is not a tourist destination like Kraków or Warsaw. For me, however, this place is special because it is my hometown. I've already written on the blog about 10 things to do in Gliwice and about the Gliwice Palm House, the hidden gem in southern Poland. This time I would like to show you some winter photos that maybe inspire you to visit Gliwice, Poland.
Once when I was walking around my hometown I met a friend whom I had not seen for a long time. She asked me if I plan to spend the winter in Gliwice or leave the city for some time. When I said I would stay here in Gliwice, her reaction was: 'Oh no, it's so sad and gray here during the winter!' Honestly, there was a time when I thought so. However, this winter I decided to look at everything differently, enjoy what is here and now. Many great things have happened since then.
Perhaps some of you wonder why I write on the blog about my hometown instead of showing distant places and exotic countries. After all, it's a travel blog. Well, this winter I understood that you do not have to travel far to explore and see beautiful things. Sometimes you only have to look at the place where you live from a different perspective, feel like a tourist for a moment. Once you try, believe me, you'll be surprised how many wonderful things you have not noticed before.
I will not lie to you, I've never really liked the winter before. But I thought to myself, why not try to find something positive in this? Maybe instead of just waiting for spring to come, it would be better to look for something beautiful and magical in the winter time?
One day, I took my camera and went for a walk around my hometown. It was very cold when I took pictures and my hands were freezing. When I came back home and saw what I had captured, suddenly I felt like I was discovering Gliwice which I had never seen before. The city seemed so peaceful, almost unreal. There was something magical about it.
Inspired by the winter aura, I started to take more photos of my hometown. The Gliwice Market Square looked wonderful when there were no beer gardens and umbrellas in front of the restaurants. I could look at the beautiful facades of tenements and enjoy the view of the City Hall while walking under the arcades.
One night a lot of snow fell and everything looked so fabulous. White trees, houses, streets. That's when I took pictures in the Chrobry Park. It was probably the most beautiful winter day this year.
If you follow me on Instagram or on Facebook, you probably noticed that I started to publish aerial photos. At the end of January, one of my dreams came true and since then I have a drone that makes it possible to show you Gliwice from a completely different perspective than before. The world seen from above is so fascinating! The city lights, buildings from the bird's eye view, intriguing shapes that I could not see before. I am very excited about the possibility of taking such photos!
I do not know how time went so fast but it is already the end of February! I would be lying if I said I'm not waiting when spring comes. After all, who would not like to see again snowdrops, violet crocuses, blossoming trees? But you know what? I think that if there was no winter, I would not appreciate this beautiful nature so much.
Anyway, I hope you liked my winter photos of Gliwice, Poland. My hometown is not a perfect place but I wanted to show you those things that inspire me and just make me happy. I hope that you also felt this way.
Do you like this post? Pin it!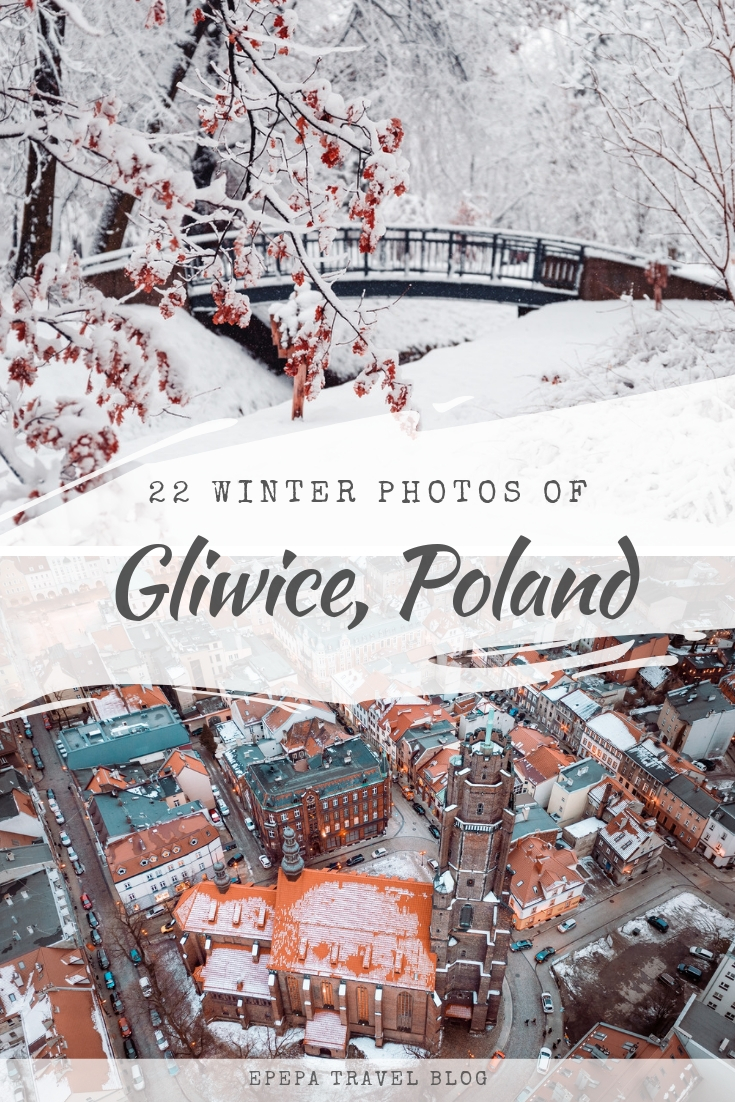 (Visited 3,563 times, 1 visits today)