What surprised me the most when I moved to Vienna, Austria? I spent a year in this city and it was a very interesting time in my life, during which I learned a lot and broadened my horizons. Although Austria and my country Poland are actually in the same area of Europe, so they have quite a lot in common, there were some differences and things that I did not expect. What's more, Vienna itself surprised me in many ways. This city is really interesting and fascinating, so it would be long to talk about everything that caught my attention. However, I tried to summarize and chose 7 things that surprised me the most when I lived in Vienna, Austria.
1. Alpine spring water in a tap.
One of the first things that surprised me after moving to Vienna was the fact that there was a very small selection of bottled still water in the nearby supermarkets. After a few days, I found out that it is because everyone is drinking tap water here. Perhaps for some of you, there will be nothing strange in it, but in the place where I come from, it is not so obvious. Drinking tap water without boiling it or filtering it? Well, it may not be that bad and probably nothing would happen to me, but I don't like how it tastes and I do not fully trust it is of good quality.
To be honest I was quite skeptical but I changed my mind when I was explained that Viennese water comes from Alpine mountain sources (check out: Where the Alps begin and Hiking in the Viennese Alps). Springwater is supplied to Vienna by a 120 km aqueduct, which, as I heard, was built for the Emperor and his court, but later it was decided to make this crystal clear water available to other people. What's interesting, the water flows through the hydroelectric power plant, producing 65 million kilowatt-hours of energy, which is enough to cover the electricity demand of the entire city of Vienna! Very smart, isn't it?
I have to admit that Viennese water tastes good. And there is nothing more refreshing than having a glass of cold water on a hot summer's day. You don't have to put it in the fridge, throw ice cubes, and so on. You just turn on the tap and drink. What's more, there are sources in the city where you can pour drinking water into your bottle. It's one of those things I miss when I don't live in Vienna anymore.
2. The way the Danube river looks nowadays.
To be honest, I have never been on a trip to Vienna before and I saw this city for the first time when I moved there. Knowing this place only from photos, I had some ideas, expectations, but they were quickly verified by reality.
I'm sure most of you know the famous waltz "The Blue Danube" composed by Johann Strauss II. Every time I heard this melody, I imagined a blue, wide river that flows stately near representative buildings and historic tenement houses. I don't know, maybe I thought that the Danube in Vienna looks a bit like in Budapest. And honestly, what I saw surprised me a bit. However, I think that Johann Strauss II himself would also be shocked if he saw how the Danube looks today.
Over the past century, the Danube has been regulated and is now completely unlike the river it once was. It is a little further from the historic center of the city and divided by a strip of land into two troughs: the Danube (Dunau) and New Danube (Neue Donau). The water that flows near the old town is the Danube Canal (Donaukanal), the arm of the Danube. What's more, there is also the Old Danube (Alte Donau). No wonder some tourists are a bit confused.
The Danube Canal, which flows near the old town, also looks quite specific. The walls are painted with graffiti, there are gardens where people grow vegetables, hippie bars and some street artworks. Don't get me wrong, I like the vibes of this place and when I lived in Vienna I often walked there, but it's just not what I imagined, so it completely surprised me.
3. The island in the city.
'I will be on the island this afternoon. Will we meet somewhere at Sunken City or Copa Cagrana? I heard that they have good drinks in Sansibar. What do you think?' Did you understand anything about this? Because if I hadn't lived in Vienna for a while, I wouldn't have a clue what it was about.
But let me explain everything to you. Well, in the center of Vienna is an island with beach bars, barbecue areas, bicycle and roller paths, and even nudist beaches. Danube Island (Donauinsel) is sometimes called 'Spaghetti Island'. It's because of its shape: it is narrow and over 20 km long! It was created as a result of river regulation and divides the Danube into two troughs: the Danube (Donau) and New Danube (Neue Donau). You can also read about it in my blog posts: Interesting facts about Vienna and 5 alternative things to do in Vienna.
The island, which was built to protect Vienna from floods, has become a favorite recreational area in the city and a meeting place for locals. Sunken City and Copa Cagrana are especially popular on summer evenings. It is the waterfront with numerous bars and restaurants connected by the Ponte Cagrana pontoon bridge. Some bar names are quite funny, like Sansibar. If you have more time, be sure to visit this bustling and laid-back place in Vienna.
4. Spittelau and some other bizarre-looking buildings.
One day when riding the U6 metro I saw the golden dome of Spittelau above the buildings. I thought it was a palace or a temple. I would never have thought it was just a municipal waste incinerator! You see, even such ordinary things can surprise you in Vienna.
As I got to know the city more and more, I started to wander off the beaten path. Then I discovered other strange-looking buildings like Hundertwasserhaus, KunstHausWien, Willa Wagner II, Vienna Peace Pagoda and more. You can read about it in the blog post: Top 10 strangest buildings in Vienna.
5. Professional titles everywhere.
Dipl. Ing., Mag., MSc, MA, Dr. and all the other professional titles. There is a lot of them and sometimes it is difficult to figure it out. What's more, in Austria they are written everywhere. So if you are a certified engineer (Dipl. Ing.), you will have this title written not only in documents like a graduation certificate but also on such trivial things as a subway ticket or even your IKEA card. Same with the master, doctor, and the rest.
What's more, professional titles are also written next to the names on the intercom panel, at the entrance to the tenement house. What if someone lives in a detached house? Then often a sign is attached on the fence or facade of the building saying that a professor, doctor, master or certified engineer lives here.
If in my country someone, except maybe a medical doctor who has a private clinic at home, would do such a thing, people would find it at least strange and megalomaniac. But in Austria, this is perfectly normal and no one is surprised.
6. Differences between standard German and Austrian German.
The difference between standard German and Austrian German is an extensive topic. And there is also the Viennese dialect. So if you only studied Hochdeutsch, you may be a little surprised how people speak in Vienna and not understand some of the words.
I never studied German at school and when it turned out that I would have the opportunity to spend a year in Vienna, I began to study on my own. I bought books, installed several mobile applications, and tried to learn something new every day.
Well, my language skills were quickly verified the next morning after moving to Vienna. I went to the grocery store to buy something for breakfast and heard Grüß Gott instead of Guten Morgen. When I wanted to buy rolls and asked for Brötchen, the saleswoman said they had Semmeln in Austria. I also remember that when I wanted to buy cream, I couldn't find Sahne anywhere. Later I found out that there is Sauerrahm (sour cream) or Schlagobers (sweet cream).
There are many examples of differences between standard German and Austrian German. When I realized that what I learn on my own sometimes is not useful in Austria, I enrolled in a German course at the University of Vienna. There, apart from Hochdeutsch, I was also taught the Austrian version of the words and I could always ask the teacher if I had any doubts.
Because some funny situations have happened quite often. I remember one day I wanted to buy ice cream in Tichy and I saw that there is a new taste called Weichsel. Curious, I wrote the word in the translator on the phone and saw the name of the Vistula River in my homeland Poland. I had to buy this ice cream to find out that it is sour cherry. I could mention many more such differences, maybe someday I will write more about it on my blog.
7. Drinking fermented grape juice.
At the beginning of autumn, just after the grape harvest, the Viennese rush to the nearby vineyards to try Sturm. What is that? The type of alcoholic drink I already wrote about in the blog post about Top 10 things to do in Vienna, Austria. In the Czech Republic and Slovakia, it is called burčák or burčiak, in Germany: Federweißer, Suser, Sauser, Neuer Süßer, Junger Wein, Neuer Wein.
Sturm is a semi-product made during the production of wine, which can be consumed just a few days after the start of the fermentation of grapes. So in other words, it's no longer grape juice, not wine yet. And not Beaujolais. Sturm is not yet clear, has a pleasant sweet taste and is slightly sparkling. It is difficult to determine the alcohol content of this drink, it is usually 4–10%.
In Vienna, you can buy both white and red Sturm. Personally, I prefer white, but it's worth trying both versions. Visiting a winery is the best idea, but if you don't have much time, you can buy Sturm even at the supermarket. It is sold in plastic bottles that are not twisted (the product is still fermenting), so it's better not to put it in a suitcase!
Did any of the things I mentioned here also surprise you? Have you ever lived or live somewhere abroad? What surprised you in a foreign country?
Do you like this post? Pin it!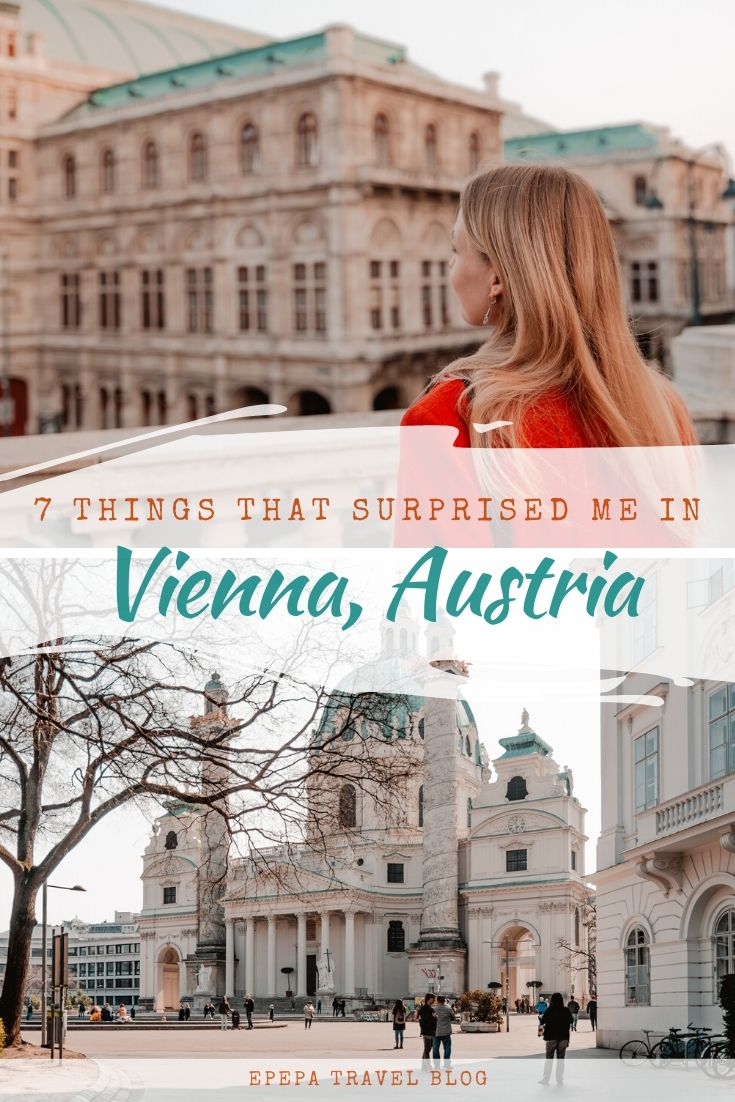 (Visited 6,294 times, 1 visits today)