The city night view never ceases to amaze me. Maybe as I mentioned in Best Vienna Night Views post it's about the most representative buildings and tourist attractions are highlighted while the rest is hidden in the shadow, or maybe… Well, hiking in the mountains or walking along the seashore we can admire the beauty of nature, however, when it comes to a city by night, it's all about people created themselves. Actually, I mean it's an art of our civilization.
One week in Barcelona is all I had. It's not enough to get to know all the city's ins and outs, but during my stay, I discovered some outstanding places and viewspoitns.
I have been to Barcelona twice in my entire life. The first time when I saw the Magic Fountain of Montjuïc I was an 11-year-old kid and you have no idea how much I liked it! All the colors, lights, music… I remember I kept my fingers crossed making a wish to come back there one day.
Time passed, a few years went by and I totally forgot about it. So I was really surprised when I realized that after 15 years exactly I was standing in the same place, watching the Barcelona night skyline and beautiful water performance. 'This fountain must be really magical' is what I thought then.
What's more surprising this place looked almost the same. Well, maybe besides I was a little bit older now and people were watching the show in their smartphones, making movies for their friends I suppose instead enjoying it in real. So the Magic Fountain of Montjuïc hasn't changed at all, but the society did! I admit I was quite bewildered when I realized it.
Talking about the best night views of Barcelona, the most spectacular one is from Tibidabo I think. You may believe me or not, but I went there on foot from Drassanes, so I crossed the whole city before I got there, exploring its different areas and hidden gems. Sometimes the best way to discover a new place is to get lost there so instead of going on sightseeing tour I prefer just to walk ahead making my own observations, feeling the city vibes, discovering its flavours…
Hanging around the streets of Barcelona took me a whole afternoon so when I reached the peak of Tibidabo, the sun already went down. Once I saw the city night panorama from the terrace of Amusement Park I found myself speechless. The city lights seemed to look like an illuminating spider's web, extending from the area below the mountains to the shore of Mediterranean Sea.  I'm sure I will never forget this view and the impression it's made on me.
As the hostel I was staying in was close to the port, I really enjoyed walking along Barceloneta Beach or Rambla del Mar in the evening and sitting in one of the restaurants located there, watching the lights reflecting in the water and relaxing after the day spent on sightseeing.
Discovering Barcelona at night was an amazing experience, not just because of the beauty of this city but also its atmosphere. I have found Barcelona vibrant, full of life and colors, and together with Vienna, it's on my list of places that I will visit more than once for sure.
Do you like this post? Pin it!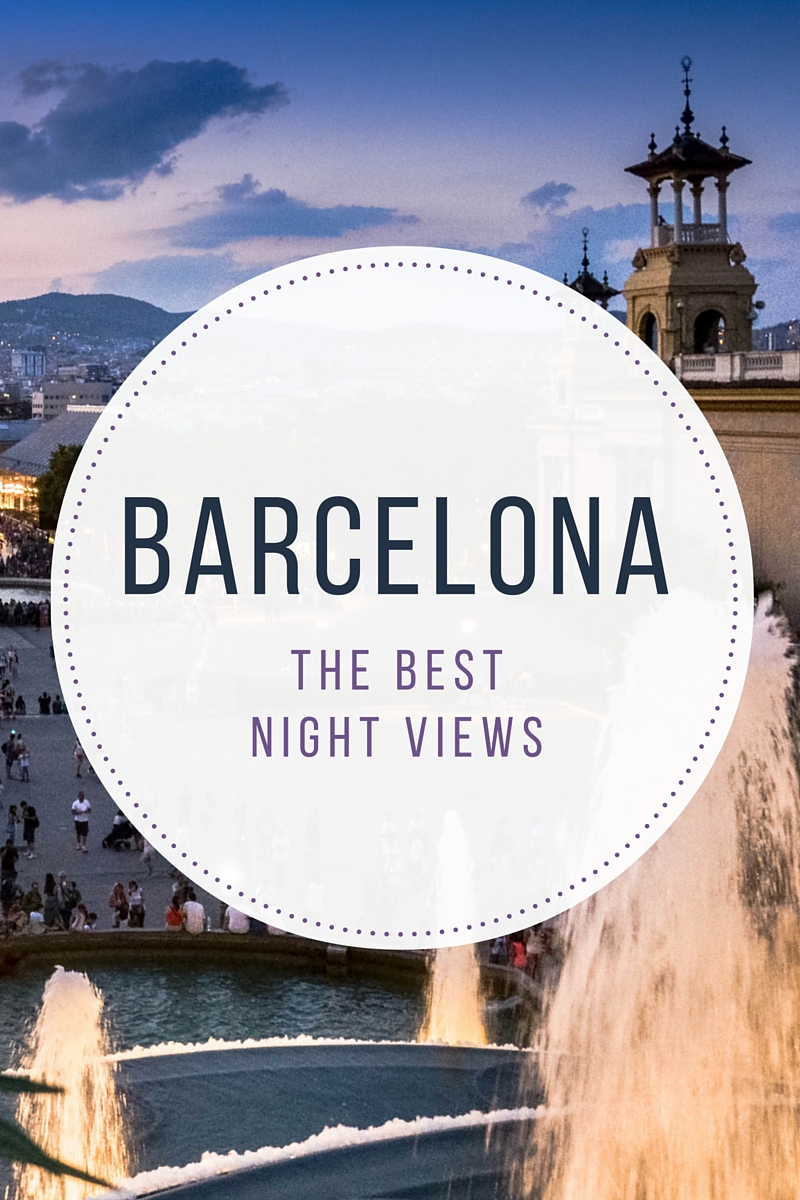 (Visited 13,378 times, 1 visits today)