I have no idea how many times I passed Ptuj, the oldest city in Slovenia. However, I've never had time to stop there and see what this place has to offer. Although I really like the landscapes of Podravje, this charming off the beaten path region of Slovenia, I have always been in a hurry to get to Croatia as soon as possible. However, this time I decided to change it and stayed in Ptuj for one night. Is it worth visiting this city? What are the best things to see and do in Ptuj, Slovenia?
Ptuj, the hidden gem in Slovenia
Ptuj is a charming historic city in northeastern Slovenia, located about 30 km from Maribor and 130 km from Ljubljana. With less than 20 thousand inhabitants, it is a rather small and peaceful town. Still not touristy, authentic and off the beaten path. A great place to visit for someone looking for hidden gems.
Ptuj is a magical place, full of atmosphere and great history. It is picturesquely situated on the river Drava and surrounded by green vineyards. The whole region is known for its excellent wines, one of the best I've tried honestly. And I have no idea why so few people visit these areas. For me, this is the most beautiful part of Slovenia!
Wandering the streets of the Old Town of Ptuj you can feel the history around every corner. No wonder, after all, it is the oldest city in Slovenia! Not everyone knows about it, but its origins date back to the Stone Age and the first mention of the town comes from the first century when Vespasian was chosen here by his legions as emperor of Rome. So although they say the city is now located on the periphery of the country, once great things took place here.
The best 10 things to see in Ptuj, Slovenia
Ptuj is a small peaceful town where life goes on with its own rhythm. Although it seems to be a non-touristic place, there are many interesting things to see. What are the best attractions in Ptuj, Slovenia?
1. Ptuj Castle – one of the most beautiful castles in Slovenia with amazing views of the old town of Ptuj. The castle houses exhibitions of musical instruments, weapons, furniture, paintings, and traditional carnival masks.
2. Dominican Monastery – the monastery complex from the 13th century, built in Gothic and Baroque style. Its park offers beautiful views of the Drava River.
3. Library – the Ivan Potrč Public Library is considered to be one of the most beautiful libraries in Slovenia and Europe.
4. Orpheus Monument – the marble statue raised by the Romans in the 2nd century.
5. City Tower – the tower with an interesting onion-shaped rooftop.
6. Church of St. George – the 12th-century church which has one of the most beautiful interiors in Slovenia.
7. Ptuj City Theatre – one of the smallest and the most successful theatres in Slovenia.
8. Town Hall – one of the most magnificent buildings in Ptuj, designed by the Viennese architect Max Ferstel.
9. St. Florian Monument – the statue erected after the fires that damaged Ptuj in the 17th century.
10. Minorite Monastery – the 13th-century monastery which houses a library with over 5000 books, some dating back to the 16th century.
What is Ptuj like? Is it worth visiting?
Ptuj is a very nice place to visit for anyone looking for something authentic, off the beaten path. It is a charming town full of beautiful architecture and history, which is not very touristic and commercial yet. There are some interesting things to see and the old town is not crowded. You will not find kitschy souvenirs here, but art galleries, boutiques with clothes of local designers, cozy cafes and wine bars. If you like such places, be sure to visit Ptuj. This small town is a Slovenian hidden gem.
I didn't have much time to explore Ptuj and unfortunately, I couldn't see everything that this place has to offer. I just walked the streets of the old town trying to see what the everyday life of people living here looks like. I took a few photos to show you the atmosphere of this place, its daily vibes. I also really enjoyed Ptuj Castle and a picture-perfect view over the orange tiled roofs of the oldest Slovenian city.
One day, or rather a few hours is not much to get to know the city, but I can say that Ptuj really intrigued me. I liked the architecture, atmosphere, beautiful scenery and vineyards around. It is a pity that I did not stay here longer, but on the other hand, now I have an excuse to visit this beautiful town again. And believe me, I'd really like to do that. If you like hidden gems and authentic places, full of art and amazing atmosphere, you'll also like Ptuj as much as I do.
Where to stay in Ptuj, Slovenia?
During my stay Ptuj I spent one night at Hostel Sonce. The room was small but cozy and had everything I needed. This hostel was nice and there was no problem with parking, which was important to me because I traveled by car with all my luggage, which I packed for over 2 weeks stay in Croatia. Although the price of the room did not include breakfast, the host made us coffee and baked croissants. Small things like that really make me feel good and welcome.


If you are looking for accommodation in the old town of Ptuj, I think Hotel Mitra is also a nice place to stay. As you can see I took a lot of photos of this beautiful building, I loved it. Muzikafe Bed & Breakfast also seems cool. More accommodation options can be found on the map above, I hope it will be helpful.
Ptuj turned out to be a very interesting and inspiring city. If you are looking for hidden gems and authentic experience, I recommend you visit this place. I think Slovenia is a very nice country, which is still a bit underrated. I hope to go back there again and explore more of what it has to offer. If you liked my photos or just want to keep in touch, you can follow me on Instagram or Facebook.
Do you like this post? Pin it!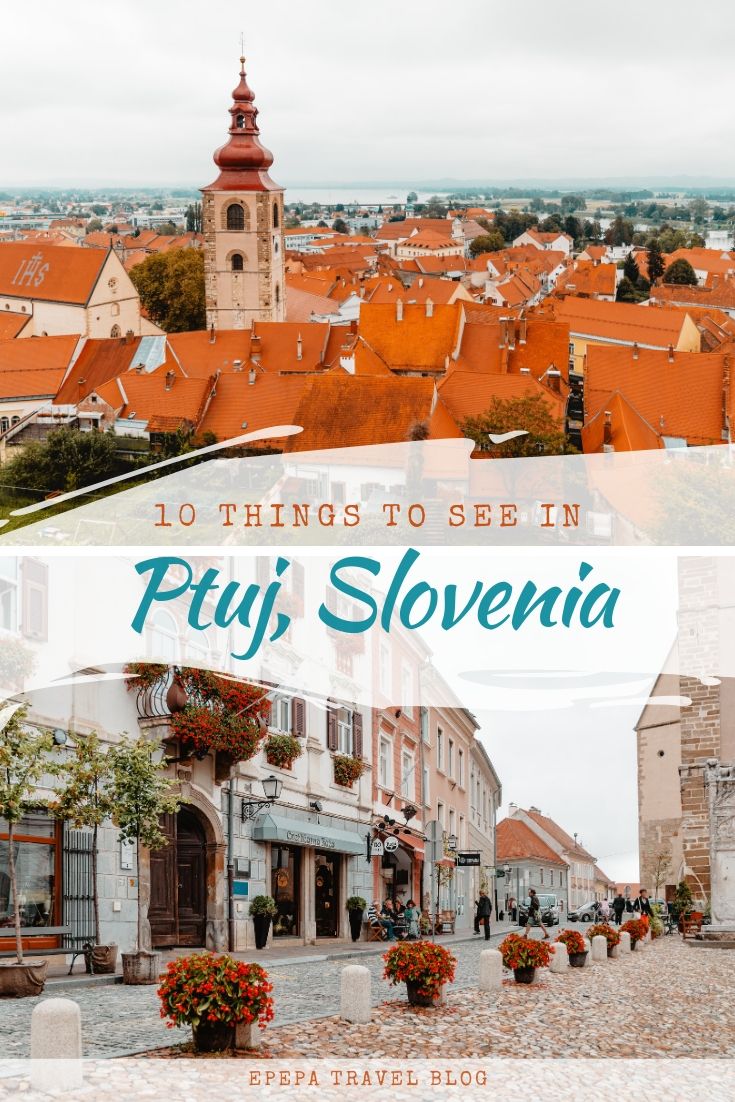 (Visited 9,934 times, 1 visits today)