They say that spring always comes after winter. I know it might sound trivial but to be honest, this saying always gave me some hope and optimism when I needed it so much. It's been a year since the last time I was in Vienna, but now it seems so unreal to me that I feel like I took all these photos ages ago. I walked around the city watching cherry blossoms and magnolias, enjoying the spring and beautiful, sunny weather. If someone told me that next year we would have coronavirus pandemic and nothing would be the same as before, I wouldn't believe it.
I had plans to write a blog post where to see magnolias and cherry blossoms in Vienna, give you locations and directions on how to get there, create a map, but everything has changed and I realized that it would be irresponsible to encourage someone to huddle around flowering trees. I was about to give up publishing these photos but then I thought that maybe they would lift your spirits and give some hope. Because I think this is what we all need now.
Traveling is currently the last thing I think about. My only dream is for my loved ones to be healthy and for this plague to end as soon as possible. I stay at home and do not walk taking photos as I used to. I don't even know if the trees are already blooming in my city. But I have pictures and memories that I can put into words. I thought that in these strange and turbulent times, virtual reality can be a kind of substitute or consolation. Thanks to the internet, we can still somehow enjoy the beauty of this world that is why I decided to keep writing this blog.
Last year I was lucky enough to see cherry blossoms and magnolias in Vienna. I didn't plan it, I was just in the right place at the right time. How wonderful it was to walk around the city watching the flowering trees. Spring was in the air, people enjoyed their time in parks and city gardens, listening to the sound of birds and basking in the sun. It was such a blissful experience when I could immerse myself in this idyllic atmosphere.
I like Vienna at any time of the year, but spring is really special with all its colors, smells, and sounds. Everything is so fresh, vibrant and vivid. When I lived in Vienna, I had some of the favorite places where I enjoyed spending my time. The Stadtpark and the boulevards on the river Wien are one of them, so I couldn't miss these spots when I was in the city. There were really beautiful pink flowering trees near Stubenbrücke. Standing in their shadow and looking at the flares of the sun, I felt like the magic was in the air.
I also went to the Resselpark to see the Karlskirche, my favorite church in Vienna. Every time I see this amazing building I feel overwhelmed by its beauty. I really like its proportions, details and the way white marble contrasts with the patina dome. There is something majestic and mesmerizing about this church that makes you want to go back there. A real architectural gem!
Once I visited the Karlskirche and some of my favorite spots in Innere Stadt, I went for a walk along the Ringstrasse, the main boulevard of Vienna, where there are the most representative buildings and beautiful gardens. I saw pink flowering trees in the Burggarten near the Hofburg Palace and in the Rathauspark, and of course, the magnolia near the Votivkirche, which is probably the most photographed tree in Vienna.
It was a beautiful spring day and I'm glad that writing this blog post I could come back to these memories. I hope you liked the pictures of cherry blossoms in Vienna and that watching them you could think about something more pleasant, at least for a moment. I wish you a lot of peace and serenity in these hard times. Stay safe and healthy wherever you are!
Do you like this post? Pin it!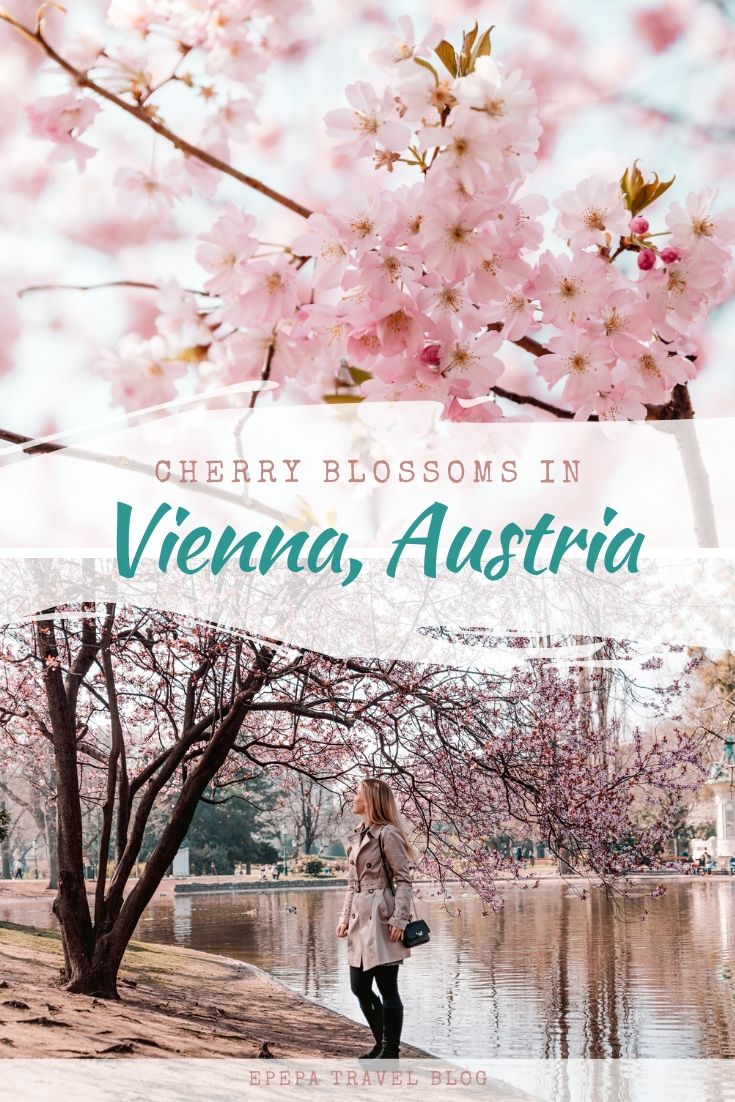 (Visited 1,688 times, 3 visits today)