'Šibenik or Trogir, which city is better to visit?' – one day I asked my Croatian host, Jure. The beautiful town of Primošten where we stayed was exactly halfway between these two cities, only about half an hour drive. So it was a great opportunity to see places in Croatia where my husband and I have not been yet. Jure said: 'Both cities are beautiful, but you will like Šibenik more. There are many narrow streets, hidden gems, nooks, and crannies. Trogir may be too touristy for you but see for yourself.' Was he right or not?
Šibenik, the underrated Croatian city
Did you know that Šibenik is the oldest Croatian town? Of course, in today's Croatia, there are other, much older cities like Trogir, Split, Dubrovnik or Stari Grad on the island of Hvar (check: Top 10 things to do in Hvar Island, Croatia). But unlike them, Šibenik was not founded by Greeks, Romans, Illyrians. This is the native city of the Croats. There is also something more that makes Šibenik different than the other cities of in Dalmatia: it is not so touristy and it is still a bit off the beaten path.
The best place to visit in Šibenik is the Cathedral of St. James. Named a UNESCO World Heritage Site in 2000, the Šibenik Cathedral is the largest and most beautiful building of the transitional Gothic-Renaissance period in Dalmatia. The interesting fact is that no bricks or timber were used in the church's construction, it was built entirely of stone from the islands: Brač, Korčula, Susak, Rab, and Krk. I think this is the most beautiful building I have ever seen in Croatia. Every smallest detail is a real work of art!
I think the best way to explore historical cities like Šibenik is to get lost in the maze of streets. Besides, the old town of Šibenik is like a labyrinth, so there is no other option. Of course, you can walk while looking at the map or navigation on the phone, but the question is why? Is not it better to just go ahead without a plan? I love this kind of sightseeing because I always find some hidden gems then.
What I liked about Šibenik is the fact that it is located on a hill. Interesting perspective and historical buildings make it a very photogenic place. Strolling through the narrow streets, surrounded by old stone houses, I had the impression of traveling in time. Šibenik is a place with atmosphere, authentic and full of magic. Still a bit unexplored and not destroyed by mass tourism.
I wish I had more time to explore Šibenik. I know I have not seen even half of what this city has to offer. Picturesque fortresses, antique churches, museums, street art, cool handicraft shops… There are so many things to see in Šibenik! Three or four hours is too short to get to know this city. Next time I will stay in Šibenik for more than one day, definitely!
Wyświetl ten post na Instagramie.
Trogir, one of the must-see places in Croatia
'Have you ever been to Trogir?' You have no idea how many people have asked me this question. Especially when I was telling them about some lovely towns in Croatia which I saw like Stari Grad, Hvar, Rovinj. According to many, Trogir is the most beautiful place in Croatia and nothing can compare with it. Do I share these opinions and have I found this place so amazing and special?
Sometimes we do not even know how many factors affect how we perceive the places we visit. Weather, people, attitude, expectations… These are just some of them. When I arrived in Trogir, it was quite gloomy, right after the storm. It was a cold May afternoon but despite this, there were a lot of tourists in the city. Well, maybe you can not see it in the pictures, but the town was a little bit crowded. Another thing that surprised me was the fact that the old town of Trogir is much smaller than I thought. Do not get me wrong, there are many things to see in Trogir, but unlike in Šibenik, two or three hours are enough to explore this city.
Trogir is undoubtedly a beautiful city, full of historic architecture and quite photogenic. So I do not know why I did not feel the spirit of this place. Maybe because there was too much of everything there. I mean colorful signs, restaurant gardens with umbrellas, shops with tourist souvenirs. Everyone likes something different. I prefer to explore off the beaten path places and look for something authentic. Maybe must-see places are not for me? That makes a sense.
Another thing is that maybe I was not in the right place at the right time. I think I will give Trogir another chance and visit this city again when the weather is better or in the evening. There is something that makes so many people excited about this place. Maybe I just need more time to feel it? Or maybe it's all about expectations and attitude? I do not know, I admit I'm a little bit confused.
Šibenik and Trogir, two beautiful cities in Croatia. Which one is more worth visiting? I can not tell you, you just have to check it out yourself. There is an old saying in my country that there are as many opinions as people and it's true. I have a feeling for Šibenik, you may like Trogir more. Give each of these cities a chance and then decide what you prefer. Have you ever been in Šibenik and Trogir? Which city did you like more?
Do you like this post? Pin it!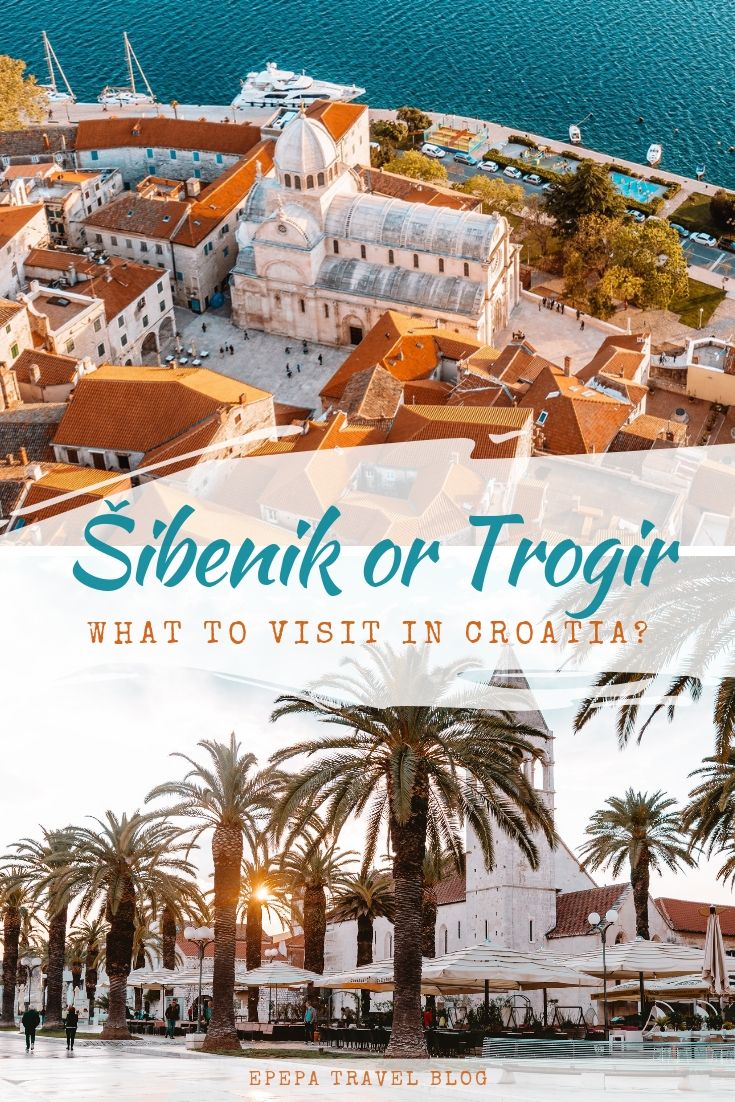 (Visited 7,452 times, 4 visits today)