If you've been reading my blog for some time, you know very well that I do not like the crowds and typical tourist destinations that are full of all-inclusive hotels and sun loungers on the beach. Instead, I prefer to explore the local culture or enjoy the beautiful, wild landscapes. This time instead of spending time hiking and looking for secret beaches I wanted to do some sightseeing, so I decided to stay in Rhodes Town which is the capital of the island.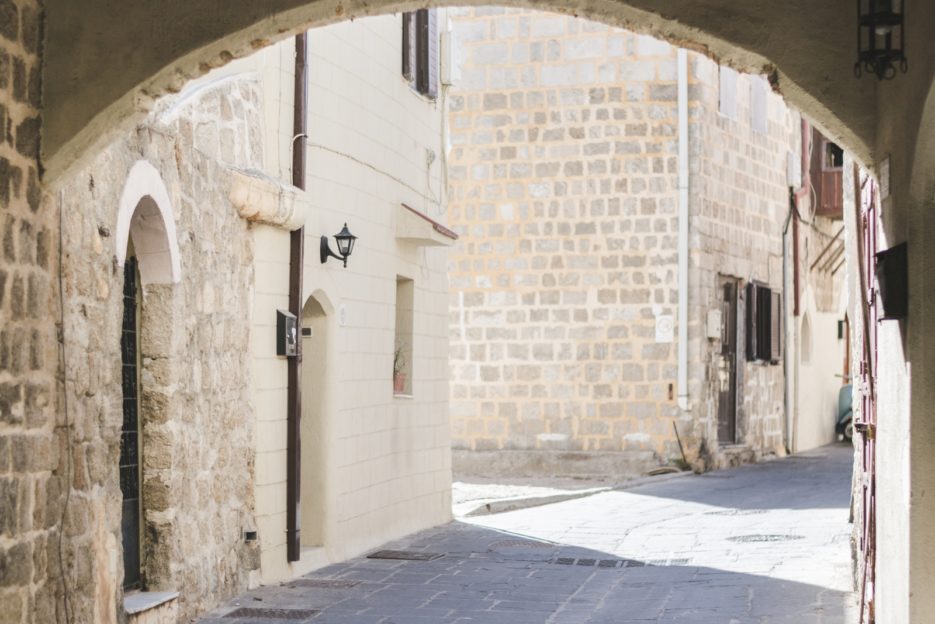 The Old Town of Rhodes – one of the greatest attractions of Rhodes Island
Before my trip to Rhodes, Greece I was looking for some information about where to stay and what to see on the island. That's how I learned about the Old Town of Rhodes with its medieval architecture, narrow streets, hidden nooks, and crannies. I thought – it's something just right for me! During the day I will be able to take pictures, walking in the shadow of narrow streets, and in the evening it will be a perfect place to hang around, have a drink, and so on. In addition, in the Old Town of Rhodes, there are many things to see, which was an additional advantage of this location.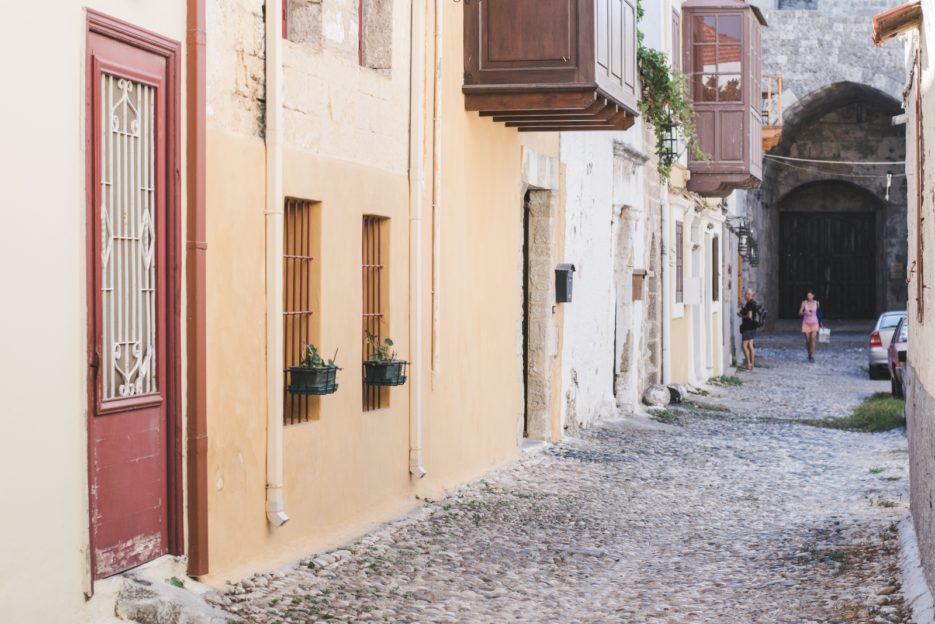 Places like this have an indescribable charm that is difficult to compare to the pedestrian streets in typically tourist towns. Beautiful architecture, shiny pavements made of stone mosaic, colorful, fragrant flowers, and cats wandering everywhere… It's just a dream scene for someone who likes to take pictures! The Old Town of Rhodes is a very inspiring place.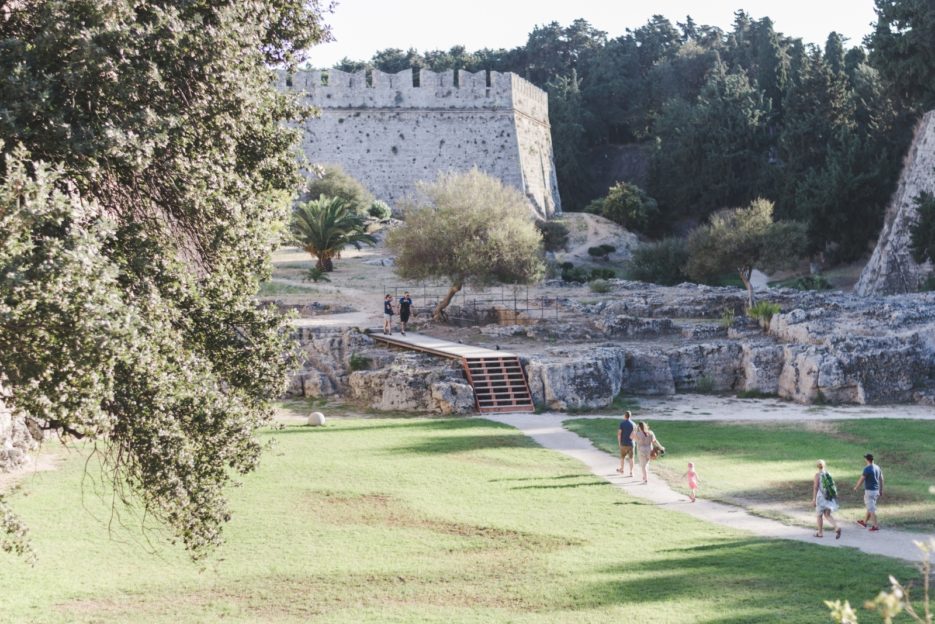 The Old Town of Rhodes is surrounded by thick, stone walls that you can walk around at specific hours, admiring the Medieval Town from a slightly different perspective. Inside you can get through one of seven gates – St. Antonio's Gate, Gate D'Amboise, St. Paul's Gate, Arnauld Gate, Marine Gate, St. Mary's Gate or St. Catherine's Gate. In many travel guides, they recommend to start the tour from the Gate D'Amboise, and then take a walk along the Street of the Knights to the Palace of the Grand Masters.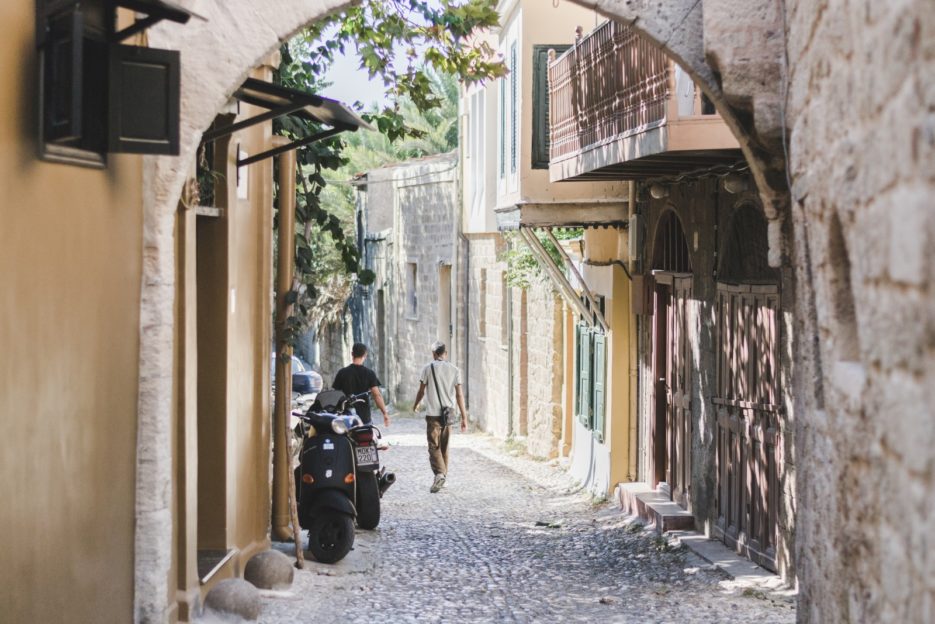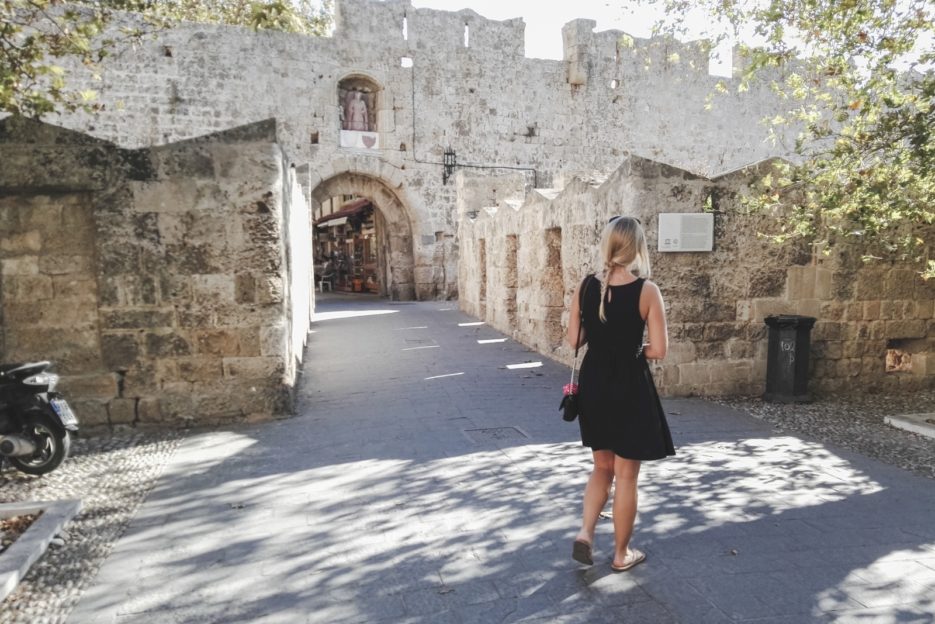 I do not remember which gate I chose, but I admit that when I saw the Old Town for the first time, I was a bit disappointed. The streets were surrounded by stalls with cheesy souvenirs and fakes of designer clothing. The sellers tried to advertise their goods as much as possible, accosting tourists and persuading them to buy. However, it was enough to move away from the most frequented routes to get to know a completely different Rhodes.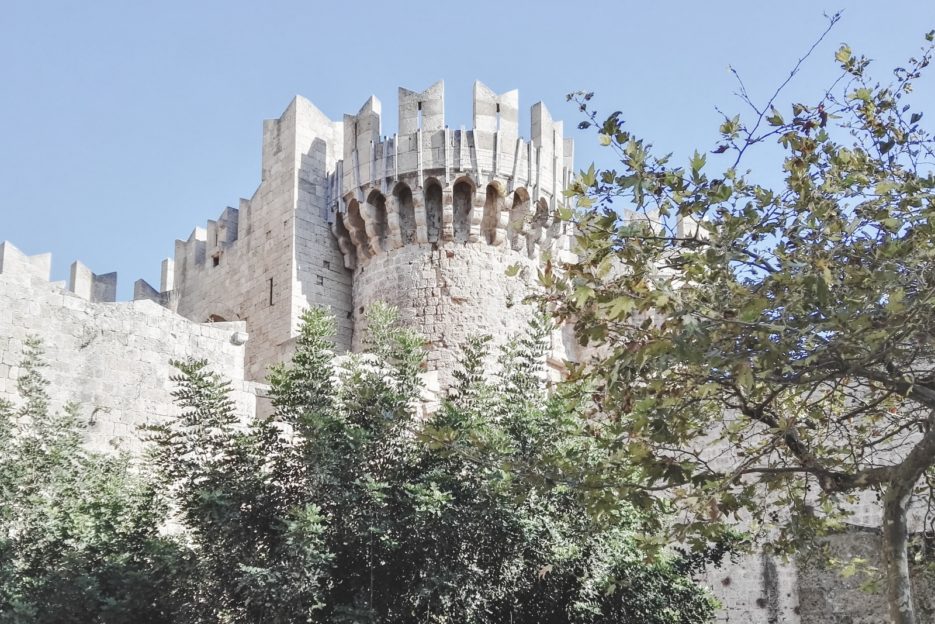 Rhodes Old Town, a place full of cats
As I walked away from the souvenir stalls and crowds of tourists, I liked this place more and more. It was quiet and peaceful in the narrow streets of the Medieval Town. I passed some tourists who, like me, wandered with the camera, but sometimes my only companions were cats.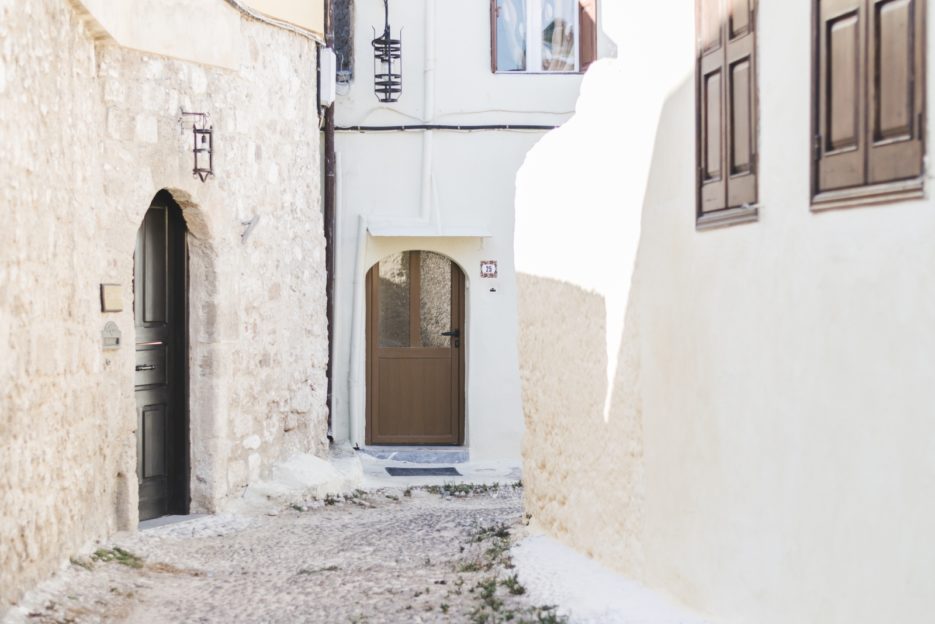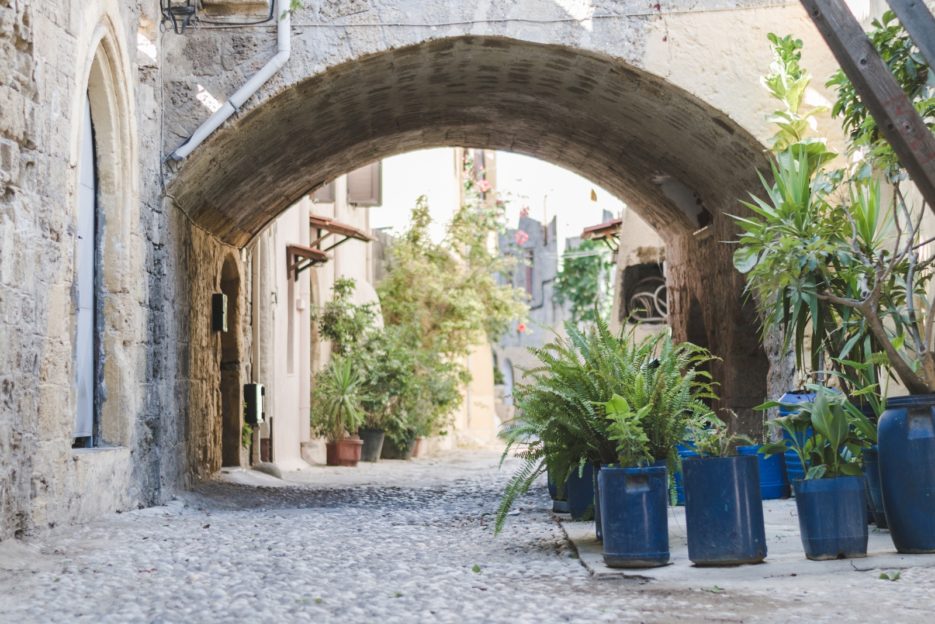 There are a lot of cats in Rhodes. For this reason, it is usual to call it not only "the island of the sun", but also "the island of cats". You can meet them everywhere – on city streets, in villages, in taverns, and in the port. They have become an integral part of the island's landscape and it is difficult to imagine Rhodes without their presence. I admit that I really like taking pictures of cats, as you can see in this post.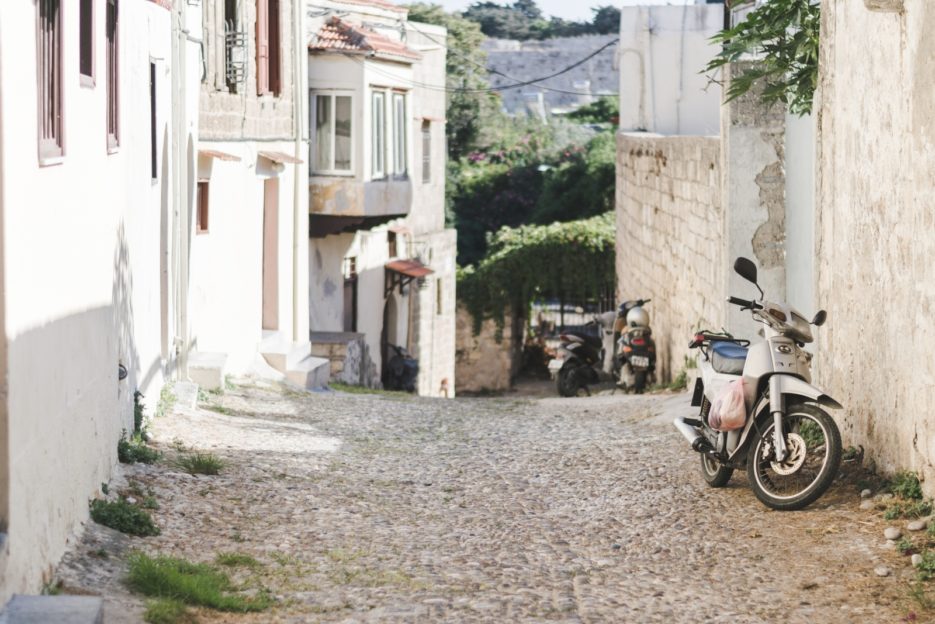 What is the best time to visit the Old Town of Rhodes and how long does it take to see all the major attractions?
In my opinion, the Medieval City looks completely different during the day, and at night. It's worth to see the Old Town of Rhodes in both scenes. When it comes to the amount of time spent on sightseeing, it all depends on whether you plan to just take a walk through the streets and spend a relaxing evening in one of the nice pubs or restaurants, or if you plan to visit the museums. There are a lot of attractions and great things to see in the Old Town of Rhodes, and it seems to me that if you want to see everything, it is worth to spend a whole day here. It's also a great idea to visit the Old Town of Rhodes twice and take a walk through the streets without a hurry.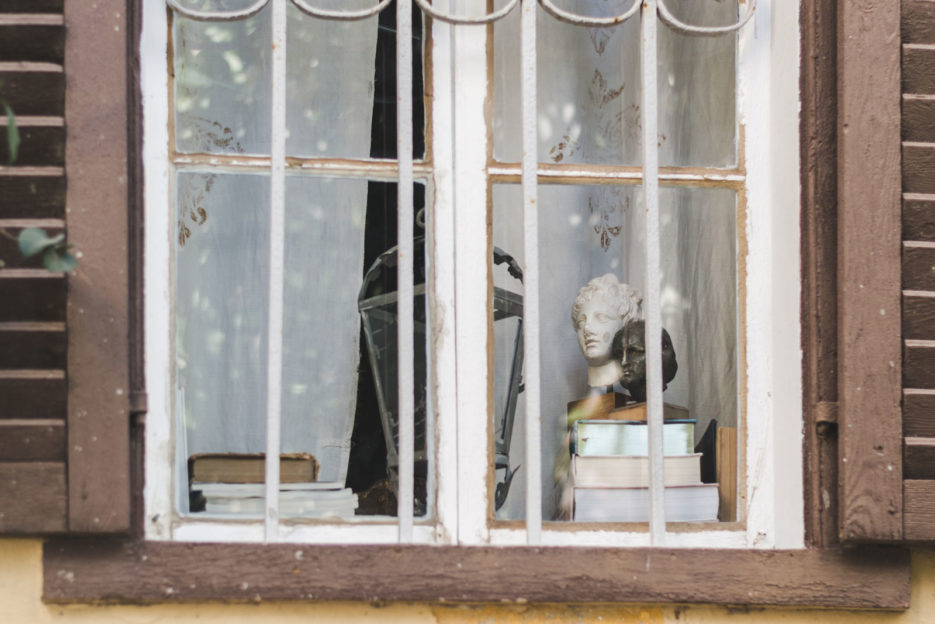 What are the best things to see in the Old Town of Rhodes?
I think the best way to discover every place, not just the Old Town of Rhodes, is to put down a map and get wonderfully lost. But of course, there are places that it would be a pity not to see. Wandering in the Old City of Rhodes, it is worth to see places such as:
Is it a good idea to book accommodation in the Old Town of Rhodes?
If you are wondering if the old city is a good place to stay in Rhodes, in my opinion it is! If I would plan to visit this beautiful island again, I would definitely look for accommodation in this part of the city. Maybe not near the main pedestrian streets, but some atmospheric apartment in the old town, slightly away from the crowded trails would be a dream place for me to stay. If you are looking for accommodation in this area, you can use the map below.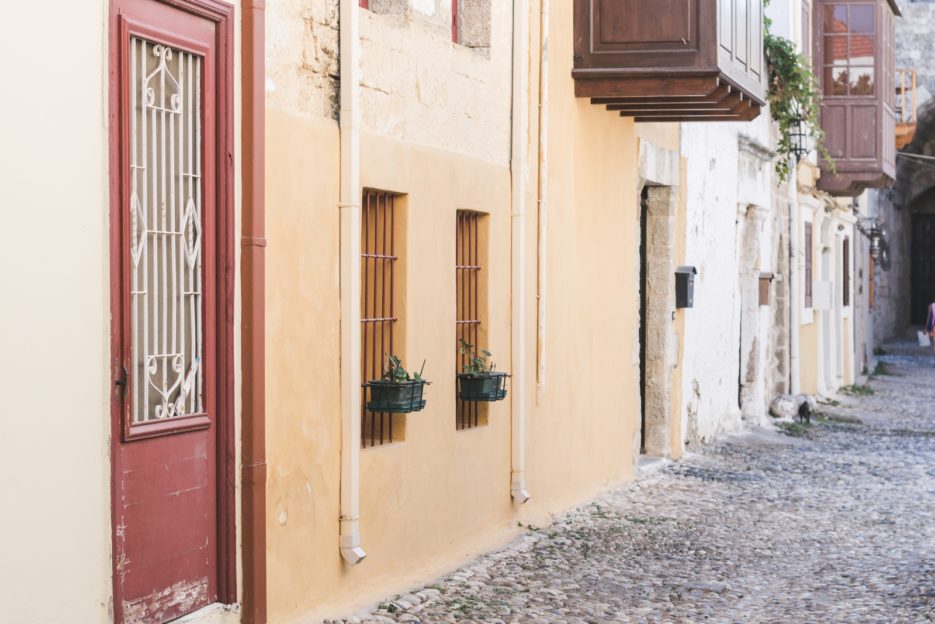 At first glance, the Old Town of Rhodes disappointed me a little, but the more I walked away from the busy trails, the more I began to appreciate this place. Sometimes it is not worth suggesting the first impression. Even a typical tourist place can positively surprise us. Just put down the map and enter the maze of winding streets, where time stood still and the only companions are lazily walking cats. You will discover a completely different Rhodes. If you like places full of history, with beautiful buildings and narrow streets, read also about Lindos – the most beautiful town on the island of Rhodes.
Do you like this post? Pin it!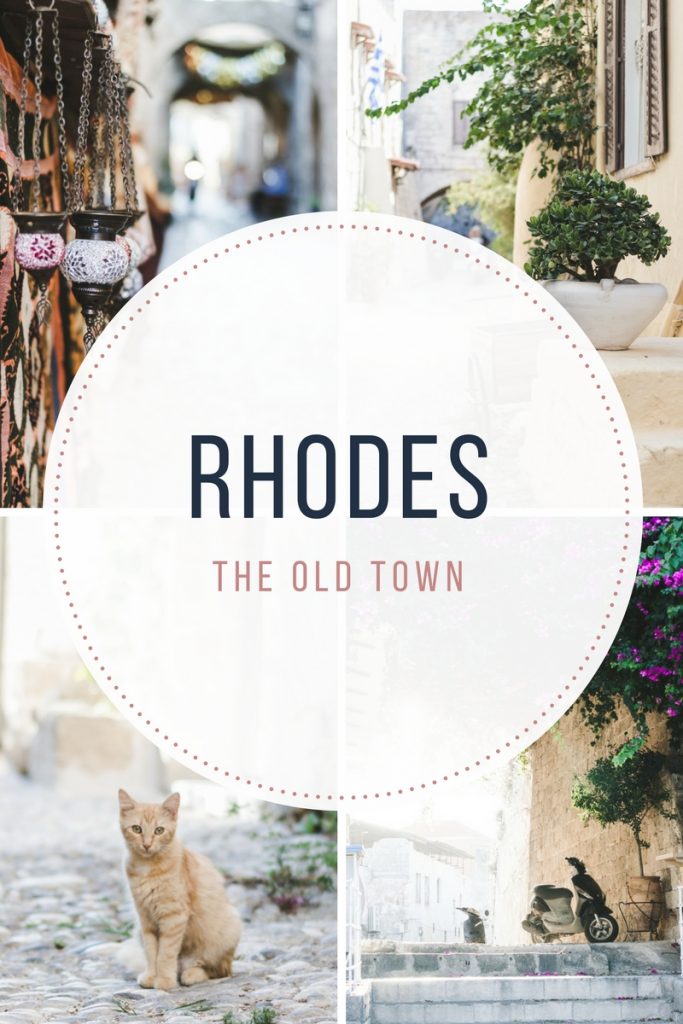 (Visited 15,838 times, 1 visits today)