Where to find the best drone photography locations in Croatia? Which places are the most scenic and instagrammable? Croatia is a beautiful country and there are many amazing drone spots out there. It was really hard for me to choose only 10 of them. However, I have created for you a list of the most picturesque places for aerial photography in Croatia. If you're a drone freak like me, you'll like it. Enjoy!
1. Rovinj, Istria.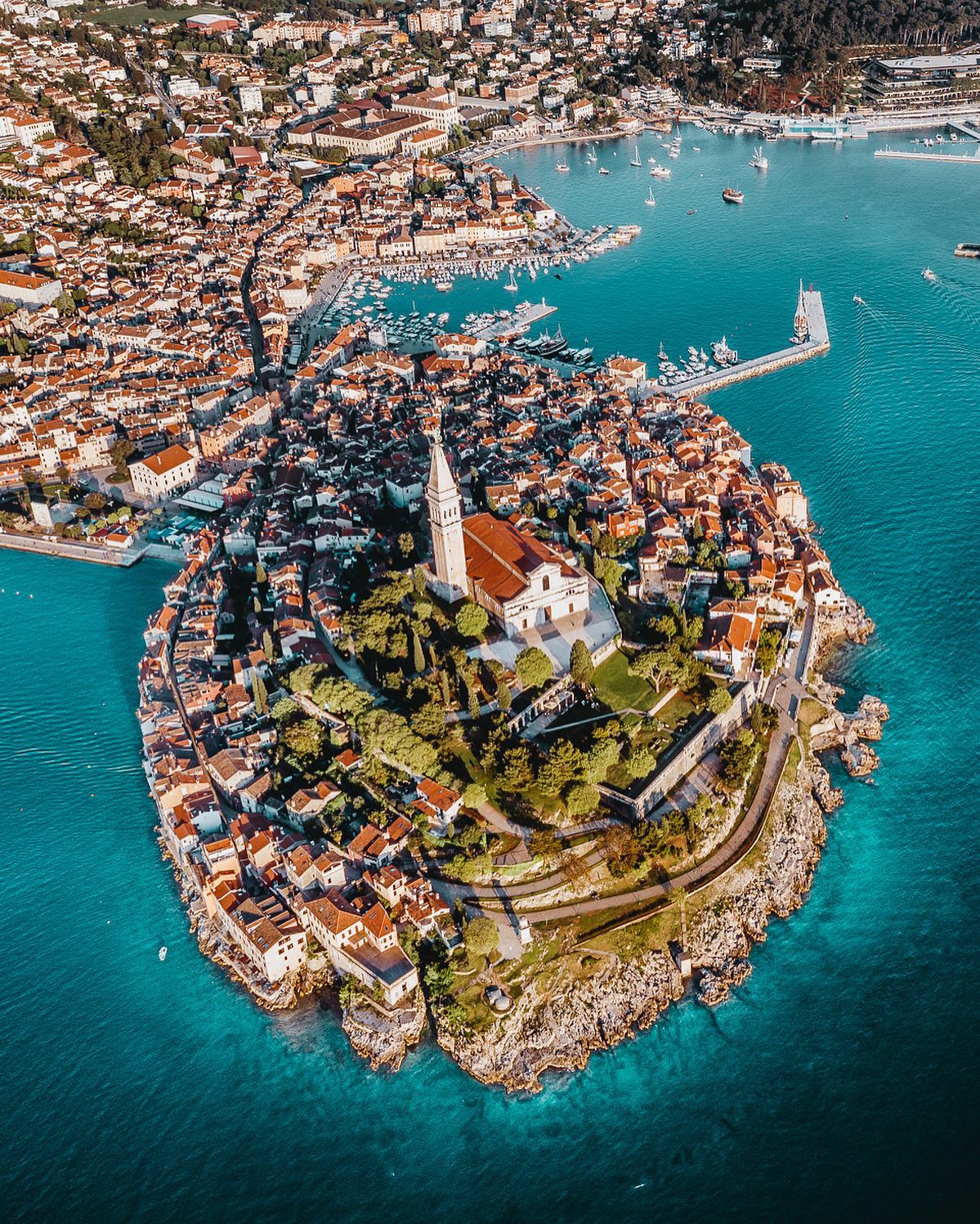 Located on the picturesque peninsula, the old town of Rovinj is one of the most photogenic and instagrammable places in Croatia. The old town buildings with orange tiles, hilltop church, turquoise waters of the Adriatic Sea … No wonder that almost every drone photo of Rovinj looks so fabulous! If you go there, I suggest you take some pictures just before sunset. The effect will be amazing. Do you want to know what to see in Rovinj? Check out my blog post: Rovinj, one of the best cities to visit in Croatia.
2. Primošten, North Dalmatia.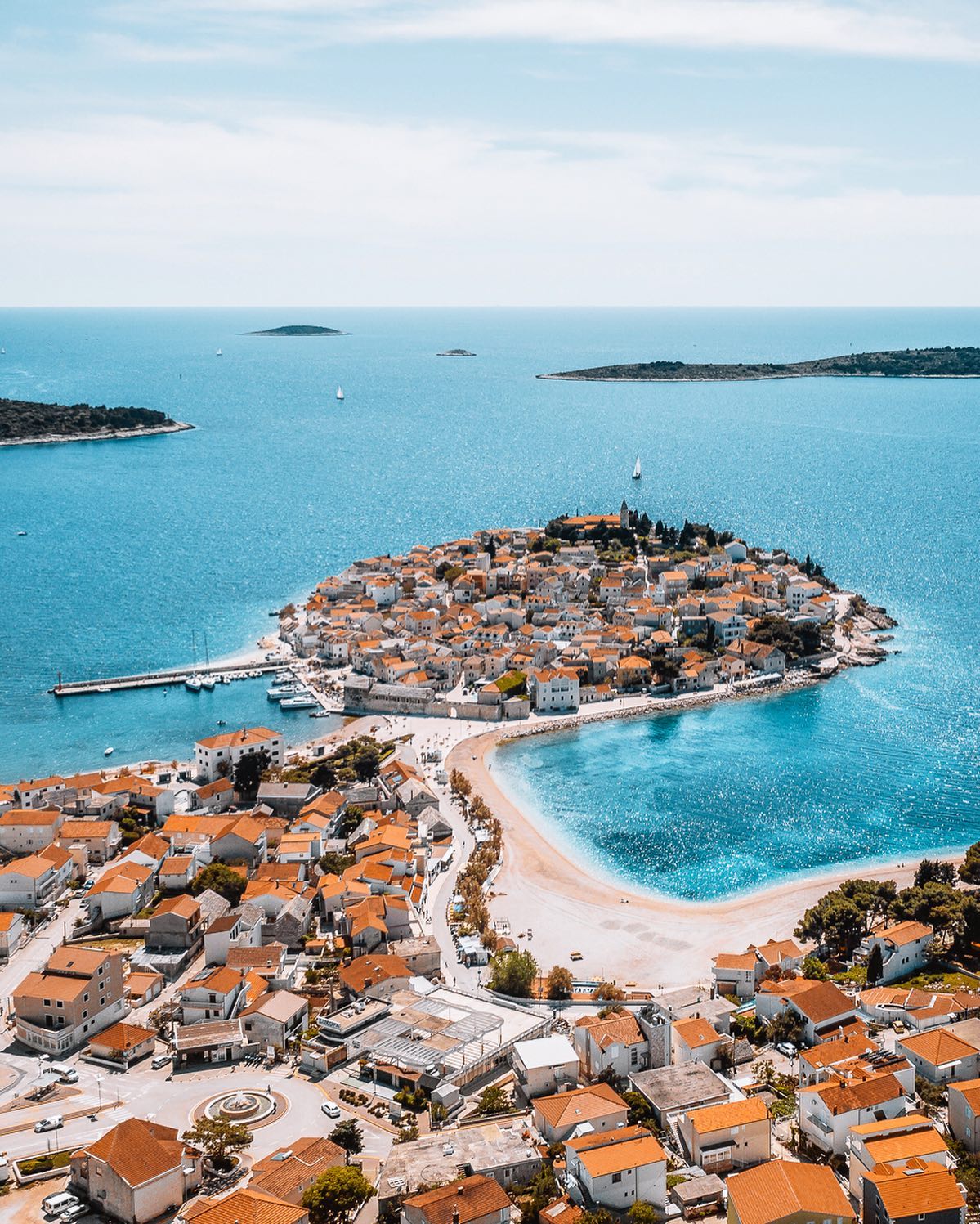 Are there any other cities similar to Rovinj in Croatia? Yes! Not so long ago I discovered a small town Primošten in Dalmatia, which is also very picturesque. You can read more about this in Primošten itinerary – the best things to do in Primošten, Croatia. The old town of Primošten was built on a small island, which was later connected with the mainland. Everywhere around are beautiful beaches and turquoise sea which makes this place one of the best drone locations in Croatia.
3. Zlatni Rat Beach, Bol, Brač Island, Central Dalmatia.
Interesting shapes seen from above are something that every drone photographer is looking for. So I'm sure you will like Zlatni Rat Beach on the island of Brač. Pictures of this place can be seen in every promotional folder and travel guide about Croatia because it is one of the most popular tourist attractions of this country. The beach of Zlatni Rat forms a peninsula that changes its shape depending on the winds blowing. The waters of the sea that surround it have an azure hue and are exceptionally clean. Sounds like a perfect drone photography spot, is not it?
4. Dubrovnik, South Dalmatia.
Dubrovnik, the pearl of the Adriatic coast. According to many people, this is the most beautiful city in Croatia. Indeed, the old town of Dubrovnik is very photogenic with its narrow streets, stone houses with orange tiles and the blue sea that surrounds it. No wonder this place is popular and there are so many tourists from around the world. It is the bane of photographers who have to get up very early in the morning to take good pictures before crowds of visitors fill the city streets. However, if you want to take a picture with a drone, Dubrovnik looks amazing at any time of the day.
5. Korčula Old Town, Korčula Island, South Dalmatia.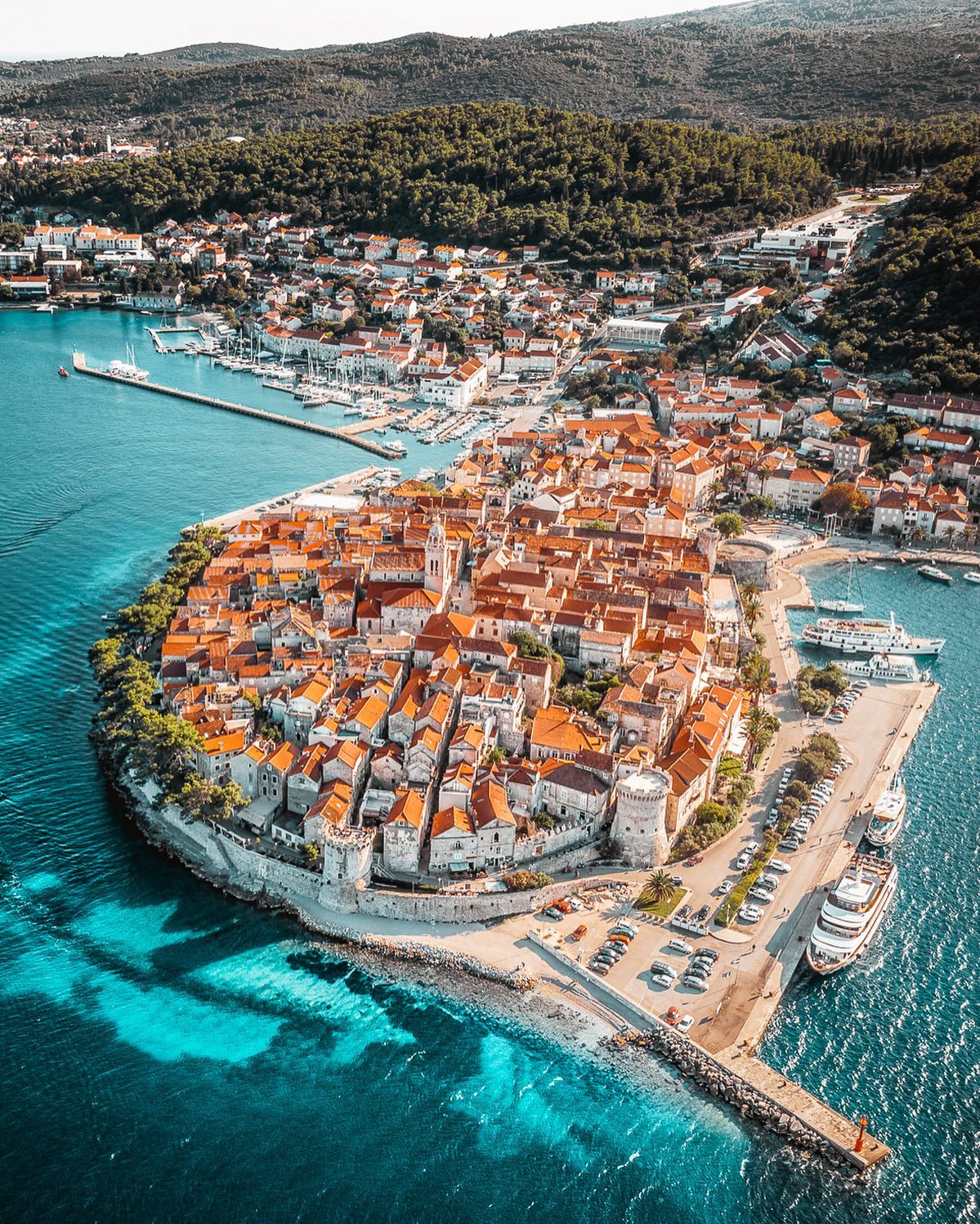 The old town of Korčula is located on an oval peninsula and is surrounded by the turquoise waters of the Adriatic Sea. Some say that this place looks like a smaller version of Dubrovnik. The fishbone-shaped city with orange rooftops looks amazing on aerial photos. It was designed in this way to protect the city from the cold and unpleasant Bora and Jugo winds. Legend says that in one of the houses in Korčula, the famous Venice traveler Marco Polo was born. It is not certain if this is true, but every year this place attracts more and more tourists. Anyway, if you are looking for a beautiful drone photography location, be sure to visit Korčula Old Town. Read more about this place on my blog: Top 10 things to do in Korčula Town, Croatia.
6. Love Island Galešnjak, North Dalmatia.
Popularly known as 'The Island of Love' or 'Island of Lovers', the small island of Galešnjak has become famous thanks to its heart shape. Galešnjak is located about 30 km from the city of Zadar in North Dalmatia. The island is private and only about 500 m long. The truth is that no one was interested in this place until March 2010, when Galešnjak was first photographed from space by the Japanese satellite ALOS. Then a photo of a heart-shaped island went round the world and the owner began to receive hundreds of calls from couples in love. Some people are so determined that they want to pay any price for the opportunity to spend at least one evening on the island of Galešnjak. If you want to take an amazing drone photo in Croatia, do not miss this place.
7. Košljun Island, Kvarner.
Košljun is a small Croatian island on the Adriatic near the island of Krk. The only inhabitants are a group of Franciscan friars living in St. Mary's Monastery.The island of Košljun looks very picturesque from the bird's eye view and is another great drone photography spot in Croatia.
8. Split, Central Dalmatia.
Split is a bustling port city in Central Dalmatia. What makes this place special is the beautiful old town with the ruins of the famous Diocletian's Palace. An interesting fact is that the interior of the former palace was almost entirely transformed into a residential area. The old town is very large and it's easy to get lost in the maze of narrow streets. If you want to take a great aerial photo of Split, I suggest you take the Saint Domnius Bell Tower as your first plan. The shot will be epic!
9. St. Nicholas Fortress, Šibenik, North Dalmatia.
St. Nicholas' Fortress (Tvrđava Sv. Nikole) is another interesting place in Croatia where you can take a great aerial photo. This arrow-shaped fortress is located in Šibenik and connected to the mainland by only a narrow walkway. It was built by the 16th century to prevent Turkish boats from reaching the port. St. Nicholas' Fortress looked powerful and threatening from the sea, so no one dared to approach here. An interesting fact is that two similar forts in the Mediterranean were also built in Venice and Malta. If you would like to take more aerial photos in Šibenik, take a look at the blog post: Šibenik or Trogir – what to visit in Croatia? Maybe it will inspire you.
10. The source of River Cetina, North Dalmatia.
Last but not least, the source of the Cetina River in the Dinaric Mountains. This place is located a bit off the beaten path, but definitely worth a visit. Just look how amazing it looks from above! Does it also remind you of the eye of a dragon? And this wonderful color of the water! Just a miracle of nature. It is not known exactly how deep is the source of the Cetina River, the divers managed to descend to a depth of 115 meters. This underwater well certainly holds many secrets.
What are your favorite drone photography spots in Croatia?
Do you like this post? Pin it!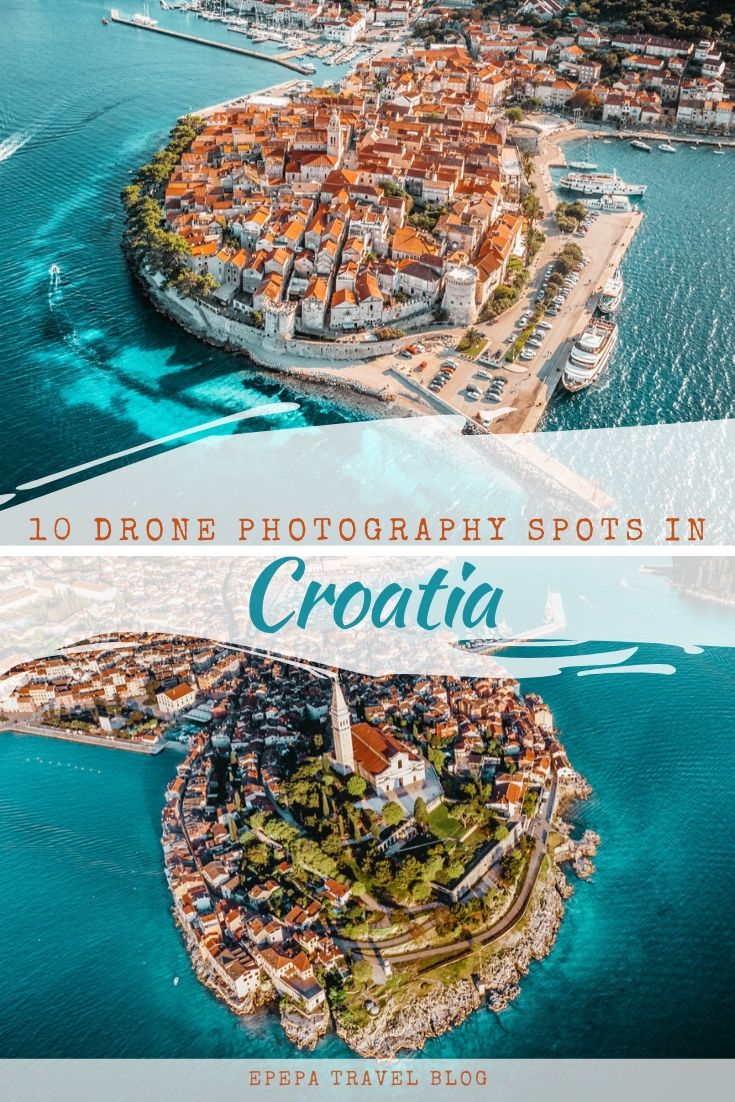 (Visited 18,269 times, 1 visits today)