There are places where I feel different than anywhere else. Places that are unique and full of magic. There is a kind of genius loci that gives these spaces a specific atmosphere and makes me want to stay there longer to feel these vibes. I have such feelings every time I visit Łazienki Park in Warsaw and the pre-war tenement house, which is located nearby, on Plac Unii Lubelskiej. This time we went there during one fall weekend when everything was covered with fog.
An autumn trip to Warsaw, Poland
Some say that this time when the golden autumn has passed and winter has not yet begun, it is the most gloomy and depressing time of the year. The end of autumn, when the trees are already bare, birds fly away and the days are shorter and shorter.
Wet streets, drizzling rain, black silhouettes of ravens and crows. Sleepy mornings when, instead of a blue sky, there is a gray shroud of fog that looks as if someone hid the world behind the curtain. Is it possible to like this time of year?
I admit to you that in the past I hated late autumn, and this gray world, when the last leaves had fallen, seemed to me extremely sad. Everything changed when I went on a weekend trip to Warsaw.
A thick mist accompanied us from the very morning when we left Gliwice until the last evening in Warsaw. My beloved Łazieki Park (check also: Łazienki Park in Warsaw, Poland) and all those places I know looked completely different in autumn. There was something magical and mystical in this gray shroud of fog, bare trees, and rain-wet alleys. It was so quiet and nostalgic, peaceful and… beautiful.
I've learned to see beauty in this time of the year which I hated so much. I've learned to see colors that have been around me all the time but I have not noticed them before. What's more, I realized that gray can be very charming. I looked at this late-autumn world from a slightly different perspective and know what? I liked it. Really. So if someone would ask me if it is worth visiting Warsaw in November or December, I would say yes. Definitely yes!
The unusual place to stay in Warsaw, Poland
Łazienki Park is the place that has an amazing atmosphere. Whenever I walk here, I think about what this beautiful pre-war Warsaw looked like. The city that has been almost completely destroyed and razed to the ground.
There are not many buildings in Warsaw that survived the Second World War. One of them is the tenement house at the corner of Bagatela, near the Łazienki Park. That's where we stayed during our weekend trip and where we always stay whenever we visit Warsaw. It's a unique place with an amazing atmosphere.
Each apartment in this pre-war building is one of a kind. Sand on the floor, gravel in the living room, golden stains on the walls and bizarre structures under the ceiling. All this is the work of the architect who has a truly incredible fantasy and tries to restore the splendor of this Warsaw tenement house, creating extraordinary spaces that you will not see anywhere else.
This building suffered a lot. It was partially demolished in the post-war period. These wounds and scars are not hidden, they are clearly visible. And I think that's what makes this place so special. Here you can feel the spirit of Warsaw better than anywhere. However, it is not just about the building but about people: the architect who creates this place, residents, guests. This is not an ordinary Airbnb. It's a kind of microcosm where everything is different, unconventional and limited only by the imagination.
The flat where we stayed was really cool. There was a private library with art books and photo albums, so something just for me! The apartment was decorated with paintings and unusual antique items that created a unique atmosphere of this place. The view from its windows was also amazing. It was nice to look at Plac Unii Lubelskiej at dawn, drinking the morning coffee. Seeing all these historic buildings, looking at passers-by, watching the trams gliding in the fog.
Some people asked me on Instagram where exactly these pictures were taken. If you are also interested in this, check out the apartment 'Desert in the city' and the Amfilada Bagatela, the places from my photos. In this building, there are also many other accommodations in a different budget. You can even sleep in a tent if you like. It's a really crazy place that will surprise everyone.
On the day we were leaving the fog disappeared and the sun was shining on Plac Unii Lubelskiej. Everything suddenly looked completely different. Beautiful, cheerful, but not with this amazing atmosphere that was before. It was time to go back home.
Do you like this post? Pin it!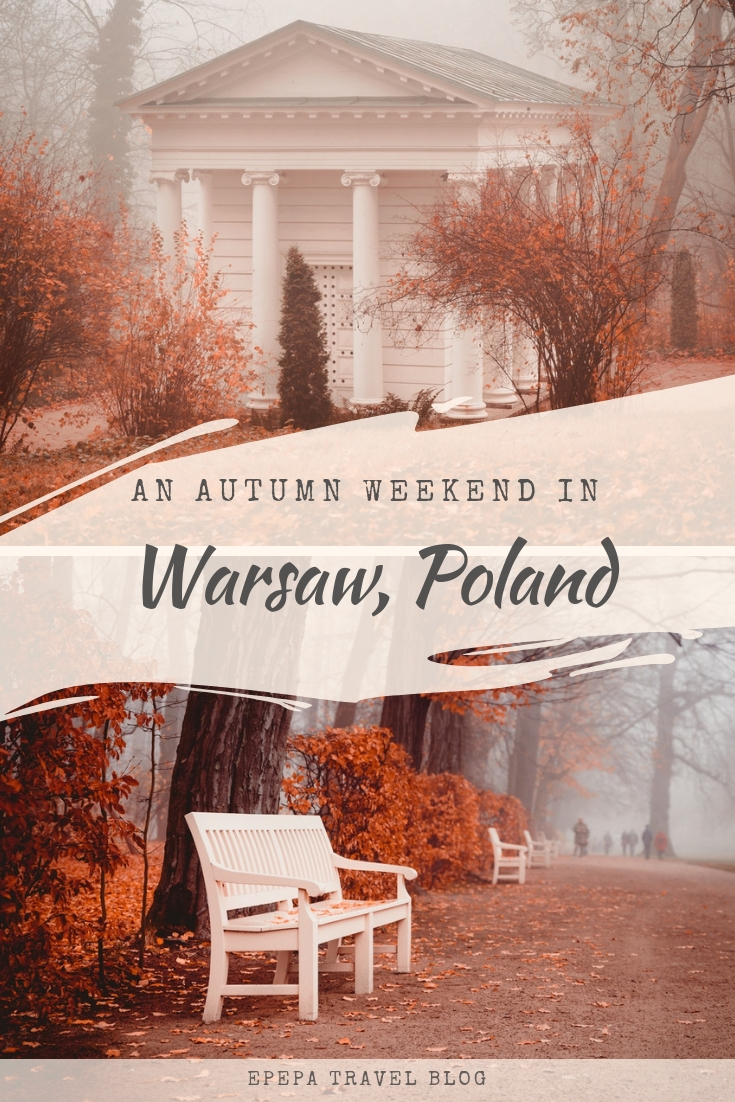 (Visited 3,116 times, 1 visits today)