Imagine a place without cars and traffic noise, where one can take a deep breath of fresh sea air and hear the sound of gently lapping waves, an archipelago of small islands with traditional fishermen's villages and wooden cottages on the rocks. A place where the craggy shores meet leafy nature and sometimes the only mean of transport are wheelbarrows.
Södra Skärgården, the southern archipelago of Gothenburg
Just a stone's throw away from Gothenburg, Sweden's second largest city, lies its southern archipelago which is easily accessible by public transport and close enough to visit for a day trip, but still far enough away to have a totally different tempo to the city. Sounds interesting? Stay here then and discover this Sweden's hidden gem with me.
Gothenburg was covered with mist when we took the morning tram to Saltholmen. We passed the city center, Järntorget square and the wooden houses in Majorna district and half an hour later we reached the ferry terminal.
Except that the locals told us that it is something really worth seeing we hardly knew anything about the southern archipelago, so we had no idea where to start our trip and what to see first. After a while, we just put down the map and got into the first ferry that appeared in the foggy dock.
We passed the islands of Asperö and Köpstadsö and got off the ferry at the last stop in Styrsö Tången, a beautiful fishermen's village with white houses clustered along the alleys above the quayside. I was totally enchanted by this place.
There was no one except us and the village was covered with white mist, which made this place look even more fabulous. I walked down the winding streets taking some pictures of lovely white houses and quaint architecture details. I always wanted to visit Scandinavia so at that moment I felt really happy and grateful that one of my dreams came true.
They say that the southern archipelago is a miniature version of the entire Bohuslän coastline between Gothenburg and the Norwegian border, so if somebody is looking for picturesque Scandinavian landscapes and typical Nordic architecture, all of this can be found in Södra Skärgården. So why the islands are not crowded with tourists yet?
The main reason is that Gothenburg is quite underrated place in Sweden. The truth is that most of the tourists visiting this country choose Stockholm as a city break destination and Gothenburg with its archipelago is just too far away for a day trip.
Another thing is that previously the islands were closed off to all non-Swedes because during the Second World War artillery positions and coastal defenses were constructed there. This restriction remaining in force until as late as 1997 and only since then, it's possible for foreign tourists to visit the archipelago too.
The nice thing is that you can explore the whole southern archipelago on your tram ticket which makes it an affordable day trip even for budget travelers. So if you, for example, purchased the 1-day ticket on Gothenburg public transport you can catch the tram 11 to Saltholmen ferry terminal and travel between islands as much as you want. The same is with the Göteborg City Card. Great, isn't it? Tip: Between June 19th – August 20th instead of going by tram to Saltholmen you can take a ferry from Stepiren terminal in the city center.
In Poland where I come from we haven't got too many islands not even mention about the whole archipelago so I felt happy like a child that I could travel the whole day from one island to another. Besides the village of Styrsö Tången, I really enjoyed the walk around Galterö, a deserted island near Brännö with beautiful sandy beaches, green pastures and rich bird life along the rocks.
The sheep on Galterö weren't afraid of us at all and they came so close that we could pet them. It was a nice thing to feel the fluffy wool under my hand, what lovely animals they are! Speaking of the island, I have never been to a place like that before. Till then I had only that kind of feeling when I was climbing high in the mountains, you know, just me and nature itself, wonderful experience!
Top 10 islands to visit in Gothenburg Southern Archipelago, Sweden
1. Styrsö – the main island of the Southern Gothenburg Archipelago with the post office, school, shops, guesthouses, and restaurants.
2. Brännö – an island famous for its traditional summer dances and child-friendly beach.
3. Vrångö – the southernmost inhabited island with a large marina, scenic viewpoints, beautiful sandy beaches, and two nature hiking trails.
4. Donsö – an important fishing and ship-owning community with great hiking paths and places to swim.
5. Asperö – a fishermen's island with scenic viewpoint at the top of Valen hill and a bathing area.
6. Köpstadsö – a small island where wheelbarrows are the only mean of transport.
7. Vargö – an uninhabited island with a nature reserve and shallow lagoon.
8. Galterö – an island with pastureland and rich bird life.
9. Stora Förö – a small island with good swim spots mainly visited by summer residents.
10. Knarrholmen – a calm summer island close to the Saltholmen ferry with fine beaches and rocks to relax on.
Top 10 things to do in Gothenburg Southern Archipelago, Sweden
1. Walk down the narrow streets of Styrsö Tången, a beautiful fishermen's village with white houses clustered along the alleys above the quayside.
2. Watch the peaceful sea and relax on the salty rocks of Uttervik, a perfect bathing and picnic spot just a few minutes walk from Styrsö Tången.
3. Explore the archipelago nature trails on Styrsö, Vrångö, and Donsö.
4. Watch the beautiful panorama from the bridge between Styrsö and Donsö.
5. Hire a kayak on Vrångö for a day trip or just a few hours and explore the archipelago from the water line.
6. Take a long walk from Brännö to Galterö, an uninhabited green island with pastureland, rich bird life and beautiful sandy beaches covered with seashells.
7. Take a walk around Gamla Stan, a typical fishing village on Vrångö island with white-painted sheds for boat equipment surrounding the harbor, and climb up to the red pilot house situated on the rock above.
8. Rent a bike on Brännö and explore the island on two wheels.
9. Watch the splendid panorama of Gothenburg harbor from Valen viewpoint on Asperö island.
10. Visit Köpstadsö, a small island with narrow footpaths where wheelbarrows lined up in a row at the ferry pier are the only means of transport.
During our stay in Gothenburg we visited southern archipelago twice: first day we explored Styrsö, Köpstadsö, Brännö and Galterö. It was lots of walking but the islands were definitely worth it. The next day we took the fast ferry Rivö and spent a relaxing afternoon on Vrångö, wandering around the village and watching the beautiful view of the sea from the red pilot house situated on the rock above the harbor.
I think telling that visiting the Southern Archipelago of Gothenburg is one of the must-dos while there is not enough. Exploring these small charming islands was the best spent two days and actually the most wonderful experience during our stay in the city, something that we will remember for a long time. Our city break in Gothenburg won't be the same without seeing the archipelago and we hope to come back there one day to visit the other islands. I'm really glad that I had a chance to discover this Sweden's hidden gem.
Do you like this post? Pin it!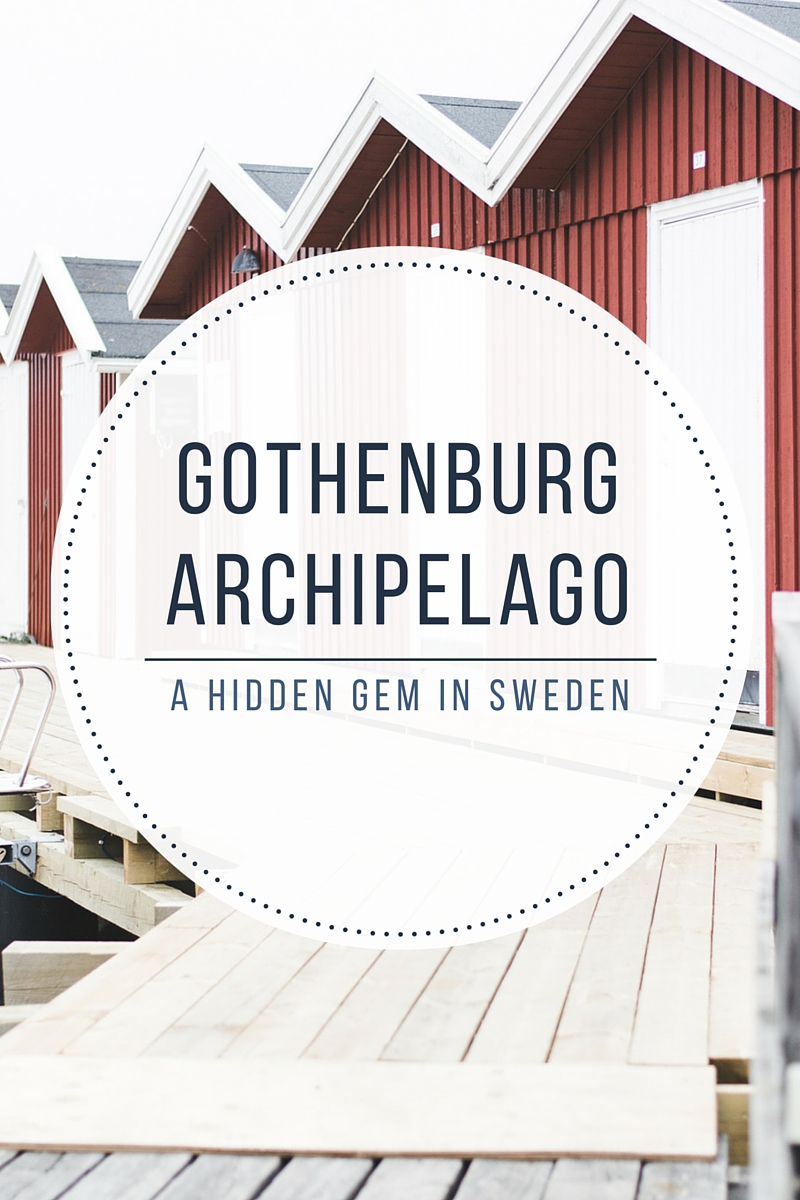 (Visited 21,340 times, 1 visits today)