Gliwice, my hometown in Poland. If someone asked me when is the best time to visit this place, I would say it is fall. In my opinion, all these wonderful autumn colors and soft golden light make the city look somehow different, more beautiful.
Although I didn't always like my hometown and still think there are better cities to live in, over the years, I have learned to appreciate this place and see the beauty where I hadn't seen it before. When I go for lonely walks to take pictures, it still happens that I discover hidden gems that I did not know about, or I notice some interesting details that I previously did not pay attention to.
I also like those moments when I come back to my hometown after a long journey. Then I always look at familiar places with different eyes, and I see extra colors everywhere. They say coming back to where you started is not the same as never leaving, and in my opinion, it makes sense.
This time, after a few months abroad, I also looked at my city from a different perspective. Besides, the whole pandemic thing changed the way I perceive the world around me, made me look for places where I can calm down, and I got closer to nature. In the past, beautiful architecture and city life were something that inspired me, but recently forests and lakes were the only places where I found relief and felt happier for a moment.
When I returned to Poland in October, I first felt excited, but as the days passed and I heard more and more disturbing news everywhere, I felt depressed and frustrated like never before. As if in a few days, I lost all the good energy I felt when I was living in Slovakia and in Vienna, Austria. When I realized that I was getting sad and anxious, I decided to do something about it. That is how I started walking in forests and parks, looking for places away from the hustle and bustle of the city.
I took my camera and started taking pictures of Gliwice again. I visited some of my favorite places in the city, such as the ivy-covered tenement house on Lelewela Street, the Market Square (Rynek), or Chrobry Park, but soon I started exploring natural areas that I either didn't know much about or hadn't been there for a long time. This is how I rediscovered two beautiful places in my city: the Culture and Recreation Park, also known as the City Forest, and Lake Czechowice.
Lake Czechowice was an unexpectedly pleasant surprise. I have no idea why this place has never stolen my heart before, but this time it felt different. It was a quiet autumn day, there was hardly anyone there except us and the man who was swimming in the lake.
Perhaps it wasn't very cold outside, but I was wearing a jacket and a thick sweater. I don't know if I would dare to swim in such a temperature, so I looked at him with admiration. Once again, he was crossing the lake, on the surface of which circles appeared. There was something magical and beautiful about this sight. I was amazed at how peaceful and quiet this place is. Plus all those wonderful fall colors and soft golden light. I really liked it there.
The Culture and Recreation Park in Gliwice is another place that used to be off my radar, but this has changed this fall. Walking along its paths, admiring all these fantastic autumn colors, and listening to the sound of the forest made me feel much happier and more relaxed. The pandemic has changed a lot, but I have learned how to enjoy the little things and appreciate the beauty around, especially the beauty of nature.
So I took some new photos of Gliwice, Poland. Hope you like this place in fall colors and maybe someday when things get better you will feel inspired to visit my hometown.
If you would like to read what to do in Gliwice or just watch more pictures of the city, I recommend you to check the previous posts: Top 10 things to do in Gliwice, Poland, and 22 winter photos to inspire you to visit Gliwice, Poland. You can also follow me on Instagram: @epepa.eu.
Do you like this post? Pin it!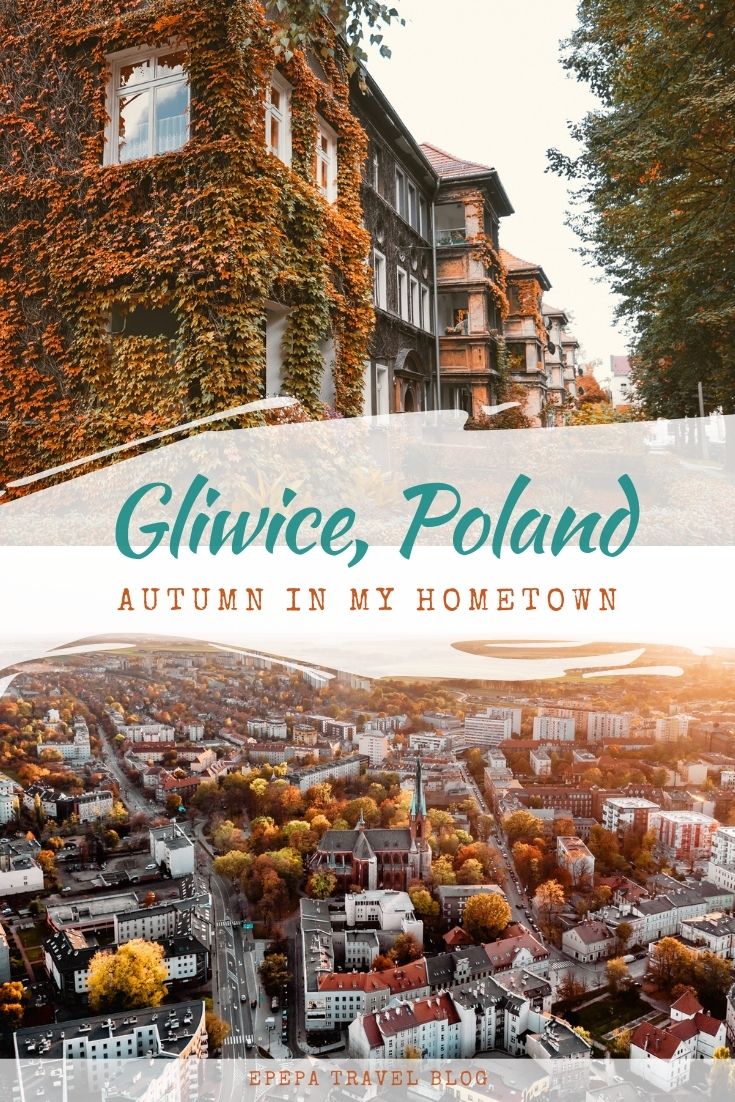 (Visited 1,489 times, 1 visits today)