They say that the Pelješac Peninsula is one of the greenest and wildest parts of the Croatian coast. It changes, of course, because every year more and more tourists come here. However, compared to other places in Croatia, this area is still off the beaten path. Before I got here, I heard many stories about beautiful beaches and hidden bays, excellent wine and seafood, and of course jackals that howl in the hills when it gets dark. I love to discover hidden gems, so visiting the Pelješac Peninsula soon became one of my dreams.
Although the trip to the Pelješac Peninsula has been on my bucket list for some time, I didn't have any big plans when to go there, where to stay or what to do. It happened a bit spontaneously, as usual when we travel to Croatia. To be honest, the adventure always starts when we get in the car and leave Gliwice in Poland, the city where we live. We don't have a specific destination, we head south, stopping wherever we like. This time we stayed for the night in Ptuj, the oldest city in Slovenia and in Drvenik, a small village on the Makarska Riviera, from where there was a wonderful view of the sea and Pelješac on the horizon. When I saw it, I knew I just had to go there.
Table of contents
Where is the Pelješac Peninsula, Croatia?
Pelješac is the second largest peninsula in Croatia, which is located in the Dubrovnik-Neretva County, South Dalmatia. The most famous cities in this area are Dubrovnik, the pearl of the Adriatic, and Korčula, the alleged birthplace of Marco Polo. If you would like to travel by car between these two places, you must drive through the Pelješac Peninsula.
Things to do on the Pelješac Peninsula, Croatia
Pelješac Peninsula is a large piece of land, so there are many interesting places to see. Some of them are best-kept secrets, others are better known. Nevertheless, people come to this region of Croatia mainly for beautiful nature, hidden beaches, idyllic atmosphere, excellent food, and wine. In other words, Pelješac is a slow travel destination where you can forget about problems, relax and take your time. So I'm not sure if words such as must-see or must-visit places are adequate here.
I admit that the atmosphere of this place made us chill and we were not very focused on sightseeing, we just enjoyed every day and explored the coast on our sea kayak. You can't dream of a better time. To tell you the truth, we haven't checked all the things to do on the Pelješac Peninsula, so don't treat this list as a complete travel guide. I just mentioned here some places I liked and recommend to visit. I hope you enjoy them too.
1. Žuljana, a hidden gem with beautiful beaches.
Although Žuljana is more like a hidden gem than a top tourist attraction on the Pelješac Peninsula, I will write about this place first because that's where we stayed and spent most of our time.  Besides, this small village has a special place in my heart. Maybe it's because of the beautiful beaches, amazing sunsets and nice people who live here, but there is something magical in Žuljana that makes me smile whenever I think about this place.
Žuljana is a port village on the Pelješac Peninsula with only 200 inhabitants. The settlement was first mentioned in the 12th century and was probably named after the church of Saint Julian, which was located here. Žuljana is known for its beautiful beaches, lush pine forests, long diving tradition, and excellent wines. It is worth mentioning that the Vučine Beach located here is considered one of the best beaches not only in Croatia but also on the entire Adriatic coast. Read more: Žuljana, a hidden gem with beautiful beaches.
Actually, we spent most of the time on the Pelješac Peninsula in Žuljana, exploring the hidden beaches on our sea kayak, tasting local food in the port tavern, and enjoying the beauty of nature. When I think of local hospitality, these amazing landscapes, jackals that howled from the surrounding hills when it was dusk and the excellent taste of wine bought in Žuljana, I would like to be there now. I don't often go back to the places I've been to, because I like to explore the unknown, but I'm pretty sure I'll visit this charming village more than once. It's so beautiful there!
2. Orebić, the largest tourist resort on the Pelješac Peninsula.
I didn't have any high expectations when I went on a trip to Orebić. I heard that this is the largest and most touristic place on the peninsula, where there are shops, a seaside promenade, beaches with sunbeds and other attractions, which to be honest are not very important to me. I just prefer authentic villages and hidden gems, that's how I am. Nevertheless, I read somewhere that there are beautiful captain's villas in Orebić and as an architecture lover, I couldn't miss them.
Situated beneath Mount St. Elijah, Orebić is the biggest town on Pelješac. Throughout history, Orebić belonged to the Republic of Dubrovnik and became famous for its maritime industry which reached its peak in the mid-19th century. In these times Orebić took pride in having the largest number of captains in Croatia. When they retired, they built beautiful villas on the seafront and decorated their gardens with exotic plants they brought from distant sea expeditions.
Nowadays, the town is known mainly as a tourist resort from where you can easily get by ferry to the town of Korčula, which is located directly across a strait. Read more: Top 10 things to do in Korčula Town, Croatia. When it comes to things to do in Orebić, apart from the seaside promenade with captain's houses, the main attractions of this town are the famous Trstenica Beach, the Maritime Museum, the Franciscan Monastery of Our Lady of Angels, Captain's Cemetery and Mount St. Elijah (Sveti Ilija – 961 m high).
There is something else I did not know until I visited Orebić. I mean a small but atmospheric old town with two or three charming narrow streets, one of them called Geta. I didn't pay attention to this place when I was looking at the map, because it is quite well hidden, so I was surprised when I discovered it. I took my camera and just couldn't stop taking pictures, so much I liked it there.
A walk along the seaside promenade in Orebić also provided an unforgettable experience. I really enjoyed the beautiful captain's houses surrounded by lush gardens with colorful flowers and exotic plants. They looked very elegant, rich, and sophisticated, a bit mysterious. If only it was possible, I would gladly take a closer look, but even a glimpse allowed me to feel the magical atmosphere of these historic villas.
The Neo-Renaissance fountains on the waterfront also caught my attention. They were built in the 19th century during the construction of the water supply and there are seven of them in Orebić, each one is unique and beautiful in its own way. It was nice to walk for a while in such a charming place. From the promenade, there was a beautiful view of the island of Korčula and its archipelago. Also, I could see the outline of the medieval old town of the same name, which is picturesquely located on the peninsula.
There is something else that makes Orebić special, I mean a scenic view of the mountains rising above the sea. The town is located at the foot of Mount Saint Elijah, which is 961 meters high. Legend says that the summit was once called Perunovo Brdo (Perun´s Mountain), after the name of the old Slavic god Perun, the master of thunders. When Christianity came, the name was changed to Mount Saint Elijah (Sveti Ilija). It is also interesting to mention that later in history the Italian name Monte Vipera (Mountain of the Snakes) was in use. Some think it was because of the venomous snakes (poskoks) that live in the area. Others say the name was inspired by the zigzag, snake-like lines visible on the steep slopes above Orebić.
Before I visited Orebić, I thought this town could be just another tourist resort like many in Croatia, for example on the Makarska Riviera. However, there is more than just beaches and apartments, this place has its own charm and atmosphere. If you're going to Korčula or are just looking for nice things to do on Pelješac, don't forget to take a walk around Orebić.
3. Ston, the medieval town with the longest stone walls in Europe.
If you come to the Pelješac Peninsula by land, the first thing you'll see is the medieval town of Ston and its impressive fortifications which are called the "Great Wall of Europe". An interesting fact is that they are the longest defensive walls in Europe and the second-longest in the world, after the Great Wall of China. Apart from the stone walls, Ston is also famous for its salt pans and delicious oysters that attract the greatest gourmets.
The walls of Ston were built in the 14th century to protect the town, shellfish farms, and above all, the salt pans, which were of great importance to the Dubrovnik Republic. The fortification system is 5.5 km long and connects the historical town of Ston with the smaller Mali Ston. If you're not afraid of the heat, I suggest you take a walk along the "Great Wall of Europe", because the views of Ston, the salt pans and the surrounding hills are really beautiful. If you're looking for some picture-perfect and Instagrammable places on Pelješac, don't miss this one. Check also: Top 15 most Instagrammable spots in Croatia.
The entrance fee to the Ston Walls is 70 Kn (adults), 30 Kn (children and youth up to 18 years, students). A walk from Ston to Mali Ston takes about 40 minutes.
Ston seemed to be a rather calm and quiet town, with such a dreamy atmosphere as if time stopped there. t didn't take me much time to walk around the old town. There were some narrow streets surrounded by stone houses with orange rooftops, seafood restaurants, several shops. What I noticed was the fact that although it was already mid-September, it was quite hot here, actually much hotter than in the villages on the Pelješac coast. No wonder, after all, for some reason it was decided in the past to place the salt pans here. The town of Ston itself is an interesting place on the map of Croatia, especially for history buffs and people who like to travel off the beaten path. If you would like to visit an uncrowded medieval town on the Croatian coast and try some excellent seafood, you should add Ston to your itinerary.
4. Solana Ston, the oldest active salt pans in the world.
Ston is known not only for having the longest defensive walls in Europe. Another interesting fact about this place is that it has the oldest working salt pans in the world. Solana Ston, as it is called, dates back to the Roman times, about two thousand years BC. Since those times, salt is produced in the same natural and environmentally friendly way: by the sea, sun, and wind.
Solana Ston consists of 58 pools divided into 5 groups. An interesting fact is that those used for crystallization have the names of saints: Francis, Nicholas, Balthazar, Anthony, Joseph, John, Peter, and Paul. Salt production in Ston brought a very large income to the Republic of Dubrovnik, so to protect the salt pans, the monumental walls of Ston were erected in the 14th century. Nowadays, about 500 tons of salt are produced here annually. Due to its historical value, Solana Ston has become a tourist attraction and visiting it is one of the best things to do on the Pelješac Peninsula.
5. Oyster and mussel farms in the bay of Mali Ston.
We are still in the area of ​​the town of Ston, and more precisely in Mali Ston, a sister village where you can get by car or go on a scenic walk along the "Great Wall of Europe". There is something very characteristic here that the Pelješac Peninsula is famous for. I mean oyster and mussel farms in Mali Ston Bay. Probably, they were here also in Roman times.
Fresh oysters from the Pelješac Peninsula are considered one of the best in the world, which is why so many foodies come here. You can try them in numerous restaurants and on farms. Locals often organize boat trips to oyster farms, during which you can learn a lot of interesting things about these treasures of the sea.
6. Sreser, an authentic fishing village.
Let's get off the beaten path. There are places we will never find if we stick to the travel plan, which is why in my opinion it is always better to leave some space for being spontaneous. If I were focused only on things to do on the Pelješac Peninsula that I read about in guidebooks, I would probably never have come to Sreser. What a shame it would be!
One could say that there is no point in going to Sreser because it is only a small fishing village where is not much to see. Maybe in some sense, it's true, because you will not find here any shopping promenade, narrow cobbled streets or representative historic buildings. However, whether Sreser is worth visiting or not depends on what you are actually looking for. Some things are not visible at first glance, so they are easy to miss.
Sreser is a very small settlement on the northern coast of the Pelješac Peninsula. The sea here is very calm, almost like a lake. It is actually a bay between the peninsula and the mainland, which is called the "Small Sea" (Malo More) and is known for the largest oyster farms in the Adriatic. The village actually consists of several houses, some of them with apartments for rent, a small fishing port, a church, one shop, and a cafe. There are also three small islets – Goljak, Srednjak, and Gospin Školj.
How did it happen that we got to Sreser? As you can guess, it was by accident. One day, we just got into the car, left Žuljana, and headed ahead without any plan. Driving through the village of Janjina, we saw the name Sreser on the navigation screen. My husband asked why not go there and check it out. It sounded like a pretty good idea, so we turned into a narrow road that led to the northern shore of the peninsula.
We parked the car on the waterfront, close to the small port with fishing boats. I got the impression that there was nobody in Sreser except us, the cats who were lazily walking along the shore and some fishermen whose boats could be seen on the horizon. It was so quiet that I could hear the soft sound of the calm sea, it felt like somewhere at the end of the world. I sat on a bench on the shore and stared at the beautiful view that stretched out from here.
I could clearly see the Croatian mainland on the opposite shore and even the Pelješac Bridge which is being built. Somewhere on the other side of the "Small Sea" was the green fertile valley of the Neretva River, where delicious fruit and vegetables are grown. The sea was so clear that I could see a lot of shells at the bottom, that's probably because of the oyster and mussel farms that are nearby.
We walked along the waterfront and enjoyed the view of fishing boats drifting in the calm waters of the bay. The small islands – Goljak, Srednjak, and Gospin Školj looked really picturesque. Very interesting coast, one day I would like to go back there with my sea kayak and explore it. The archipelago between Sreser and Brijestra seems to be a nice place to paddle around.
Although Sreser is a small village, paradoxically it wasn't until I came here that I felt what a special place Peljesac Peninsula is. I liked the authentic atmosphere of this fishing village and I appreciated that I could finally see what the normal life of local people looks like. It was a much more interesting experience for me than visiting any tourist attractions.
7. Vineyards of the Pelješac Peninsula.
The Pelješac Peninsula is famous not only for its beautiful beaches and delicious seafood but also for the excellent wines that are produced here. Vineyards cover a large part of the Pelješac Peninsula, starting in Ston and stretching all the way northwest to the outskirts of Orebić. It is worth tasting the local wines Dingač and Postup, which are made from plavac mali grape variety and are considered one of the best red wines in Croatia.
I also recommend seeing the vineyards themselves, because they look really picturesque.
You can visit the village of Potomje, drive through the narrow rocky Dingač Tunnel, and follow the scenic coastal road to the village of Borak.
 Also, d
o not miss the most Instagrammable and picture-perfect spot on Pelješac, which is located on the main road just before the city of Orebić. This is the best viewpoint where you can enjoy the breathtaking panorama of the Postup vineyards and the islands of the Korčula Archipelago on the horizon.
8. The romantic village of Podobuče.
Podobuče is another hidden gem on the Pelješac Peninsula that stole my heart. I think if I didn't stay in Žuljana, I would look for an apartment right here because I really liked both the landscapes and the architecture in this place. Stone houses with orange rooftops, steep slopes covered with vines, and a beautiful beach with crystal clear sea – this is how I always imagined an idyllic Dalmatian village.
The small settlement Podobuče is located on the southern coast of the Pelješac Peninsula, about 12 km from the town of Orebić. Only 35 people live here, so you can imagine what a little gem it is. The village is located at the foot of steep mountains covered with vines. It consists of some stone houses that surround the bay and the beautiful beach of the same name. Sounds like a dream place to relax and rest from the hustle and bustle, doesn't it?
It was late afternoon when we arrived in Podobuče. The sun lit the vineyards and hills with a soft September light, but the bay and most of the beach were already in shadow. That's why the sea didn't seem as blue as it is probably at a different time of day. Nevertheless, the village looked very picturesque seen from where we parked the car. Podobuče is car-free, so to get there you have to take a walk downhill, but it's worth it. Beautiful stone houses, lush Mediterranean vegetation, and sea views make up for any effort.
Besides the architecture of Podobuče, beautiful palm trees, and well-kept gardens, I really liked the agaves that grew on steep coastal cliffs. Such a view for me is the essence of Dalmatia, like the smell of pine trees and Mediterranean herbs, the sound of cicadas, and the crunching of small pebbles on the beach.
What caught my attention was also the scenic spot for boules (Croatian: balote, boćanje), a traditional Mediterranean game. I was lucky enough to watch the locals play here, enjoying the view of the sea and the beautiful sunset at the same time.
One might say that there is not much to see in Podobuče, but that is not the point. It's about the atmosphere of this place. In my opinion, it is a very beautiful and romantic small village where you can enjoy the sun, sea and forget about the whole world. Such a tiny Mediterranean paradise.
How to get to the Pelješac Peninsula, Croatia?
Getting to the Pelješac Peninsula from Dubrovnik is very easy. You just head north and after about 45 minutes you get to the peninsula through the isthmus in Ston. Coming from Split, you have two options. You can catch a ferry from Ploče to Trpanj or get to Ston by passing a 9 km long piece of Bosnia and Herzegovina. This is a non-EU country, so you have to pass border control twice and have a Green Card, an international certificate of insurance. Besides, there is a risk of getting stuck in a traffic jam. Because of these inconveniences and the fact that by choosing a land road you have to drive more kilometers by car, many tourists prefer to catch a ferry from Ploče. Once the construction of the Pelješac Bridge is completed (planned for 2022), which is to connect the peninsula to the Croatian mainland, getting there will be much faster and easier.
If you want to get to Ploče ferry crossing, it is worth mentioning that traveling from Split you can choose the motorway or follow the coastal road number 8, called the Adriatic Highway (in Croatian: Jadranska magistrala). I recommend the latter option because the views of the sea, the Biokovo Mountains, and small villages along the way are simply amazing. In my opinion, a good idea is to leave the motorway at 29- Zagvozd exit and get through the Sveti Ilija Tunnel to the Makarska Riviera, from where you can follow the scenic road number 8 along the Adriatic coast.
After a night spent in Drvenik on the Makarska Riviera, we decided to get to the Pelješac Peninsula by ferry and drive along the scenic Adriatic Highway. A ride on such a beautiful road was a real pleasure and provided an unforgettable experience. On the right, there was a wonderful view of the sea and the silhouette of the peninsula, and on the left were the rocky mountains that contrasted with the blue of the sky. We passed small tourist towns and villages along the coast, which from this perspective looked really nice and inviting. This idyllic atmosphere shattered when we entered Ploče, which turned out to be an industrial city with concrete apartment blocks on the waterfront. I did not expect such a view here in Dalmatia, so I admit I was quite surprised.
Ferry to the Pelješac Peninsula: The ferry route from Ploče to Trpanj is currently served by 1 company, Jadrolinija. In the high season, it runs 7 times per day, in the low season – 4 times per day. The journey time is 1 hour. The ticket price is 27-32 Kn per person and 115-138 Kn per car (up to 5 m length). More info here.
We were a little ahead of time, so while waiting for the ferry we went to a nearby pizzeria. Sitting on the waterfront and sipping coffee, I watched everyday life in Ploče go on and thought that despite the first bad impression, this authentic port city is interesting in its own way. Even these gray apartment blocks turned out to be quite photogenic. I think people who like this kind of architecture would like it here but I admit that I was happy when the ferry left the shore and headed towards the mysterious, wild, and green Pelješac, which until now I knew only from stories. I love the feeling of excitement that I have every time I travel to the unknown. Do you also have that?
Pelješac Peninsula – where to stay?
The place where we decided to stay on the Pelješac Peninsula was the small village of Žuljana, but we had no plans to go there before. In the morning when we woke up in Drvenik, we found a nice Apartment Korda on the internet. We booked it and got there from the Makarska Riviera in about 2-3 hours. It was a really good decision because we had a nice apartment in a beautiful place and a very friendly host, Slaven. If you are wondering where to stay on Pelješac, I recommend this accommodation.


If we didn't rent an apartment in Žuljana, I think we would be looking for a place to stay somewhere on the southern coast of the peninsula, maybe in Trstenik, Podobuče or Dingač, because we like small villages. However, if you prefer to be in a town where there are some shops and things to do, in my opinion, the best choice will be Orebić which is well connected by ferry with the old town of Korčula. You can also stay in the ferry town of Trpanj, or if you like surfing – in Kućište or Viganj. Villages on the north coast, like Sreser or Brijestra, are also nice places to stay for those who have a sea kayak or pontoon, because there is a very interesting coastline with small islets.
What is the Pelješac Peninsula like? Is it worth visiting?
Before I visited the Pelješac Peninsula, I read about how amazing it is, so to be honest my expectations were quite high. I imagined a green peninsula with beautiful beaches and idyllic Dalmatian villages. A place that is still unaffected by mass tourism and commerce. Was it worth going there? What is the Pelješac Peninsula like? Is it as attractive as the Island of Hvar and other places I have been to Croatia?
This blog post is not a complete guide to Pelješac, because I am aware that I have not seen everything the peninsula has to offer. I just mentioned here some visited places that I liked, but there are still many things to do on the Pelješac Peninsula. I was too short in Trpanj to be able to tell you about my impressions from this place and did not see, for example, the famous Divna Beach, which is considered by many people to be the most beautiful on the peninsula. I probably missed a lot of other places too.
But honestly, I don't regret anything. I spent a wonderful time on Pelješac the way I like. Almost every day my husband and I took our sea kayak to explore the coast and secret beaches in Žuljana. It was so nice to paddle around the bay enjoying the crystal-clear turquoise sea and beautiful pristine landscapes. During our small sea expeditions, we always found a hidden cove only for us, where we could relax from the hustle and bustle and feel as if we were somewhere at the end of the world. It was also nice to visit some small islands, which could only be reached from the sea.
When it began to dusk and the howling jackals could be heard from the surrounding hills, we headed to the port where we tried local specialties and watched the everyday life in the village. I think it's a good idea to explore the places we visit in many ways. After all, it's not just about views, but also smells, flavors, sounds, and other things that affect how we perceive the world around us. It's always nice to talk to local people, try homemade wine and eat something you've never tried before. I like to travel slowly and the Pelješac Peninsula is a great place to do it.
I liked how diverse the Pelješac Peninsula is. From the sunny south coast with beautiful beaches, through vineyards and villages in the interior, to oyster and mussel farms on the calm "Little Sea", each of these places is different but equally worth seeing.  When I was on the peninsula in September, I also noticed an interesting thing. In Žuljana and other villages on the south coast it was still warm as in summer, flowers bloomed, palm trees, agaves, and other exotic plants grew. But when we drove 10 km to the village of Janjina which is in the interior, it felt like it was already autumn. I remember how surprised I was when I saw chestnuts and fallen leaves near the church. Just like in my country of Poland at this time of year.
Although Pelješac, or at least the area I visited, turned out to be more touristic than I expected, it was less crowded than other places on the Croatian coast, for example, the Makarska Riviera. There were both typical holiday villages and places where you could still feel the authentic atmosphere and watch how everyday life goes on. It was cool to see locals playing boules in Podobuče and fishing boats drifting at sunset in Žuljana Bay. I also liked the village of Sreser, because it was really quiet there and it felt like somewhere at the end of the world. Besides, I'm glad I visited Ston and saw captains' houses in Orebić. These are places where you can feel the history and imagine what life on the peninsula looked like in the past.
If you asked me whether it is better to visit the Pelješac Peninsula or the Island of Hvar, it would be difficult to say because each of these places is nice and interesting. Both Hvar and Pelješac have amazing beaches, scenic roads, charming villages, beautiful nature, excellent food, and wine. It is interesting to mention that each of these places even has a rock tunnel that will take you to the southern coast. I mean the Dingač Tunnel on the Pelješac Peninsula, and the Pitve Tunnel on the Hvar Island.
However, if I were to point out any differences between Pelješac and Hvar, in my opinion, there are more towns on Hvar with beautiful architecture and narrow cobbled streets where you can stroll in the evenings. There is the oldest Croatian town of Stari Grad, as well as Vrboska, Jelsa, and of course the city of Hvar itself, which is a real gem. Read more: Top 10 things to do in Hvar Island, Croatia. As for Pelješac, you can visit Ston and see two or three narrow streets in Orebić, maybe there is something else in Trpanj, but the rest are small villages.
On the other hand, you can take a passenger ferry from Orebić and in 15 minutes you are in the old town of Korčula, which in my opinion is one of the most beautiful places in Croatia. Besides, you can go on a trip to Dubrovnik, the pearl of the Adriatic. This is the most visited place in Croatia, which offers beautiful architecture and many interesting things to do. Due to the fact that Pelješac is connected to the mainland, it is an excellent starting point also to visit other places on the Adriatic coast and inland. I mean the Trsteno Arboretum, the Dubrovnik Riviera, the beautiful city of Kotor in Montenegro or Mostar in Bosnia and Herzegovina. There are many things to see in this area.
However, it's not just about things to do. Hvar has a special place in my heart because I was there for my honeymoon and this island will always be number one. However, Pelješac is also very beautiful and has a great atmosphere, good food, and nice people who live here. Besides, it's more off the beaten path and I think it's a little bit cheaper than Hvar. If I was to give you a piece of advice, I think Hvar will be a good choice if you want to go on a romantic vacation, spend days on beautiful secret beaches and stroll in the evenings in the lovely small towns. Pelješac, on the other hand, is a great option for families with small children because of the sandy beaches with shallow banks. I recommend this region of Croatia also to everyone who is looking for beautiful nature and an interesting coast for sea kayaking.
I hope that after reading my blog post you have some idea what the Pelješac Peninsula is and how you can spend your time there. I really liked this place, there was something special that made me feel very relaxed and happy. If there is such a possibility in the future, I would like to go back there and discover other places on Pelješac that I have not seen yet. I also hope to visit Žuljana again to explore its beautiful beaches on my sea kayak, as well as enjoy the taste of black risotto (in Croatian: crni rižot) with a glass of delicious local wine.
Do you like this post? Pin it!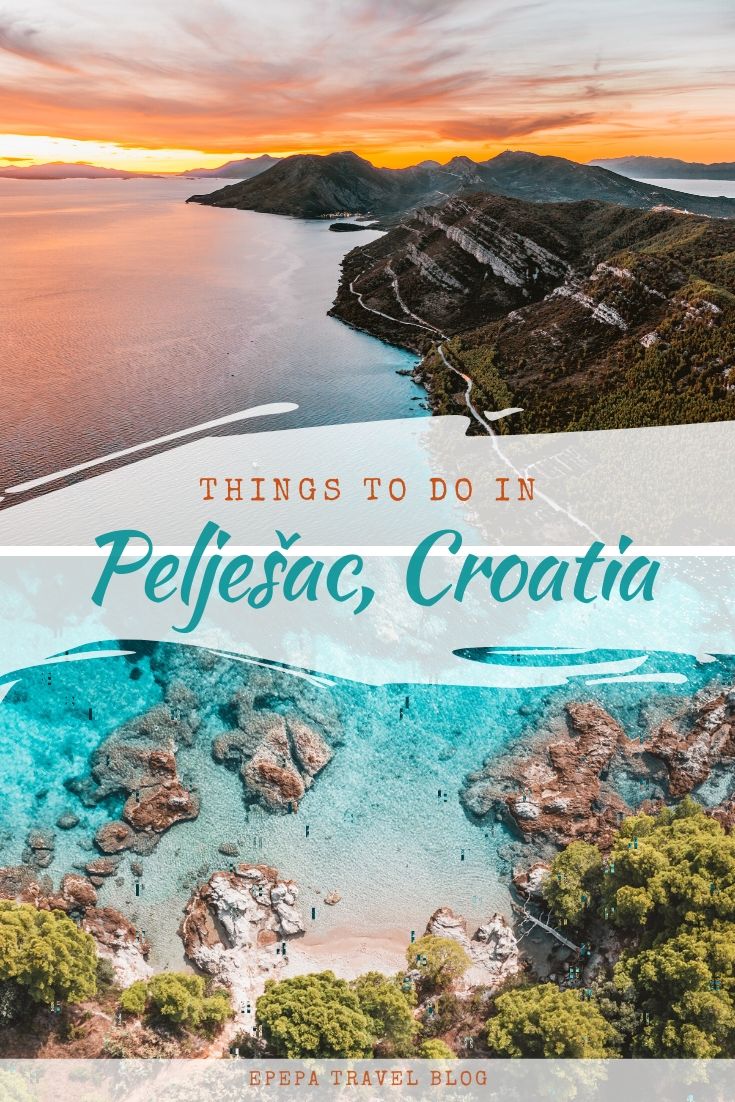 (Visited 8,843 times, 1 visits today)