If you are an expat living in Vienna or you have been there many times, I guess you have already seen all the top attractions like St. Stephen's Cathedral, Hofburg, Schönbrunn Palace, Prater, Belvedere etc. (check also: 10 best things to do in Vienna) and you wonder if there are any other interesting things to do. Or maybe instead of running between sights you just prefer exploring off the beaten path places and looking for hidden gems? Well, I have spent one year in Vienna and I must admit there was a time when I felt tired of visiting crowded touristic places and I was more excited by discovering offbeat spots in town. If you also are looking for some altervative things to do, I hope you will find some ideas in this post.
1. Exploring the outskirts of Vienna.
Have you ever wonder what is at the metro end station or where the tram that you catch every day goes from? I did!
And what's more, I've discovered many interesting places in that way such as Tichy Eissalon at Reumannplatz U1 with the best peanut ice-cream I have ever had, the newly built-up area of Seestadt Aspern U2 or Karl Marx-Hof, the longest single residential building in the world, located next to the metro station Heiligenstadt U4 (see: Interesting facts about Vienna). The great thing about places like these is they are rather non-touristic so you've got a chance to see the everyday life of Vienna. 
If, on the other hand, you are looking for places where you can have some rest from the city rush and get closer to nature, there are 9 well marked and accessible by public transport city hiking paths (Stadtwanderwege) that run mostly through the Vienna Woods or local recreation areas.
Never heard of Böhmischer Prater, Kurpark Oberlaa, Sisi Chapel or Bisamberg? Well, it's time to change it! Don't forget to visit the green area of wildlife preserve Lainzer Tiergarten with scenic viewpoints and beautiful Hermesvilla hidden in the woods.
2. Visiting the UNO City, a modern part of Vienna.
Tourists who visit Vienna are usually focused on sightseeing the historic center, some of them not even heard about UNO City. The Vienna International Centre is a new part of the city with modern skyscrapers and building complex hosting the United Nations Office. The fun fact is that DC Tower, the highest building in Austria is located there.
Don't forget to visit the beautiful Donaupark while walking there. This large green area is a perfect place for a picnic or kite flying. You can also enjoy a view of the city and its surroundings from the 150 meter-high Danube Tower or ride around the park on a board of the quaint Danube Park railway. The area of UNO City is located near the Danube River, best get off at metro Kaisermühlen VIC U1.
3. Sailing on the Old Danube waters.
The Old Danube (Alte Donau) is an idyllic recreational area of Viennese where you can rent an electric or paddle boat and sail on the calm waters, enjoying the spectacular view of UNO City skyscrapers. There are many charming restaurants with floating beer gardens. In Schinakl you can even rent unique, ecological 'swimming islands' with cozy sofas, tables, and sun terraces. Five times a year during the full moon, boat rental companies offer romantic cruises by moonlight where a man can admire the beauty of Old Danube with a bottle of Prosecco. Every July the Light Festival takes place there with a great fireworks show.
4. Getting lost in the city.
Sometimes the best way to find something really interesting is to leave a map and get wonderfully lost so I suggest you just to get off at metro wherever you want and go for a walk. Don't run between sights and top attractions, take it easy!
Maybe you will explore some beautiful off the beaten path places or hidden courtyards. Whatever it would be, you will be proud of yourself that you discovered something new. Just like this, I have found a charming little quarter Spittelberg.
5. In-line skating on the Danube Island.
Vienna has its own island and no, it's not a joke. What's more, the Danube Island (Donauinsel) is a paradise of skaters. It's a 21 km long free of traffic area which was constructed when the new bed for the Danube was dug to prevent flooding. The island is very long, but only about 200 m wide and because of its shape it's often called The Spaghetti Island.
If you have never had roller skates on your foot before don't worry, you will learn quickly and soon you will appreciate how fast you can move from one end to another. However, be careful in the south-part Lobau area, I think steep shores might be quite dangerous, especially for beginners. I suggest you get off at metro Donauinsel U1 and choose the north, 'Kahlenberg' direction.
Vienna is not only Innere Stadt, Prater and Schönbrunn Palace, be an explorer and find your own favorite sights in town and remember, some beautiful paths can't be discovered without getting lost.
Do you like this post? Pin it!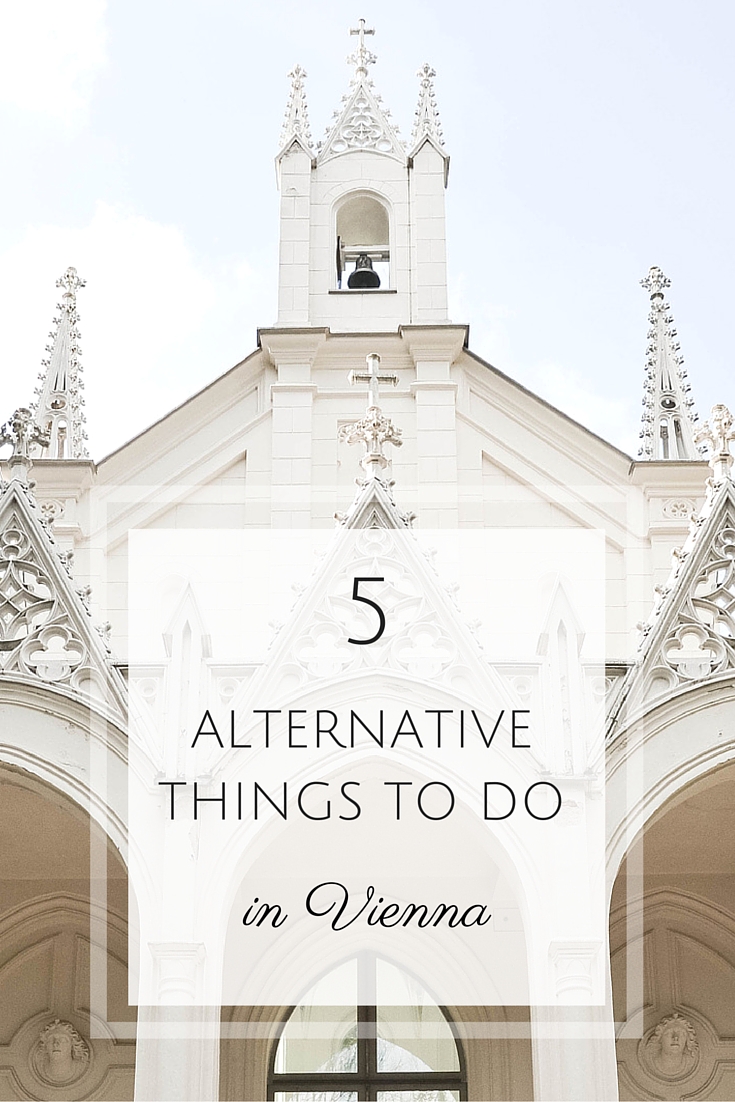 (Visited 23,972 times, 1 visits today)