I usually don't go back to places I've already been to. However, for Rovinj in Croatia, I made an exception to this rule. I don't think I've ever seen a more beautiful seaside town than this. Rovinj is amazing with its charming old town, beautiful views, picturesque sunsets, and crystal clear sea. This place is special and full of magic. There are also many nice things to do in Rovinj.
I have already written about Rovinj on the blog: Rovinj, one of the best cities to visit in Croatia. However, this time I would like to tell you about the best things to do in Rovinj, Croatia and give you some tips that may help you organize your trip. I also took some new aerial photos, thanks to which I can show you the town from a different perspective. I hope you like it.
Where is Rovinj, Croatia and how to get there?
Rovinj is a coastal town located in the western part of the Istrian peninsula, northern Croatia. The nearest airport is in Pula, 38 km south of Rovinj. Other airports are located in Trieste (107 km), Rijeka (124 km), Ljubljana (188 km) and Zagreb (250 km). You can also get to Rovinj by ferry boat from Venice (256 km), which runs during the season from May to September.
You can get to Rovinj from Pula Airport by bus, which goes several times a day. The journey takes about 50 minutes. You can also take a taxi or rent a car.
Top 10 best things to do in Rovinj, Croatia
Rovinj, with a population of only 13.5 thousand people, is a small coastal town. However, there are a lot of cool things to do here. Both if you like to lie on the beach, drink wine and taste the local cuisine or are passionate about history and sightseeing, you will definitely spend a nice time here. What are the best things to do in Rovinj, Croatia?
1. Take a walk around the old town of Rovinj.
Not everyone knows that Rovinj was once an island that was later connected to the mainland. Thanks to this, the old town is beautifully situated on a peninsula surrounded by the sea. There are many winding, cobbled streets with art galleries, shops, and atmospheric restaurants. The main street of the old town is Grisia, which will lead you to the hilltop church of St. Euphemia. When you explore Rovinj, take your time and leave the map. Some of the best places can't be found without getting lost.
Wyświetl ten post na Instagramie.
2. Get on the tower of St. Euphemia's Church.
If you want to see the panorama of Rovinj, go to the bell tower of St. Euphemia Church. There is an amazing view of the city, archipelago islands and boats sailing between them. They say that if the weather is good you can even see the Alps from here!
3. Relax on the beach in Zlatni Rt Forest Park.
If you are tired of sightseeing, take your time and relax on the beach in the Zlatni Rt Forest Park. It's a beautiful green area with coastal paths, Mediterranean vegetation and a charming view of the Rovinj peninsula. There are many nice beaches here. The most popular are Mulini Beach and Lone bay. If you are looking for a quieter place, you can go for a walk along the seashore to Cuvi Beach.
4. Watch the epic sunsets in Rovinj.
Rovinj is a place where you can watch some of the most beautiful sunsets in Croatia. The best place to watch the sunsets in Rovinj is its southern or northern port. A magnificent view of the city and surrounding islands can also be admired from the top of the hill where the Church of St. Euphemia is located.
5. Dine in one of the romantic restaurants.
The old town of Rovinj is full of romantic restaurants where you can eat fish, seafood and other local specialties or just have a drink while looking at the sea. If you would like to eat something good on a budget, I recommend Da Sergio pizzeria on Grisia Street. I ate here the best pizza ever!
6. Try truffles and other local specialties.
Istria is known for its truffles and trying them is one of the best things to do in Rovinj. Getting to know local flavors is always a good idea whether you visit a restaurant to eat a gourmet dish or simply go to a bazaar. In addition to truffles, it is also worth trying wild asparagus, Istrian pasta fuži, and Saint-Jacques Shells. When in Istria, don't forget to buy olive oil and drink the local wines: Teran, Malvazija and Muškat žuti.
7. Explore the islands of Rovinj Archipelago.
Wyświetl ten post na Instagramie.

Rovinj Archipelago consists of about twenty islands, islets, and reefs. The largest ones are the islands of St. Catherine, St. Andrew and St. Ivan na Pučini. They served as monastery centers throughout the centuries and today they are popular tourist and nautical destinations.
8. See the Lim Canal, a marine reserve that looks like a fjord.
If you like nature and beautiful landscapes, one of the best things to do in Rovinj is to see the Lim Canal, a 12 km long bay with a status of protected landscape. It is located 20 minutes drive from Rovinj however you can also get there by boat, which is even more fun. Lim Bay is famous for the cultivation of shellfish. Be sure to try them while there!
9. Rent a bike and explore the Rovinj coast on two wheels.
If you like to ride a bike, Istria is the perfect place to do it. Along the coast of Rovinj, there are very nice bike paths that lead through the green areas of the Zlatni Rt Forest Park. The terrain is flat and has no high elevations, and cycling while looking at the sea is a real pleasure.
10. Explore the charming towns and natural areas of Istria.
Being in Rovinj it is worth going on one-day trips to Pula and towns in the interior like Motovun, Buzet, Buje, Grožnjan. It is also worth visiting the coastal towns of Poreč, Vrsar, Umag, and Novigrad. If you have enough time, you can also go to the beautiful town of Piran in Slovenia. The Brijuni Islands are also nice to see. One of them has the shape of a fish and its aerial photo can often be seen in tourist folders about Croatia.
Wyświetl ten post na Instagramie.

However, if you asked me what I liked best, I think it was Kamenjak National Park at the very end of Istria. There are picturesque landscapes and many beautiful beaches. I had also a nice time walking around the stone town of Bale-Valle, which is a hidden Istrian treasure and watching murals in the street art town of Vodnjan.
When to visit Rovinj, Croatia?
If you would ask me what is the best time to visit Rovinj, Croatia I think it is at the beginning of May when everything is blooming and it is not too hot for sightseeing. September and October are also very nice months. However, the truth is that no matter what time of year you visit Rovinj, it's always beautiful here.
Rovinj – where to stay?
Which part of Rovinj is the best to stay? If you travel without a car, I would suggest booking accommodation on the peninsula, in the old town, because there you will really feel the atmosphere of Rovinj.


A very nice place is also a fragment of the coast between the old town and the Zlatni Rt Forest Park where luxury hotels are located. No wonder, because it's close to the city, close to the best beaches and with a great view of the peninsula.
However, if you are looking for something on a budget, I would advise you to book a private apartment as close to the old city as possible. If the proximity of beaches is important for you, you should look for something near the Zlatni Rt Forest Park. The places I stayed in Rovinj were Villa Rosa and Villa Mattossi. I traveled by car and both accommodations met my expectations.
Rovinj – how many days?
How many days is best to stay in Rovinj? It all depends on what you want to explore. Do you want to go on a city break to Rovinj or do you also plan one-day trips to some other places in Istria? If you would like to focus on Rovinj, I think 3-4 days will be ok. If you want to see something more, you should stay at least one week.
How expensive is Rovinj?
Rovinj is not the cheapest city in Croatia but it is still not as expensive here as in Dubrovnik or on Korčula. In the low season, you can find cheap accommodation in a good standard as well as eat out at a reasonable price.
Which is better – Rovinj or Pula?
Many people ask whether it is better to stay in Rovinj or in Pula. Everyone likes something different, but I think Rovinj is a much nicer city than Pula. It is beautifully located on the peninsula, has a charming old town, beaches, wonderful green areas. This is just my personal opinion, but despite the fact that Pula is also an interesting city, I would prefer to stay in Rovinj.
I hope you enjoy your stay and my list of 10 best things to do in Rovinj, Croatia will be helpful for you. If you want to see more of my photos, follow me on Instagram or Facebook. Check also the previous post: Rovinj, one of the best city to visit in Croatia.
Do you like this post? Pin it!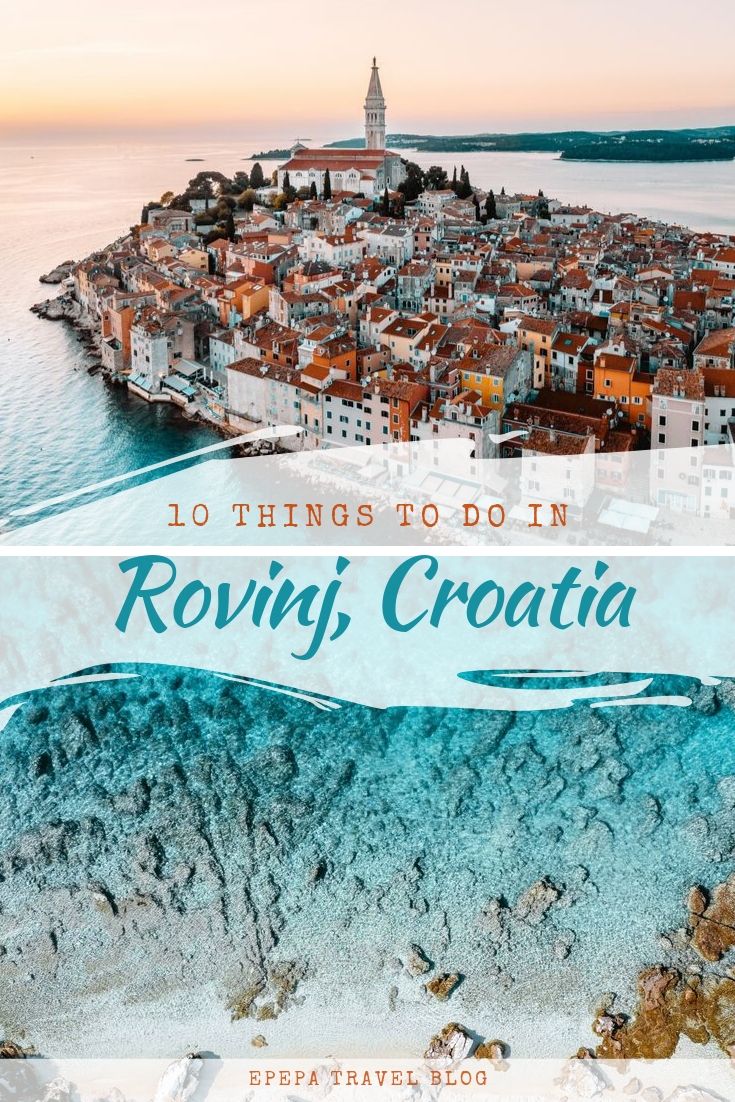 (Visited 35,533 times, 1 visits today)