Imagine a small port town with charming, colorful houses reflecting in the waters of a narrow bay. Boats drift on the sea, swaying in the waves. You sit in a cafe, looking at the baroque facades of tenement houses, the church, and beautiful palm trees towering over the captain's villas. There is a wonderful scent of white flowers and a sea breeze in the air. A couple is dancing happily to the song 'Gloria' by Umberto Tozzi and although it is a Croatian island, you feel like you are somewhere in Italy. Welcome to Veli Lošinj, one of the most beautiful seaside towns in the Kvarner Bay.
Where is Veli Lošinj, Croatia?
In the north of Croatia, in the area called the Kvarner Bay, there is the green island of Lošinj. This island is very narrow, quite mountainous and distant from the mainland. At its south-eastern edge lies the small port town of Veli Lošinj, which is located in a tiny bay at the foot of the hill of St. John. Looking at the sea, you can see the outlines of the islands of Pag and Rab from here, as well as the Velebit mountains on the horizon. If you climb the hill above the town and look to the other side, you will only see the small island of Susak and, as far as the eye can see, the blue sea.
The nearest larger city is Mali Lošinj, which is only 4 km away. It is interesting to mention that Veli Lošinj (Velo Selo – Big Village) used to be bigger than Mali Lošinj (Malo Selo – Small Village), but the latter developed more rapidly over the course of centuries and today the situation is quite the opposite, but the names have been kept.
Things to do in Veli Lošinj, Croatia
I remembered Veli Lošinj as a small and rather quiet town, at least that was in May 2018 when I spent a week here. It's really a charming place that offers some nice architecture and beautiful nature. If you are going to visit this Croatian town in the future or just want to do a virtual trip with me, take a look at my list of the 10 best things to do in Veli Lošinj. I also marked the best things to see and beaches in Veli Lošinj on the map.
1. Have a cup of coffee at the port of Veli Lošinj.
Let's start our trip with a cup of coffee, which is very aromatic and tastes great. Locals sit in cafes, an Italian song is heard on the radio, boats lazily sway in the port. It's early May, so there is a wonderful scent of white flowers in the air. The sun warms nicely and you can feel a brisk sea breeze.
The port of Veli Lošinj is quite small. Actually, a walk around would take a few minutes, but it's better to spend more time here to feel the atmosphere of this place. There are some lovely baroque tenements with decorative pastel facades as well as the picturesque parish church of St. Anthony the Abbot. Beautiful, centuries-old palm trees tower over the roofs of elegant captain's villas. Take your time and watch how life goes on here. It's one of the best things to do in places like Veli Lošinj.
2. Take a look at the town from the Tower of Veli Lošinj.
If you would like to learn more about local history and see a nice view of the Veli Lošinj harbor, be sure to visit The Tower – Museum of Lošinj. This 15th-century defensive tower was built during the Venetian domination to protect town residents from pirate raids. Later the tower lost its military significance and nowadays, it serves as a museum and art gallery.
The admission ticket costs 35 kn for adults and 25 kn for children. The exhibition is not too big, but the views from the top of the tower are worth it. Unfortunately, I do not have a picture of the tower itself, but you can see it above the tenement houses in the port. It's hidden in the town and you have to delve into the narrow streets to find it.
3. Visit the parish church of St. Anthony the Abbot.
In the port of Veli Lošinj, there is a beautiful pink church that has a very nice baroque interior. The parish church of St. Anthony the Abbot (Crkva sv. Antuna Opata) was built in 1774 and funded by local sailors.
Inside you can see the marble altars and a rich collection of Italian paintings. The church is open during Sunday Mass, but you can catch a glimpse of the interior through its metal gate.
4. Take a coastal walk to the fishing port of Rovenska.
Once you visit the pink church of St. Anthony the Abbot, don't go back to the port, just follow the seaside promenade that stretches out from here. There are benches along the way where you can sit down and enjoy the lovely sea view and the Velebit mountains on the horizon.
The path will lead you to the fishing port of Rovenska, which is still part of the town of Veli Lošinj but has a completely different atmosphere. You won't find baroque, elegant tenements here, but you'll see charming fishermen's houses and colorful boats that sway at sea. If you are hungry, try local food in one of the restaurants at the waterfront.
5. Relax on one of the beaches in Veli Lošinj.
Once you explore the town, you can relax on one of the beaches in Veli Lošinj and swim in the crystal clear waters of the Adriatic Sea. If you are looking for a place with sunbeds, showers and other infrastructure, there are rocky and concrete-covered beaches near the city center – Hotel Punta and Timi. A pebble beach with a shallow shore, which is suitable for children, is located near the fishing port of Rovenska. Although there was no one there in May, I heard that it is very popular in the summer months. There is a restaurant, water-polo court, and beach bar that operates during the season.
If sunbeds and crowded, easily accessible beaches are not what you are looking for, there are more secluded coves within walking distance. When you pass Rovenska Beach, follow the coastal path that will lead you to three secluded beaches – Javorna, Kriška, and Jamna. It takes some time to get there and requires hiking, so appropriate shoes are needed. You can also climb to the hill of St. John (Sv. Ivan – 231 m) and go down to Krvica Beach, which will take you about an hour and a half. From here, you can explore other secret beaches on the west side of the island of Lošinj.
6. Feel the atmosphere of the upper village, the oldest part of Veli Lošinj.
Veli Lošinj is a small town, but very diverse and each part has its own character. Once you visit the elegant port of Veli Lošinj and the fishing bay of Rovenska, I also suggest you explore the upper village where is the oldest, 14th-century church of St. Nicholas (Crkva Sv. Nikola). There are rustic houses, small plots and narrow roads separated by stone walls. Most of them are car-free, so it is very quiet and peaceful here.
My husband and I really liked the idyllic atmosphere of the upper village, so we decided to stay for a week in one of the lovely houses on the hill. We were close to hiking paths that led to secret beaches as well as within walking distance to the town, so this location was perfect for us.
7. Go hiking to enjoy the pristine landscapes and the scent of Mediterranean herbs.
Although I liked the town of Veli Lošinj very much,I was happiest when I wandered among olive trees and followed coastal paths. When I think about these wonderful views of the blue sea, secret beaches and the scent of herbs, pine trees, and sun-warmed rocks, I would like to be there now.
There are many kilometers of scenic hiking trails around Veli Lošinj. The most picturesque path leads from the Rovenska bay along the coast to the secret beaches of Javorna, Kriška, and Jamna. You can also get to Kriška Beach by a shorter route that starts from the church of St. Nicholas (Crkva Sv. Nikola) in the upper village and leads among beautiful olive groves. Other paths lead to the hills above the city, from where you can go down to the other side and explore the west coast of the island. When you are in Veli Lošinj, take a free map from the tourist agency, which is quite helpful in planning trips.
8. Climb to the church of St. John the Baptist to see the panorama of Veli Lošinj.
If you would like to see the beautiful panorama of Veli Lošinj, climb to the church of St. John the Baptist (Crkva sv. Ivana Krstitelja). The church itself was built in 1755 and is quite simple, but the views from the hill are really spectacular. Unfortunately, I was there when the weather was bad so maybe the photo doesn't show it but, believe me, this place is worth a visit.
Around the church are benches and even a picnic spot, where you can sit and enjoy the beautiful view of Veli Lošinj, Rovenska Bay, nearby islands of Cres, Krk, Pag, Rab, as well as the small island of Susak on the other side. You can get to the church of St. John the Baptist on foot, following the hiking trail from the center of Veli Lošinj, which takes a little more than half an hour. It is also possible to arrive by car from Mali Lošinj.
9. Take a walk along the Footpath of Vitality to Mali Lošinj.
If you don't like extreme hiking but would like to go for a walk by sea, there is a 3 km footpath between Veli Lošinj and Mali Lošinj. The Footpath of Vitality, as it is called, stretches along the coast in the shade of century-old pine trees. There are education panels that provide some information about the importance of proper posture and breathing, as well as movements and processes during a walk.
The path leads along the Vale Škura Bay, where the sea has a wonderful turquoise color. It is a very nice place to swim, so if you would like to relax and cool down on a hot summer day, just jump into the sea and enjoy the crystal clear water.
10. See the Blue World Institute exhibition and go on a dolphin-watching tour.
The Lošinj archipelago is home to bottlenose dolphins and about 180 individuals reside in this area. If you want to know more about it, visit the Blue World Institute in Veli Lošinj. Inside the Lošinj Marine Education Center, you can see an interesting exhibition and some interactive presentations. It's quite a nice thing to do on a rainy day.
Entrance ticket to the Lošinj Marine Education Center costs 20 kn for adults, 15 kn for students, seniors and children up to 12 years old. Children under 7 years free of charge. At the Blue World Institute, you can also adopt a dolphin or ask for a dolphin-watching tour.
How to get to Veli Lošinj and where to stay?
If you're traveling by car, you can catch a ferry to the island of Cres from Valbiska (Island Krk) or Brestova (Istria) and then cross the rotating bridge in Osor. There are also options to get by plane or passenger ferry to Mali Lošinj, and then catch a bus or taxi to Veli Lošinj. More information about ferry connections here: How to get to Mali Lošinj, Croatia?
The place where we stayed was Apartments in Veli Lošinj 14929. It was very spacious and had everything we needed. The hosts were very nice and helpful people, so we felt good there and would gladly visit them again. You can also find other apartments in Veli Lošinj on the map above. If you prefer to stay in a hotel, check out Vitality Hotel Punta.
What is Veli Lošinj like? Is it worth visiting?
I wrote a list of 10 things to do in Veli Lošinj to give you an overview of what this place is like. It's rather a small town and whether it's worth a visit depends on what you're looking for. Personally, I don't like tourist resorts with shopping streets and sunbeds on the beach. I prefer picturesque small towns with nice architecture, authentic atmosphere and secret beaches nearby, so Veli Lošinj was perfect for me. I will write a little more about my trip and feelings about this town, maybe it will help you decide if you want to visit Veli Lošinj in the future.
We got to Veli Lošinj by car from Gliwice, Poland, which took about 11 hours. We traveled through the Czech Republic, Austria, Slovenia and at sunset we crossed the bridge to the island of Krk in Croatia. It was 10 PM when the ferry arrived and took us from Valbiska (Island of Krk) to Merag (Island of Cres). At first, I was a bit disappointed that we were not able to make it earlier when it is not dark yet, but the ferry crossing at night turned out to be an amazing experience. Just imagine the calm sea, the moon reflecting in the water and the sky full of stars! This is one of my most beautiful memories from Croatia. The funny thing is that usually, the best things happen when you don't plan it. Do you also have that?
I didn't see much when driving the island of Cres. It was dark, the road was narrow and winding and we had to drive very carefully because there were sheep everywhere. I think it was around midnight when we got to Veli Lošinj. It was a warm night, the wonderful scent of white flowers was in the air, the cobbled streets shone in the yellow light of the lanterns and the palm leaves rustled in the wind. Walking down Vladimir Nazor street we got to the port of Veli Lošinj. Boats swayed lazily at sea, making a low, almost imperceptible sound. The town's lights reflected in the waters of the bay dancing on the facades of colorful tenements. When I saw this I knew that we would spend a wonderful time in Veli Lošinj.
Despite being a small town, Veli Lošinj is very diverse. In the city center, there are narrow cobbled streets, elegant captain's villas with tall, over 100-year-old palm trees and a small harbor with beautiful baroque tenement houses. Everything seems so tasteful and neat, colorful like in a fairy tale. I have never been to Portofino, but when looking at the pictures it seemed to me that Veli Lošinj is a bit similar. Anyway, the town had an Italian feel, like Rovinj in Istria. It's Kvarner, not Dalmatia, so the architecture and the atmosphere here is different than in Dubrovnik or Korčula.
Just a few minutes walk from the port of Veli Lošinj, there is the Rovenska Bay. You will not find Baroque tenements with decorative facades here. It's a place with a fishing atmosphere, where you can smell the sea and see the colorful boats swaying on the water. Rovenska seemed to me an authentic, unspoiled place, so I liked to go for walks there. I don't know how it is there in the summer season, but in May it was very quiet and peaceful.
Veli Lošinj is not only the elegant port and the fishing bay of Rovenska. There is also the upper village that has its own vibes. Olive trees, dry stone walls, houses on the hills with small plots, very narrow streets that are car-free. It's a very relaxing place, almost idyllic. We spent a week here and loved it. The place where we stayed was a normal house in the village, not a hotel or hostel. It provided some kind of authentic experience because we lived here like locals. Our hosts, Rada and Marijan, are really nice people, so we felt good and welcome in their home.
They say that the island of Lošinj has its own microclimate and it is one of the sunniest places in Croatia. When we talked with the locals they said that both the weather and the vegetation in Veli Lošinj are like on the island of Hvar. There is something to it because when we wandered along the coastal paths, the scent of herbs in the air was the same as when we were exploring the secret beaches in Zavala.
On the other hand, the town's architecture and atmosphere were more like in Italy than in Dalmatia. So looking at Veli Lošinj from the perspective of the places I have been to Croatia, I would say that it is a bit like Rovinj and a bit like Hvar. In my opinion, these two places are beautiful but very different from each other, and the island of Lošinj is like a combination of them. So if you can not decide whether you like the atmosphere of Istrian towns or the nature of the Dalmatian islands more, you can go to Veli Lošinj and have it all.
Veli Lošinj is also a great place for people who like hiking. There is a very picturesque Vitality Path that leads to Mali Lošinj, as well as hiking trails where you can enjoy beautiful views and feel the harmony with nature. My favorite hiking destination was the secret beaches – Javorna, Kriška, and Jamna. We discovered these places by walking along the coastal path, and later we found a shorter route through the olive groves, which began in the upper village behind the church of St. Nicholas (Crkva Sv. Nikola).
We liked to spend time especially on Jamna Beach, where the water was crystal clear so there were quite a lot of sea urchins. Sometimes a lonely wanderer passed by but usually, we were alone on the beach, and during the day we saw only goats on the nearby rocks. It is because of such pristine places and relaxing moments that I like to go to the Croatian islands so much. Nowhere do I feel as happy and close to nature as there.
In Veli Lošinj there are several restaurants, souvenir shops, bakeries and Jadranka supermarket, where you can buy groceries. If you would like to go shopping or stroll along the promenade, Mali Lošinj is just 4 km away. It's a larger city and there are more things to do, so it's a nice place to spend an evening or stroll on a cloudy day. You can also take the ferry from Mali Lošinj to explore the islands of the Lošinj Archipelago. We visited the island of Susak with beautiful sandy beaches, but I am sure there are many other nice places to discover on the islands of Unije, Ilovik, and Srakane. I hope that we will go back someday and check it out.
I liked Veli Lošinj very much and I had a great time there. This small town had everything I was looking for: beautiful architecture, scenic hiking trails, and secret beaches. What's more, I was surprised that Veli Lošinj is so diverse. Being in one place I could feel the atmosphere of an elegant town with some Italian touch, a fishing port, and an idyllic Mediterranean village. It was really cool. In my opinion, Veli Lošinj is a perfect destination for people who are looking for peace and quiet but prefer to stay in a small town that has a city center than in a village where there are only apartment houses. Veli Lošinj is still an authentic place with a vibe so I think artistic souls and nature lovers will love it!
Do You like this post? Pin it!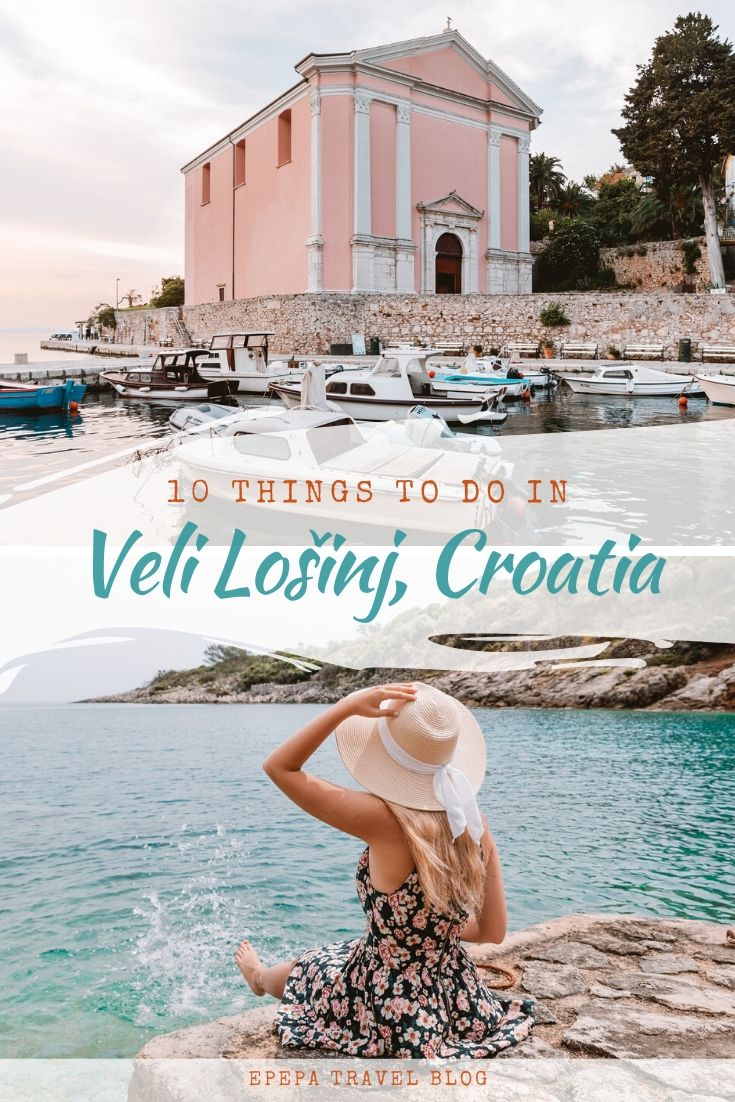 (Visited 4,162 times, 1 visits today)